Jonghyun's Suspected Suicide Note Posted to Instagram, Says He Struggled with Depression
Jonghyun, the lead singer of K-Pop band SHINee, said he was "engulfed" by depression in a suspected suicide note. Musician Nine9, from the band Dear Cloud, published the note at Jonghyun's behest, the BBC reported on Tuesday. He told her to share the letter "if he disappeared to the world."
"I was so alone," he wrote in Korean, according to The Guardian. "The act of ending is difficult. I've lived until now because of that difficulty. … Please tell me I did a good job. … You've worked hard. You've really gone through a lot. Goodbye." He added: "I am broken from inside. The depression that gnawed on me slowly has finally engulfed me entirely."
In his final Instagram message, Jonghyun shared cryptic lyrics from the Dear Cloud song "Beside You." He captioned his last message: "I pray you aren't hurting."
Koreaboo translated the lines: "I had a thought while curling up in a dark room alone/ When you might regret letting go of everyone. Have the sighs and the restless wounds stopped by now. I pray only that you aren't hurting. I hope only that you will be happy. Please don't try to be alone in the darkness/ Don't torture yourself/ Don't torture you."
Since his death, the Instagram post amassed 570,000 likes and more than 282,000 comments from his 2.3 million followers. Fans from all over the world shared their condolences, writing "rest in peace" and "miss you."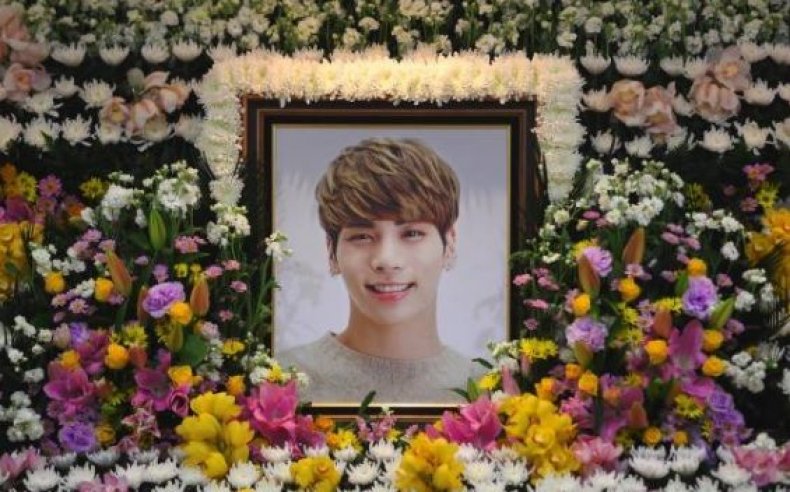 In a press release Monday, SM Entertainment announced Jonghyun's untimely death.
"As per the wish of the family, the funeral will be held quietly with his relatives and company colleagues," the statement said. "Once again we show our deepest condolences to Jonghyun on his last journey."
"Our sadness cannot compare to the pain of his family, who had to say goodbye to a son and a brother," the statement continued. "But we have spent a long time with him, and SHINee members and SM Entertainment staff are all in deep mourning and shock."
Thousands of tearful fans gathered at the Seoul hospital where Jonghyun was pronounced dead to say their final farewell. A private funeral will be held Thursday, the BBC wrote.
K-Pop stars are forced to undergo strict training, with their lives being scrutinized by their management agencies, The Guardian reported. In some cases, they have to sacrifice romantic relationships so they seem "wholesome."
Jonghyun joined SHINee in 2008. He helped the band garner success with various No. 1 hits, in the process becoming a star in South Korea and Japan. Two years ago, Jonghyun embarked on a solo career, too.