Al Jazeera Journalist Shireen Abu Akleh Likely Killed by Israeli Gunfire
The U.S. Department of State said an investigation has determined that journalist Shireen Abu Akleh was likely killed by gunfire from Israeli armed forces in May.
According to a Monday press release, after a detailed investigation by the Israel Defense Force (IDF) and the Palestinian Authority (PA) overseen by the U.S. Security Coordinator, the investigation "concluded that gunfire from IDF positions was likely responsible" for her death, adding that it did not believe Abu Akleh was intentionally targeted.
U.S. officials were given "full access to both Israel Defense Forces (IDF) and Palestinian Authority (PA) investigations over the last several weeks," the release said.
While it was determined that Abu Akleh was "likely" killed by IDF gunfire, the State Department release added that it was impossible to come up with a clear answer.
"After an extremely detailed forensic analysis, independent, third-party examiners, as part of a process overseen by the U.S. Security Coordinator (USSC), could not reach a definitive conclusion regarding the origin of the bullet that killed Palestinian-American journalist Shireen Abu Akleh," the release said. "Ballistic experts determined the bullet was badly damaged, which prevented a clear conclusion."
On May 11, the 51-year-old Al Jazeera correspondent was shot in the head as Israeli forces raided the Jenin refugee camp in the West Bank. Al Jazeera producer Ali Al-Samundi was also injured in the incident. He sustained gunshot wounds to his back.
The State Department release said U.S. officials have "no reason to believe that this was intentional but rather the result of tragic circumstances during an IDF-led military operation against factions of Palestinian Islamic Jihad on May 11, 2022, in Jenin, which followed a series of terrorist attacks in Israel."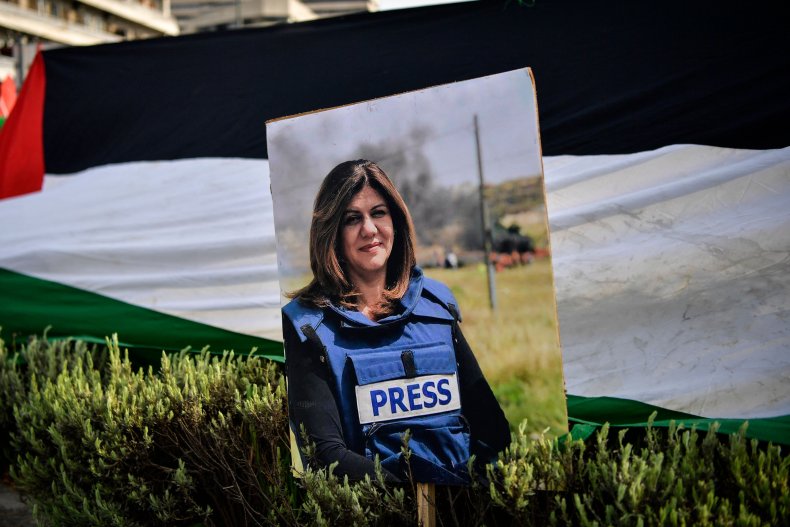 Violence later broke out at Abu Akleh's funeral. Video footage showed Israeli police officers striking mourners as they attempted to carry Abu Akleh's casket during a procession. Israeli authorities targeted mourners because they did not want them to walk with Abu Akleh's coffin, Al Jazeera alleged.
U.S. Secretary of State Antony Blinken condemned the violence at Abu Akleh's funeral, saying that "every family deserves to lay their loved ones to rest in a dignified and unimpeded manner."
The state department's stance that the journalist's death was not intentional differs dramatically from Al Jazeera's determination. Abu Akleh's employer referred to her death as "blatant murder, violating international laws and norms," in a statement.
The statement from Al Jazeera added that "Israeli occupation forces assassinated in cold blood Al Jazeera's correspondent in Palestine, Shireen Abu Akleh, targeting her with live fire."
The State Department said it is encouraging the IDF and the PA to continue to work together "in this important case" and that the State Department will also work with the two forces during the next steps in the investigation.
The department then concludes its statement by passing along "our deepest condolences to the Abu Akleh family."
Newsweek reached out to the U.S. Department of State for further comment.