Shock Over $62 Bill to Give Birth in New York Amidst the Great Depression
A hospital bill from 1936 has stunned the internet after revealing the huge differences between healthcare today and 86 years ago.
Shared on Wednesday by Reddit user u/dogfur, the picture of the printed slip has gained more than 10,000 upvotes and hundreds of comments.
From Brunswick General Hospital in Amityville, New York, the Reddit user shared that the bill was from the birth of her grandmother on May 26, 1936.
The bill shows that the new mother stayed at the hospital for 11 days, with charges for the stay, delivery room, baby care, laboratory, and special medicines, all totaling $61.60.
The time of the hospital bill coincides with the Great Depression, a period between the years 1929 and 1939 that saw a worldwide economic depression after a major fall in stock prices in the U.S. known worldwide as Black Tuesday.
Reddit users were left in awe at the bill, pointing out the vast differences when compared to modern healthcare in the U.S.
Adjusted for inflation, $61.60 would now be approximately $1,275, and internet users were quick to point out the price disparity.
"I'm due in a month," wrote one commenter: "Called in advance, and for a healthy birth with an epidural and 1-night stay at the hospital will cost $50,000."
Another woman shared her experience of the cost of giving birth and wrote: "We had 34 days in the Neonatal Intensive Care Unit (NICU). For my preterm labor and the NICU stay It was damn near close to $800,000."
According to statistics from Balancing Everything, a website that tracks financial information, vaginal deliveries in the U.S. cost around $5,681, but often can cost up to $20,000 or even $30,000 if there are any complications. The cost also varies depending on previous health conditions, where you give birth, and how long new mothers stay at the hospital.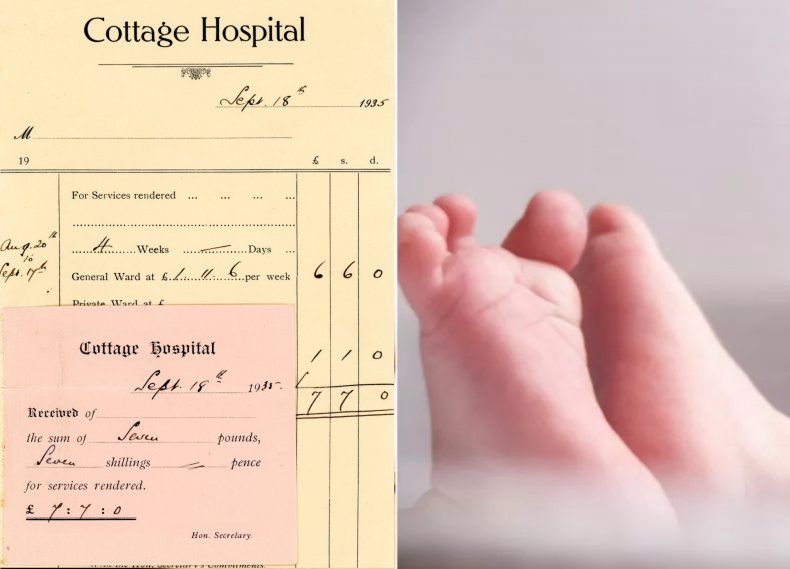 All of these costs do not take into account the cost of pregnancy care and the average costs of preparing for a new arrival with things like baby products, clothing and childcare.
Other Redditors were amazed by the time in the hospital listed on the 1930s bill: "What's really incredible is how long she stayed in the hospital," wrote one commenter: "11 days! You're lucky if they don't kick you out the next day and even luckier if you get two."
Today, guidelines from the American Academy of Pediatrics and the American College of Obstetricians and Gynecologists suggest an average hospital stay of 48 hours for vaginal births with no complications and an average of 96 hours stay for a cesarean birth.
One commenter shared their experience and said: "I gave birth at 9 am. Got sent home at 5 pm," while another Redditor wrote: "What a luxury! She had no laundry to do, no meals to prep, no dishes to wash, no house to clean, no husband or other kids to feed for 11 days."
Newsweek has reached out to u/dogfur for comment.