Shock as Dad Discovers Wife's Six-Month Affair After Texts to 'Pizza Hut'
Pizza Hut is supposed to be a happy place for a fun night out, but one unfortunate Redditor may have been put off the restaurant chain for life.
In a post to Reddit's Mildly Infuriating forum on August 10, user u/DiscoCumLazer said he'd discovered his wife of six years was having an affair—with "Pizza Hut."
Alongside screenshots from his wife's phone, he explained he'd suspected his wife had been cheating for a while. However, after checking her phone, he was surprised to find the culprit disguised as the restaurant chain.
"She has been on her phone and going out with her friends very often," he wrote. "I had a dream last night she was cheating so i checked her phone while she was in the shower. 6+months of naked pics and sexy talk disguised as pizza hut."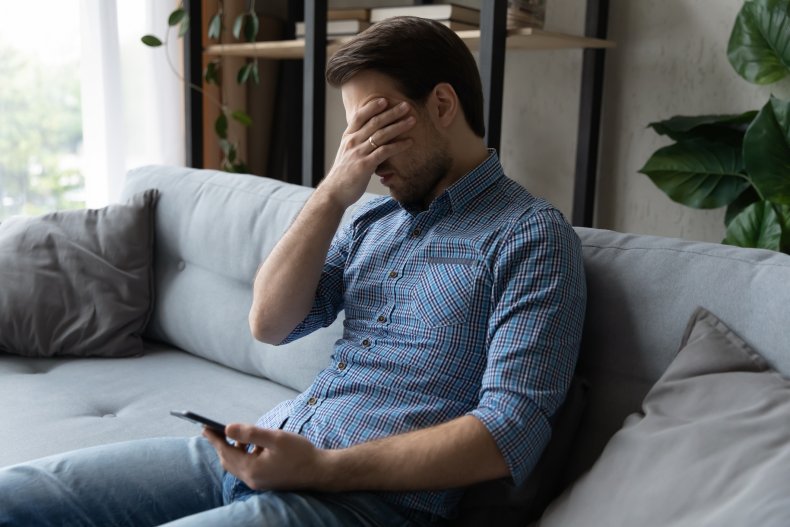 Research by Ashley Madison revealed an increase in cyber affairs during the pandemic. The online dating site for extramarital relationships recorded an average of 20,000 new members a day in 2020. Pre-pandemic, the average was 15,000.
Members surveyed reported feeling less attracted to their partner due to the frustration of being stuck at home together, as well as a reduction in physical intimacy.
Lockdown may be over, but these cyber affairs have continued, with a quarter of Ashley Madison's members having affairs solely online. 80 percent saw their cyber affair as a form of self-care, with female members choosing to cheat for sexual satisfaction and men for a boost in confidence.
Paul Keable, chief strategy officer at Ashley Madison, told Newsweek: "Some tell-tale signs that your spouse may be having an affair is increased confidence, putting more effort into their physical appearance like working out more, dressing better, or enhanced grooming habits.
"Other behavioral signs include late night working, secretive phone calls or more frequent computer use, always clearing their internet browser history, and changes in spending habits.
"Perhaps most obvious hints would be not wearing their wedding ring as often or at all, incorporating new moves in the bedroom, or perhaps losing interest in sex altogether."
Reddit users felt for the man, with the post receiving over 21,000 upvotes and 1,800 comments in less than 24 hours. In the comments, DiscoCumLazer explained they a daughter, and that his mother-in-law had been babysitting while his wife visited her lover.
GMEbankrupt told the poster to "Lawyer up" for a potential custody battle.
"Have a plan. Don't rage," he advised.
Potentially_a_goose agreed, writing: "Don't act emotional, keep a cool head or you will lose access to your daughter.
"Family courts are heavily skewed against you no matter what you do or say. So don't give them any more ammo."
Others told the man that the pain will ease and things will "get better."
"My kids live with me full time now, I'm down 100+lbs, and I don't think I've ever been in a better place," said HowiePowieZowie.
"[If you] want someone to talk to or vent to, I'm here for you brother."
While Kingofrane commented: "You might not see it right now but one day youre going to look back and be happy you were so strong in these times.
"Trust that your future self will be proud of who you are [right now] and how youve handle things. Head high. You got this..."
Newsweek reached out to u//DiscoCumLazer for comment. We could not verify the details of the case.
If you have a similar family dilemma, let us know via life@newsweek.com. We can ask experts for advice, and your story could be featured on Newsweek