Shock as Man Buys Old Church and Finds a 'Creepy' House Hidden in the Attic
A man has shared how he found a whole house hidden inside the attic of a property he purchased.
Shocking the internet, the man known as Mr. Griff from the U.S. shared pictures of the unusual real estate on Reddit's r/interestingasf*** forum.
With more than 170k upvotes, the pictures of the unusual attic have sent minds spinning online.
"That is soo creepy," said one frightened commenter. While another Redditor wrote: "Burn the entire house and hire a priest to bless the ashes. It's the only way."
The man purchased the property that includes the strange attic house three years ago. Mr. Griff told Newsweek: "It's a pretty big size and it was being used as a church and daycare before we got it."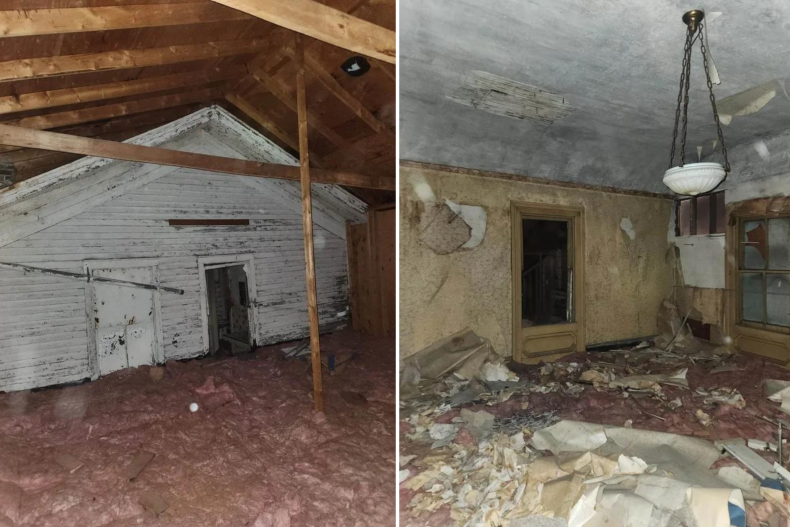 Shortly after getting into the property, they stumbled on the unusual home: "We were all quite surprised," he said. "It's fully intact. Just some broken windows—the walls are still sturdy."
The building itself was purchased at what the owner said was an "affordable" price, and "plans are to fix it up and make it livable," he said.
Owning one property, let alone one with another inside, is still a dream for many.
Rent is taking up more and more of paychecks, as the median U.S. monthly rent hit $2,000 in 2022, while two-thirds of renters say that home ownership is unaffordable for them.
There has been some good news for aspiring homeowners in recent months as the housing market finally begins to slow down.
Mid-2022 saw the surging housing market begin to slowly steady, with the price of single-family homes declining at national level by 1 percent in January, according to the Moody's Analytics House Price Index.
The U.S. housing market has been hugely impacted by rising mortgage rates.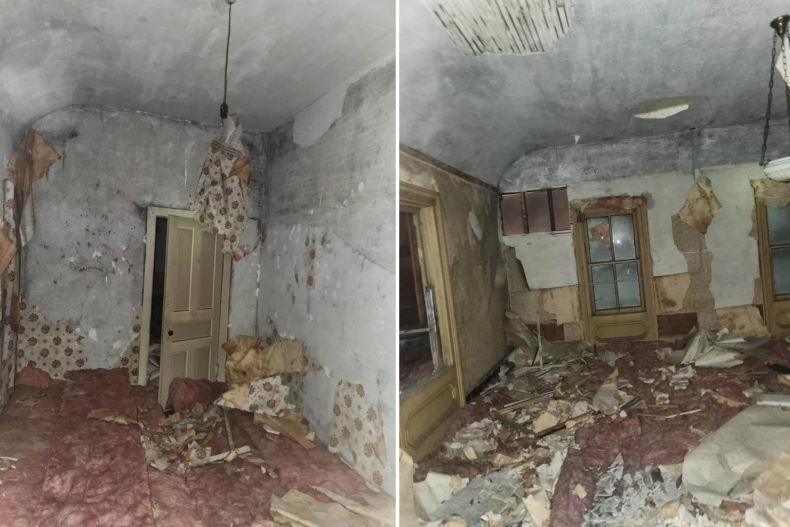 Prices are expected to continue to drop for the next two years, leveling out at a 5-10 percent decline. Estimates suggest that by 2025, house prices will be back to their late-2021 level.
Mr. Griff first shared pictures of the unusual attic find three years ago, but excited Redditors with an update and new pictures.
"Finally went back up to get some good pictures. Just as creepy as I remember," he wrote.
Given the home was previously a church, Redditors pondered what they thought the purpose was of the smaller home hidden upstairs.
One commenter said: "The 'house' in the attic could have been made for the pastor or whomever was guiding the church members."
"That's kinda cool," said another commenter. "Looks like one absolute monster of a fixer upper but it'd be a pretty cool novelty if you wanted to sublease."
"I posted a part one and that got kinda big, so I thought people would like to see some clearer pictures and get a better perspective on it," said Mr. Griff. "This got a little bigger than I expected so I'm a little overwhelmed."