Mortgage Rates Hit 20-Year High as Fears Grow for Housing Market
Long-term mortgage rates have broken through 7 percent this week, reaching highs not seen since 2002 in a worrying sign of things to come for homeowners.
According to Mortgage News Daily's rate index, 30-year fixed rates reached 7.08 percent on average on Tuesday, with 15-year fixed mortgages topping 6.3 percent.
These new figures are double the highest recorded mortgage rates for last year, which peaked at 3.45 percent for a 30-year fixed mortgage and 2.88 percent for a 15-year fixed rate in March 2021.
Interest rates have been rising rapidly this year, with the U.S. Federal Reserve announcing further hikes to curb rising inflation.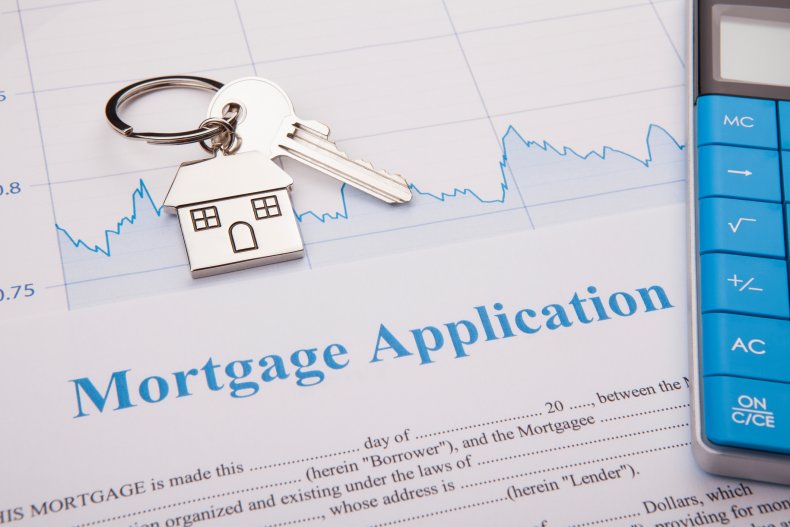 Mortgage rate fluctuation is common, often changing depending on the current housing market and demand, as well as changing inflation rates and buyers' personal circumstances.
In August, interest rates for mortgages dropped to 5 percent for a typical 30-year fixed mortgage, but the market has been steadily increasing over the last five weeks.
Unfortunately, these record increases to mortgage rates could have a significant impact on affordability checks in the coming months, as the high interest rates could push borrowers just out of range for lending.
Banks and mortgage providers typically have a strict debt-to-income ratio alongside credit scores, with lenders looking for a ratio of less than 50-50 before they consider approving mortgage applications, with ratios of under 35 percent considered ideal for lending.
The median monthly mortgage payment in the U.S. was $1,621 between 2016 and 2020, with the average home worth $229,800, based on the most recent American Housing Survey data provided by the U.S. Census Bureau.
If a buyer took out a 30-year fixed mortgage in January 2020 for $230,000, with an interest rate of 3.7 percent, the buyer would be paying around $1,400 a month on their mortgage.
However, if they applied for the same value mortgage with current interest rates at 7 percent, they would be looking at monthly repayments of closer to $1,880.
This could mean the difference between a borrower with no outstanding debt and a household salary of $60,000 being rejected for the same mortgage, as their debt-to-income ratio would increase from 28 percent to 38 percent.
By raising rates, the Federal Reserve is likely decreasing the demand for housing as buyers are unable to afford the same mortgage as two years ago, causing homes already on the market to lose value.
Real estate agents also expect a decline in houses being listed due to the volatility of the market as sellers are opting to stay in their current fixed rates instead of switching to a more expensive mortgage.
The volume of listings with Redfin Real Estate was 20 percent lower in September 2022, the metric's largest year-over-year drop since the pandemic's housing market freeze.
However, the housing market has fluctuated substantially over the last 50 years.
Rates peaked at 18.63 percent in 1981 when the Federal Reserve was battling inflation following the Vietnam war, and dropped to their lowest point of 2.65 percent in January 2021 in response to the COVID pandemic.