Shocking Photos Show Dead Giraffes, Cattle As Kenya in Grip of Severe Drought
Scores of livestock have starved to death in Kenya as regions struggle through a severe drought that has created food and water shortages.
Officials in the country have been concerned for months about the arid conditions, with President Uhuru Kenyatta declaring a national disaster on September 8. He directed government agencies to assist affected households with water and food relief.
In addition, Kenya's National Drought Management Authority (NDMA) published a September drought bulletin in which it stated the vegetation condition was considerably worse when compared to the same period last year due to poor rainfall.
Regions within the counties of Garissa, Kilifi, Kwale and Wajir were identified as having a severe vegetation deficit.
Now, graphic photos have emerged that document the severe effects of the drought on local wildlife.
The photos, taken by photojournalist Ed Ram in various affected locations of Kenya, show emaciated animals like giraffes and cattle lying dead on the dry ground, sometimes in groups. Others, still alive, appear to be starving.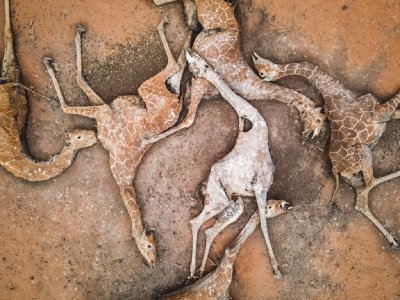 According to a November report by Kenya newspaper The Star, giraffes in the county of Garissa number more than 4,000. The drought is reported to have killed scores of wildlife, although the government was still collecting data on the animal death toll.
Yet it is not just the wildlife that is threatened by the conditions. The NDMA said in its August analysis that, compared to the previous month, there was a major increase in distances traveled by households in order to get water in a number of counties. The average in some locations was nearly 9 miles, Al Jazeera reported last month.
Additionally, the NDMA observed a worsening trend in terms of children at risk of malnutrition in counties including Garissa, in part due to a decrease in milk production.
On Tuesday, the United Nations Office for the Coordination of Humanitarian Affairs said the worsening drought was leaving nearly 2.4 million people in Kenya's arid and semi-arid lands "struggling to put food on their table every day," with 368,000 people in emergency levels of hunger and more than 523,000 children under five in urgent need of treatment for malnutrition.
James Oduor, director of the NDMA, told Al Jazeera in the November report that droughts in the region are becoming more common.
"More frequent and longer droughts are becoming the order of the day," he said, citing a combination of climate change and settlement expansions as worsening the effect of droughts.
The Conservation Alliance of Kenya has launched a fundraiser to help communities get pasture and water, with donations accepted through fundraising site M-Changa.