10 Years Ago Dr. George Tiller Was Murdered for Providing Abortions: Has There Been a Rise in Anti-abortion Violence Since?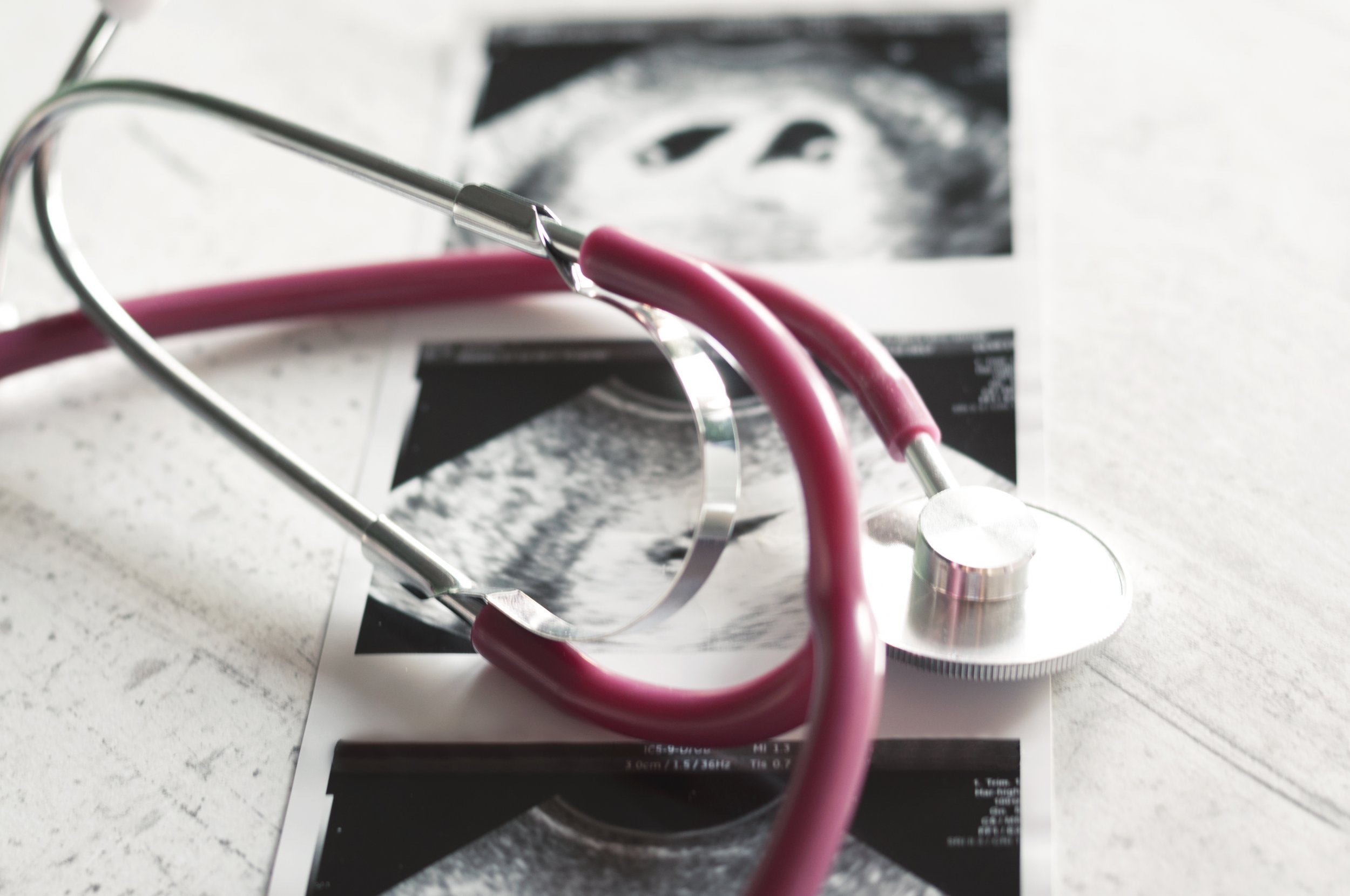 On May 31, 2009, Dr. George Tiller, an activist for abortion rights, was acting as an usher during Sunday morning service at his church in Wichita when he was fatally shot in the head by an anti-abortion extremist, Scott Roeder.
It wasn't the first attempt on his life, nor was it the first on a physician who performed abortions.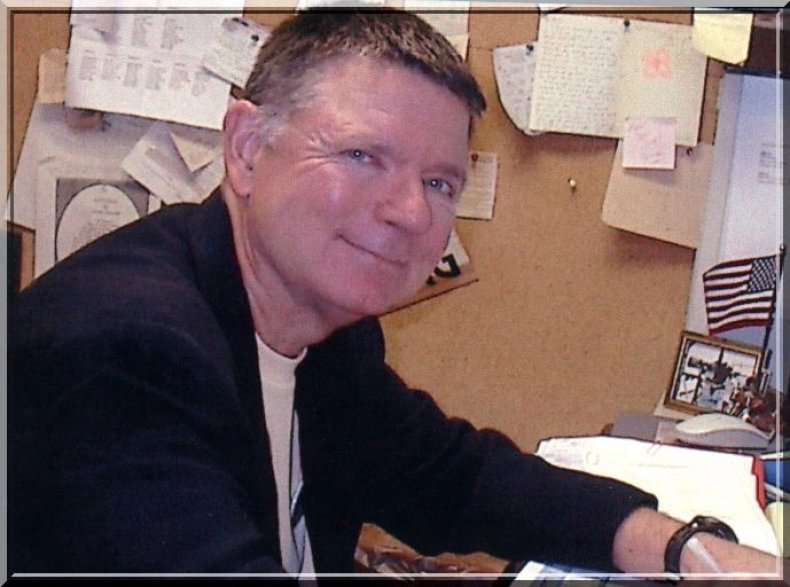 "Since 1993, eight abortion providers or staff have been killed," Stephen Singular, author of The Wichita Divide: The Murder of Dr George Tiller and the Battle over Abortion, told Newsweek. "There had been clinic bombings, 153 assaults, 173 arsons and countless threats of vandalism up until 2009 when Dr Tiller was murdered."
Singular believes that violence against abortion providers has decreased since Tiller's murder. However, according to the National Abortion Federation (NAF), it has become more verbal than physical.
In 2018, the number of individuals attempting to intimidate patients and disrupt patient services continued to increase at what they described as "at an alarming rate." 21,252 pieces of internet harassment and hate mail were reported with protests outside clinics also rising.
NAF also reports that the last case of extreme violence was in 2015 when a gunman entered a Planned Parenthood clinic in Colorado Springs and held staff and patients hostage. Police officer Garrett Swasey, plus two civilians, Ke'Arre Stewart, and Jennifer Markovsky, were killed.
But while extreme violence is down, one abortion provider feels that "we are going back to that time" when anti-abortion fervor took the life of Tiller.
Dr. Colleen McNicholas, a fellow with Physicians for Reproductive Health who practices in Missouri, Oklahoma and Kansas, believes that extremists take cues from the larger political environment: "Inflammatory rhetoric in relation to reproductive healthcare has seen a significant uptake since the election of President Donald Trump and we've started to see an increase in violence and targetted attacks against providers," she told Newsweek.
Dr. Carole Joffe, Professor in the Department of Obstetrics, Gynecology & Reproductive Sciences Advancing New Standards in Reproductive Health (ANSIRH) at the University of California, told Newsweek that many abortion clinics reported an "upsurge of violence and harassment since the Trump administration."
However, the abortion rights activist and friend of Tiller feels that the threat comes from politics itself: "It's not gone away—the threat to legal abortion is like nothing we've ever seen before. Some of these bills can't be parodied.
"Alabama has passed a bill that would put abortion providers in jail for 99 years. The 'Heartbeat bill' is unconstitutional..." said Joffe, referring to Roe v. Wade, the landmark case which ruled it unconstitutional for restrictive state regulation over abortion.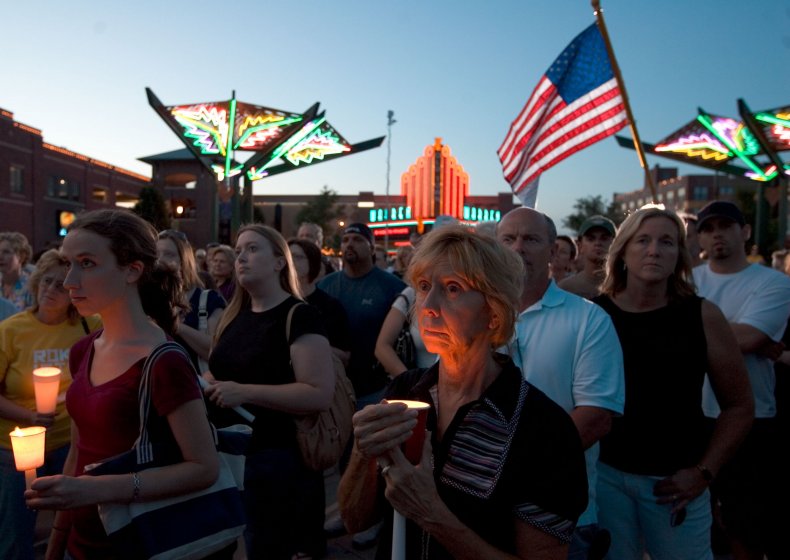 What will happen if Roe v. Wade is revoked?
While the 2016 presidential election also saw a "new aggressive wave" to ban abortion, abortion providers have been practising and navigating restrictive environments for a decade. "Despite what's happening on the federal level, the impact on abortion care is what is happening in the state," McNicholas told Newsweek.
Since 2001, 660 limits have been applied on abortions at the state level, as illustrated in the graphic below provided by Statista.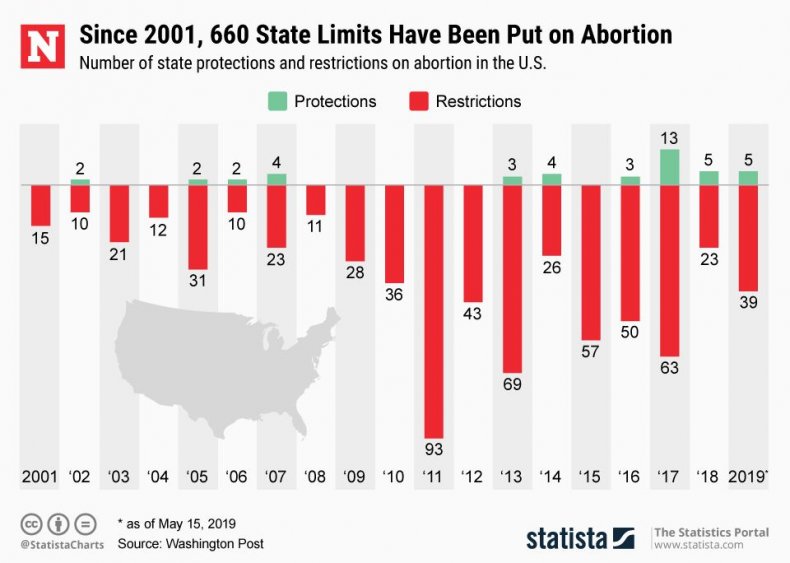 Nancy Rosenbloom, director of legal advocacy at National Advocates for Pregnant Women, told Newsweek: "Many women in the U.S., particularly low-income women, women of color, and rural women, have not had meaningful access to abortion care for decades, especially since Congress prohibited almost all federal funding for abortion for low-income people [Hyde amendment 1976 and following years], and with the hundreds of state laws restricting access to this essential medical care.
"Access to a full range of health care for all people in the U.S. with the capacity for pregnancy has never been a reality; this includes contraception, pregnancy care, labor and delivery, and pregnancy termination care. Attacks on the Federal Affordable Care Act have only made things worse."
Joffe agrees, believing that many women are "already living in a post-Roe v. Wade environment."
"In the south, there are long waiting periods for abortion, long travel distances to get to a clinic. In fact, 60 percent of abortion patients are already parents so it's hard for them to travel six hours one way. It's so turbulent," Joffe said.
"If you look at the history of abortion in the U.S. before Roe v. Wade, and what's going on now, one thing that is clear, as with everything else in the U.S., class and race plays a massive part. People with resources will get to where they need to go. African Americans will be the ones that suffer."
However, the future could be bleaker if the landmark amendment is overturned: "If the Supreme Court goes along with the wishes of extreme anti-abortion crusaders and declares that fertilized eggs, embryos and fetuses are constitutional persons with a full set of rights, all women's rights will be diminished," Rosenbloom explained to Newsweek.
"National Advocates for Pregnant Women has documented at least 1,200 cases in which women have been arrested, detained, and charged with crimes related to something they allegedly did or did not do during pregnancy, including experiencing a miscarriage or stillbirth.
"If the Supreme Court overturns Roe v. Wade on a 'fetal personhood' theory, we will see more charges like this, including women being charged with murder and other crimes for choosing abortion," Rosenbloom said.
Julie Burkhart, founder and CEO of the Trust Women Foundation, agrees, as she told Newsweek: "I am deeply concerned about the people in the states that are focused on outlawing and restricting abortion care. The people who are left without access will face consequences, such as having children for which they are not prepared and equipped. Maternal health and childhood health will continue to suffer."

However, Joffe doesn't believe that Roe v. Wade will be overturned before the 2020 Presidental elections. "Most likely the Supreme Court will not take a case until after the 2020 election. 70 percent of the American people don't want to overturn it, so it doesn't work in favour of the conservative appointees."
But while Roe v. Wade might not be overturned before 2020, Singular believes that it will be an issue that dominates the Presidental election: "Trump will talk about it, as there is gain in exploiting that inside of people in the name of religious values," he told Newsweek.
And what of the legacy of Dr. George Tiller? "He was a first among equals," Joffe told Newsweek. "He would take the hardest cases and often not charge. He was often referred to as 'St. George' by abortion providers. He was an extraordinarily compassionate individual.
"People have not forgotten George Tiller."