'Short Staffed Forever': Overworked Employees Air Grievances in Viral Post
Commenters were quick to agree with one viral meme depicting the plight of countless overworked employees.
In a Reddit post published on r/antiwork, Redditor u/Alien8576 (otherwise referred to as the original poster, or OP) posted a meme including a still shot from 1999 comedy film Office Space.
The meme's text overlay, presented in two separate sentences above and below Office Space character Bill Lumbergh (portrayed by Gary Cole), tells a story of what it's like to work for an employer that is constantly understaffed.
"Yeah, we're going to be short staffed forever," the text reads. "So if you could just work yourself to death that'd be great."
Titled, "How it feels at my job right now," the Reddit post has received nearly 9,000 votes and 99 percent upvotes in the last day.
Over the last year, more American workers have quit their jobs than at any other point in the country's history.
Last November, the U.S. Bureau of Labor Statistics reported that 4.5 million employed Americans quit their jobs, the highest level since the BLS began producing separation data in 2000.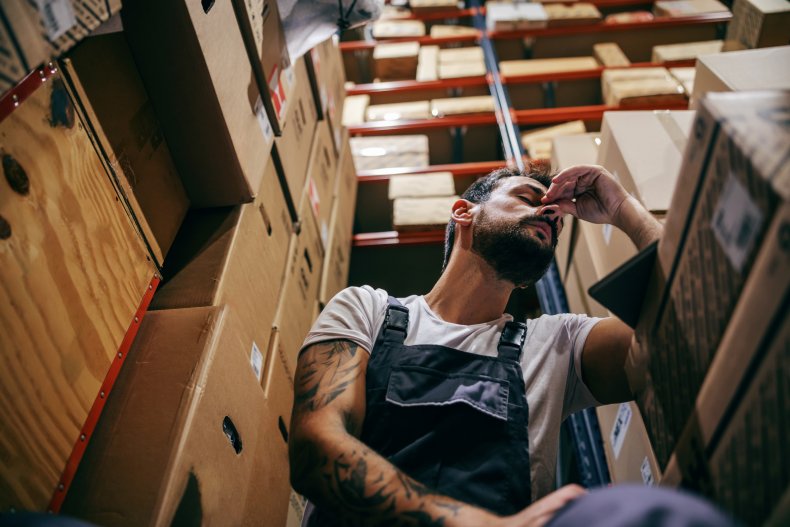 In February, 4.4 million employees quit their jobs, keeping pace with November 2021 while continuing to propel the Great Resignation.
As a result of millions of quitting employees, nearly 1,000,000 million COVID deaths and thousands of daily cases which have prevented many American workers from doing their jobs, employers across the country have complained of labor shortages.
However, reports from outlets including Forbes and NPR have indicated that an inability to retain high-performing staff members is more to blame for staffing issues than a perceived lack of prospective employees.
In a pointed response to the viral Reddit post, Redditor u/Theroaringlioness echoed that sentiment.
"Short staffed [equals] 'we're not really hiring, we just want less employees doing more work to save us more money,'" they wrote.
Throughout the viral post's comment section, many Redditors offered similar responses, as well as their own experiences in understaffed workplaces.
"Repeat after me: " Redditor u/Serrahph105 wrote, advising overworked employees how to respond to pushy employers.
"It is not my job to compensate for the fact that you haven't hired enough people to help keep this company running," they continued. "And I will not destroy my mind and I will not destroy my mind and body to do so."
In a series of comments, numerous Redditors said they have dealt with working conditions similar to the meme shared by the original poster, and revealed how they have been treated by employers that consistently complain about short staffing.
"[I] worked at a place where managers were given a bonus from corporate if the total hours all the workers did were under a certain amount," Redditor u/hopelessly_lost5 wrote. "Basically to make sure we were working at a capacity where, for us, we were understaffed, but they thought it should be enough."
"Had to call out this morning due to a migraine, put [my phone] on [do not disturb] and when I checked my phone after my shift was over I saw management texted me, 'If you're feeling better, can you come in? We are short staffed,'" Redditor u/Noted2020 wrote.
"F****n' hire someone," they asserted.
Redditor u/MaskedZuchinni said their workplace has been stretched thin since the onset of COVID, and that they plan to seek employment elsewhere whenever the opportunity arises.
"My job's been understaffed for the past year-and-a-half, maybe two-and-a-half," they wrote. "People will get hired then leave a month or two later."
"I've been there for about 6 years, and as soon as I find a better paying job, I'm out," they added.