Members of a popular internet forum praised one employee and their colleagues for their collective reaction to the public firing of another coworker.
In a viral Reddit post published on r/antiwork, Redditor u/Skin__Deep (otherwise referred to as the original poster, or OP) said that their boss decided to "make an example" out of an employee, and detailed the immediate fallout of that decision.
Titled, "My boss just called a 'mandatory meeting' with 25 staff members to fire/humiliate my coworker in front of a crowd," the viral post has received nearly 20,000 votes in the last day.
Beginning with the explanation that their now-former coworker was "an extremely hard worker and a great motivator" responsible for a team of entry level information technology professionals, the original poster said one mistake led to his firing and ensuing humiliation.
"One slip-up by a staff member on his team resulted in his termination," they wrote.
"My boss opted for the 'make an example out of him' route and called a big meeting in the early hours of the morning to chew him out and fire him in front of everyone else," they added.
Responding to their boss's insensitive and aggressive behavior, the original poster said other staff members immediately issued their two weeks notice, and that one employee quit on the spot. The original poster also said that remaining staff members have stood in solidarity with their fired colleague.
"The group cohesion within my department is strong, and my coworker has been given a ton of leads/recommendations for other jobs," they wrote.
"I'm at the end of my rope with my boss," they added. "I've already started applying to new positions."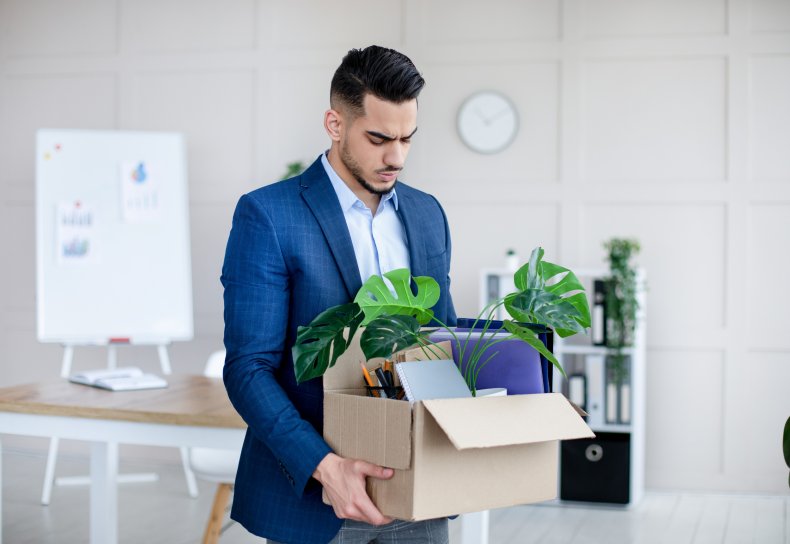 Since the beginning of 2021, American workers have quit their jobs more frequently than any other time in the country's history.
Last November, 6.3 million Americans separated from their employers, according to the U.S. Bureau of Labor Statistics. Of those 6.3 million separations, 4.5 million were quits, the highest mark since the BLS began collecting separation data in 2000.
Five months later, in February 2022, 4.4 million Americans quit their jobs.
As part of the mass-qutting phenomenon dubbed the "Great Resignation," employees across the United States have shown greater willingness to leave their current employers, in search of better working conditions elsewhere.
Issues of salary and benefits remain among the chief reasons for departures, but according to researchers at MIT Sloan Management Review, a majority of quitting employees have pointed to toxic work cultures as the deciding factor for their exit.
"A toxic culture is the biggest factor pushing employees out the door during the Great Resignation," MIT Sloan Management Review reports. "The leading elements contributing to toxic cultures include failure to promote diversity, equity, and inclusion; workers feeling disrespected; and unethical behavior."
Throughout the comment section of the viral Reddit post, Redditors acknowledged the blatant disrespect exhibited by the original poster's boss, and commended the group of employees for their swift reaction to the humiliation inflicted on their colleague.
"That kind of solidarity is awesome to hear," Redditor u/Remarkable_Leg_2040 wrote in the post's top comment, which has received more than 8,000 votes.
"F**k your boss," they added.
Redditor u/farmeroftanks, whose comment has received nearly 3,000 votes, encouraged the original poster to follow their intuition and to seek employment elsewhere.
"Get the f**out," they wrote. "The more people that leave because of your boss, the more he looks like the problem."
"Make it known that's why you're leaving your way out," they added. "The boss will be on his way out involuntarily before you know it for imploding the department."
In a separate comment, which has received more than 1,000 votes, Redditor u/Appropriate-Bowl-967 explained what they would have done in the original poster's circumstances, and expressed their dismay with their boss's treatment of employees.
"[Not going to lie], I would've walked out with him," they wrote. "Getting fired is bad enough. Publicly humiliating the person that's being fired, though? That's f*****g bullsh*t."
Newsweek reached out to @Skin__Deep for comment.