Shots Fired at George Floyd Protest in Denver, Colorado
Shots rang out at a Thursday protest at the Colorado State Capitol for George Floyd, a black man who died soon after a Minneapolis police officer kneeled on his neck during his arrest.
Colorado State Patrol spokesman Gary Cutler told The Denver Post that he wasn't aware of any injuries from the shooting. Democratic state Representative Leslie Herod reported hearing the shots around 6:46 p.m. via Twitter.
"State Patrol is on scene," Herod told The Denver Post. "They told us all to get down and run. They worked to clear the scene. They (the shots) came from down by the RTD bus stop, up towards the Capitol. I did not see who shot, I was not looking at that. It was multiple shots."
Denver police spokesman Kurt Barnes confirmed to the Post that six or seven shots were fired. It's unclear if the shooting was directly related to the protest.
The shots occurred during a protest event entitled "Justice for George Floyd, Breonna Taylor and Sean Reed & Others." Taylor was an EMT who was shot and killed in her apartment last March by Louisville, Kentucky, police. Sean Reed was a 21-year-old shot to death by Indianapolis Police on May 6 following a high-speed chase. Police officers haven't yet faced charges in any of the cases.
Video of the event showed protesters gathered on the capitol steps, holding signs and chanting, "Hey hey, ho ho, racist police have got to go!"
Around 6:30 p.m., protesters began marching towards the 16th Street Mall about one mile northwest of the capitol. The shots rang out as the march was underway.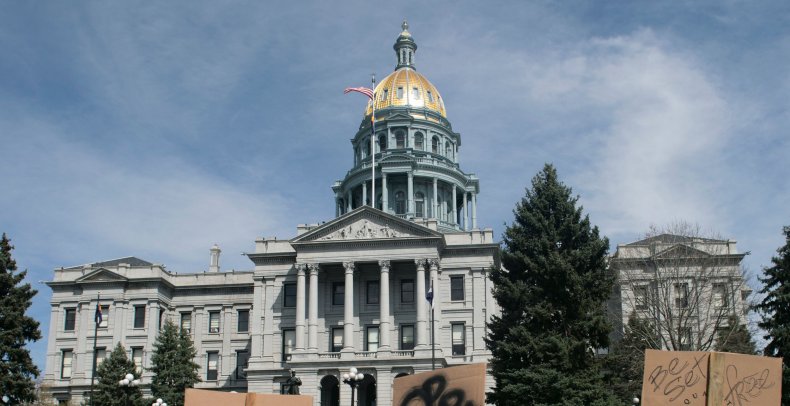 State Representative Jonathan Singer also reported shots fired near the Regional Transportation District station diagonally across the street from the capitol building.
"I would say we probably heard about seven or eight shots come.... We saw a lot of people running. I did not see a shooter," Singer told Denver Post reporter Alex Burness.
Herod later said that police had apprehended a suspect. However, when Newsweek contacted the Denver Police Department, a spokesperson said the matter was an ongoing investigation and police could not yet confirm whether anyone was in custody.
According to The Denver Channel, police redirected the protest route while those who had already passed the shooting site went onto Interstate 25, where they shut down traffic.
"We will continue to make our voices heard and demand justice for Black communities. We will not be deterred by this unspeakable act of violence," Herod said in a statement.