Should Americans 'Upgrade' Face Coverings to Surgical Masks Amid Omicron Spread?
Health experts are calling for people to comply with COVID-related measures to protect themselves against the virus worldwide as the new variant Omicron continues to spread, but some experts are recommending improved face masks in addition to vaccinations and boosters.
Dr. Abraar Karan, an infectious disease fellow at Stanford University, said that with little known about the new variant, people should improve the quality of their face masks and coverings.
"We won't know key details about Omicron such as transmissibility & virulence for a few weeks," he wrote on Twitter on Tuesday. A few weeks is too long to take a chance, especially with higher risk people. If you can upgrade your mask for indoor/crowded settings, please do that now."
The new Omicron variant prompted many countries to impose temporary travel restrictions after it was detected in South Africa last week. Nations including the U.S., U.K, Japan, Israel, France and Italy banned travel from South Africa, Lesotho, Botswana, Zimbabwe, Mozambique, Namibia and Eswatini.
A study that looked into community masking in Bangladesh found that face masks made of cloth are less effective than surgical masks. The filtration efficiency of cloth masks was 37 percent compared to a surgical mask, which was 95 percent. Additionally, surgical masks were proven to be more efficient than cloth masks after 10 washes.
On Tuesday, Dr. Karan recommended switching to the N95 or a surgical-grade mask with a mask brace for better face coverings. According to Armbrust American, the N95 has a 99.95 percent Particle Filtration Efficiency (PFE).
The KF94 and KN95 are also protective but they are less effective than the N95, according to Aaron Collins, a mechanical engineer who tested various masks' effectiveness.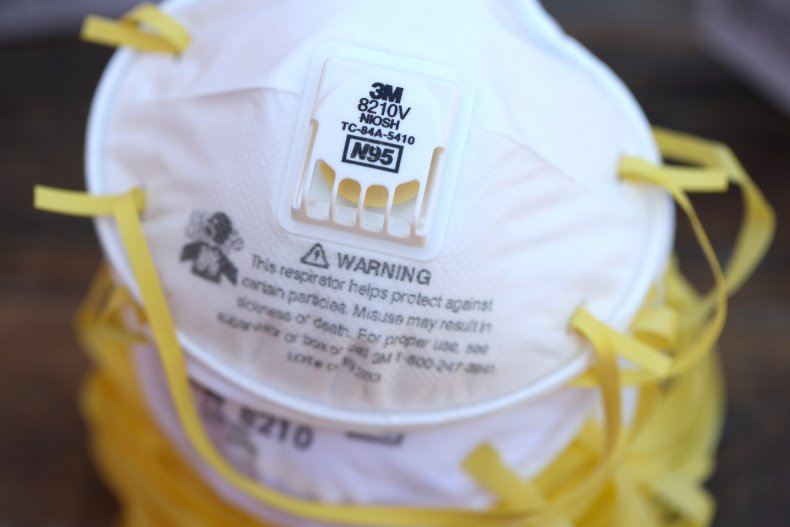 Bradley Doebbeling, a physician and a professor at Arizona State University's College of Health Solutions, told Newsweek that improving masks is not the only factor that would control Omicron's transmissibility.
"Transmission is based upon the specific variant, the masks, the behaviors, the environment, specific individual factors like vaccination and antibodies and other risk factors," he said. "The new variant may be more transmissible and more lethal but we don't know."
Doebbeling recommended using the N-95 ventilator mask over other masks to improve protection against the virus. He also pointed out the importance of wearing the mask properly.
"Avoid masks that make it hard to breathe, have exhalation valves. Choose masks that have 2 or more layers of washable, breathable fabric, completely cover your nose and mouth, fit snugly against the sides of your face, and don't have gaps," Doebbeling said.
"Have a nose wire to prevent air from leaking out the top. Prioritize masks that are comfortable enough to be worn consistently," he added.
Although Doebbeling and other experts recommended upgrading the type of face masks worn amid the spread of the new variant, physician and infectious disease expert Renuga Vivekanandan argued that any type of face-covering is better than not wearing one at all.
"We have studies showing different degrees of protection with different types of masks," she said. Vivekanandan added that the N95 face masks are better than both surgical and cloth masks, and that cloth masks offer the least protection but are still effective.
"Cloth masks can be effective even if they are of lower protection," she said. Ideally, a double-layered cloth mask or more much more effective. The goal is to contain the person's respiratory droplets wearing the mask "
President Joe Biden is expected to announce a winter plan to combat COVID amid the rise of the Omicron variant.
Top public health expert Leana Wen said on Thursday that the best protection against Omicron includes vaccination, boosters, testing, and masking in public indoors.
"The finding of an omicron infection in a Minnesota resident who had no international travel means that there is spread in the United States," she wrote on Twitter. "There will be many more cases to come."
The first Omicron case identified in the U.S. was discovered after a fully-vaccinated traveler returned to California after a trip to South Africa.
The second reported Omicron case was identified on Thursday in a Minnesota resident who was returning from New York City after attending a convention, according to New York and Minnesota officials.
In South Africa, the number of new COVID cases has doubled in a single day as it increased from 4,373 on Tuesday to 8,561 on Wednesday, raising concerns that Omicron could be the most infectious variant so far.
Update 12/5/21, 9:06 a.m. ET: This story has been updated to include comments from infectious disease experts Renuga Vivekanandan and Bradley Doebbeling.