Omicron Variant: Germany, Italy, U.K. Report Confirmed Cases as Travel Restrictions Multiply
Officials in Germany, the United Kingdom and Italy reported the first cases of the new Omicron variant that was initially detected in South Africa.
Germany's Bavarian health ministry said on Saturday that two confirmed cases arrived to Munich from South Africa on November 24.
"The individuals have been in domestic isolation since Nov. 25 following a positive PCR test. Following reports of the new variant, the two individuals had the foresight to arrange for themselves to be tested for the variant," a ministry spokesperson said in the statement.
Fifty other passengers who were on the same flight that arrived at the Munich airport from Cape Town are currently quarantining in Bavaria.
The ministry is allowing German nationals and people residing in Germany to travel from South African countries, but it advises against travel heading to that region as the "effects of the variant are currently unclear."
"It is at least as contagious as the Delta variant and possibly more dangerous," the ministry spokesperson added.
Earlier, officials said that the cases were being examined as they were suspected to have been linked to Omicron.
Germany's Hessian Ministry for Social Affairs and Integration said Saturday that an individual who traveled to Germany from South Africa is suspected to have the latest COVID strain.
The ministry said that a fully vaccinated traveler came from South Africa on November 21 and had developed symptoms over the week. The traveler is currently isolated at home as she waits for the results of a complete sequencing test, which will come out in a few days.
"Please protect yourself and those around you. If you have returned from southern Africa in the last week, limit your contacts and have yourself tested," Kai Klose, the social affairs minister for the German state of Hesse, said in the statement.
The Czech Republic has confirmed its first case of the Omicron variant on Saturday, according to AFP. The National Institute of Public Health said earlier that a traveler came from Namibia.
"A lab is checking a possible find of a positive specimen of the Omicron variant. We are awaiting confirmation or refutation of the case," Stepanka Cechova, an institute spokesperson, told Reuters on Saturday.
Meanwhile, two cases of the new variant have been reported in England, U.K. Health Secretary Sajid Javid said on Saturday. The cases were linked to southern Africa travels.
Both cases were confirmed by the U.K. Health Security Agency after genomic sequencing. The individuals in those cases are now self-isolating, according to Javid.
"Today I can announce one thing that we are doing immediately is carrying out targeted testing and sequencing of positive cases in the two areas that are affected," Javid said, per the BBC.
The U.K. now has 10 countries on its travel red list in which all individuals coming from South Africa, Namibia, Zimbabwe, Botswana, Lesotho, Eswatini, Angola, Mozambique, Malawi and Zambia have to quarantine for 10 days.
Italy has also reported its first Omicron variant case in Campania on Saturday linked to a traveler who came from Mozambique, according to the Italian health ministry, CNN reported.
Additionally, a case of the new variant has also been detected in Belgium, according to leading local virologist Marc Van Ranst.
"In Belgium, one sample was confirmed as the novel B.1.1.529 variant (in a returning traveller from Egypt (11/11); first symptoms on 22/11)," he wrote on Twitter on Friday.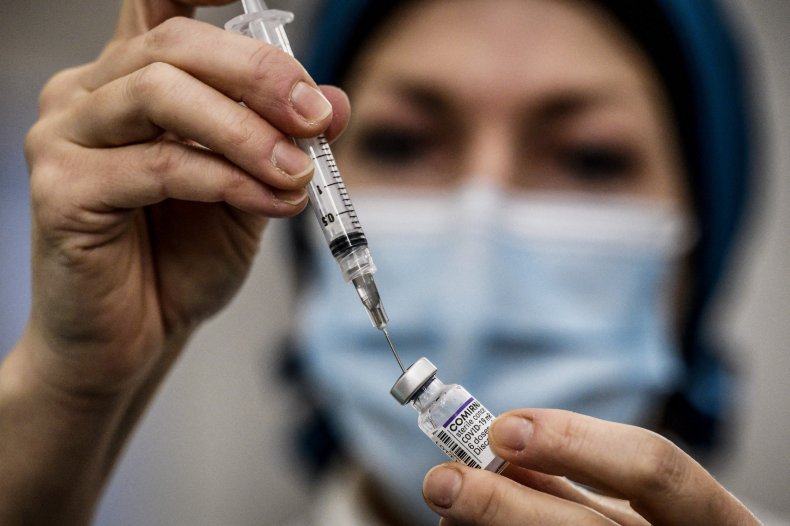 Earlier on Friday, Van Ranst said that Belgium is analyzing "two suspicious samples." According to Reuters, Van Ranst's lab works closely with the country's health body Sciensano.
The U.S. will start banning air travel from South Africa and seven other nations on Monday to curb the spread of the new strain, according to a Friday announcement by President Joe Biden. Japan, Canada, Australia, and Israel have also imposed temporary air travel restrictions in response to the Omicron variant.
On Saturday, the U.S. Department of State warned Americans about traveling to South Africa as it applied Level 4 "do not travel" advisories to the country.
More countries have announced travel restrictions as other cases were confirmed around the world, CNN reported.
Some of those nations include Austria, France, Italy, Malta, and the Netherlands that have banned entry to all travelers who were in South Africa, Lesotho, Botswana, Zimbabwe, Mozambique, Namibia and Eswatini over the past two weeks.
Meanwhile, Switzerland suspended all direct flights from those destinations, and Oman will follow a similar step starting Sunday.
Travel restrictions on the seven African countries were also announced by Egypt, Singapore, Malaysia, Dubai, Saudi Arabia and Jordan.
Additionally, Bahrain and Sri Lanka will ban entry, and Brazil will close its air borders from those African countries except Mozambique. Pakistan will also shut its borders to South Africa, Hong Kong, Mozambique, Namibia, Lesotho and Botswana.
Update 11/27/21, 4:02 PM ET: to include confirmed cases in Germany and more countries that announced travel restrictions.