Should I Wipe Down My Groceries? How to Disinfect Packaging to Protect Against the Coronavirus
As shelter-in-place orders are in effect nationwide, many U.S. residents are only leaving their homes to access essential services and businesses, like pharmacies and grocery stores. But some people may be worried about the risk of contracting the coronavirus through groceries, due to the potential of the virus living on surfaces. So you may be wondering: should I wash my groceries?
Some studies show that the coronavirus can live for up to three hours after being coughed into the air, up to four hours on copper, up to 24 hours on cardboard, and up to three days on steel and plastic.
However, Dr. Jenna Macciochi, an immunologist at the University of Sussex, pointed out that "These studies were done in lab environments, so we don't know how this translates to real life," when considering differences in temperature and humidity.
The Centers for Disease Control and Prevention (CDC) says that people should use hand sanitizer when leaving the grocery store and should then wash their hands when getting home, but that: "There is no evidence that food or food packaging has been linked to getting sick from COVID-19."
William Keevil, Professor of Environmental Healthcare, University of Southampton, told Newsweek: "In general, the risk [of contracting the coronavirus from food] is considered very low to negligible provided good hygiene procedures are adhered to, [such as] washing hands when preparing food, washing fresh produce, safely disposing of packaging, and washing hands."
The World Health Organization (WHO) advises people to: "Once home, wash your hands thoroughly and also after handling and storing your purchased products."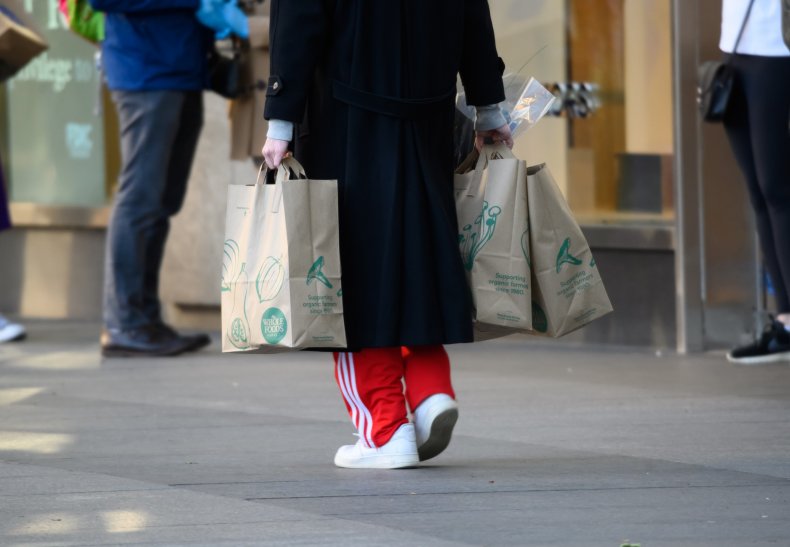 Dr. Macciochi also recommends that people be cautious when handling their groceries and told Newsweek: "People should be careful and remove and dispose of packaging without touching their face and washing hands afterward."
Though the advice is not specifically related to groceries, the WHO says: "If you think a surface may be infected, clean it with simple disinfectant to kill the virus and protect yourself and others. Clean your hands with an alcohol-based hand rub or wash them with soap and water. Avoid touching your eyes, mouth, or nose."
Dr. Macciochi explained to Newsweek how to disinfect groceries, and recommends disinfecting any packaging exposed to the outside using a "disinfectant spray with 62-71 percent alcohol, or 0.5% hydrogen peroxide bleach or household bleach containing 0.1% sodium hypochlorite," and says that using temperatures above 56 degrees Celsius is also important when disinfecting the packaging.
However, when washing fresh produce like fruits and vegetables, avoid using chemicals. The WHO advises washing them "the same way you would in any other circumstance," and advises washing your hands with soap and water before handling the fruits and vegetables. "Then, wash fruits and vegetables thoroughly with clean water, especially if you eat them raw."