Should There Be a Maximum Age Restriction for Buying a Gun?
After the mass shootings in Buffalo, New York, and Uvalde, Texas, by 18-year-olds armed with AR-15-style rifles in May of last year, the debate around the minimum legal age for the purchase of firearms was reignited across the country. However, with the recent mass shooting in Monterey Park, California, which left 11 people dead, the spotlight is also on a maximum age requirement for buying guns.
A majority of Americans think there should be a maximum age requirement for the purchase of firearms, though they don't agree on the age, according to an exclusive poll run by Redfield & Wilton Strategies on behalf of Newsweek.
The poll—conducted between January 28 and 29 among a sample of 1,500 eligible U.S. voters—found 52 percent of respondents supported the imposition of a maximum age requirement for the purchase of firearms. Among these, 20 percent of respondents thought the age limit should be set at 60, while 16 percent said that it should be set at 70.
Some 11 percent of respondents said the maximum age limit should be set at 80, while 6 percent said it should be set at 90.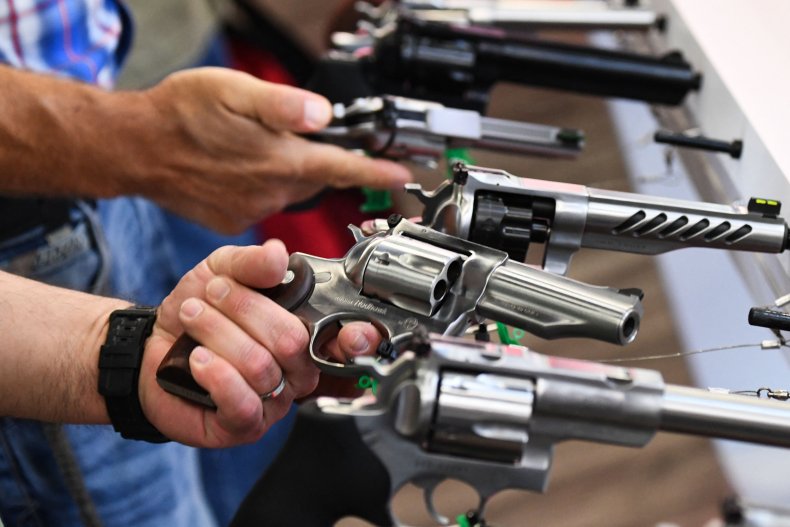 The remaining respondents were split between 29 percent who thought there should be no maximum age requirement and 19 percent who didn't know whether there should be one at all.
The subject of restricting the maximum age at which people can purchase a gun is a thorny one that puts an individual's right to own a firearm in contrast with fears for their safety and that of others. While major incidents involving older people brandishing a firearm are not common, there have been reported cases of individuals with dementia using guns to kill themselves and others.
Restricting the purchase of firearms by older people is a topic that doesn't get nearly as much attention as limiting the age at which young people can buy a gun since mass shootings have been committed predominantly by young men. Six of the nine deadliest mass shootings in the U.S. since 2018 have been committed by people who were 21 or younger.
Mass shooters tend to be younger in the U.S. Data for 2020 shows that just 61 people aged 70 to 74 were guilty of homicide of any kind in the country—less than half a percentage point of all murder offenders for the entire year.
But, recently, the fatal shooting of 11 people at a ballroom in Monterey Park, California during Lunar Year celebrations on January 21 by a 72-year-old man has brought the issue of older shooters to the forefront.
The suspect, Huu Can Tran, opened fire against the same dance club that authorities said he had previously frequented. The victims were all aged between 57 and 76.
A majority of respondents also supported the imposition of a minimum age requirement, with 33 percent saying it should be set at 21, while 30 percent said it should be 25. For 19 percent of respondents, the ideal minimum age would be 18, while for 5 percent it should be 16.
Only 5 percent of respondents said there should not be a minimum age requirement for the purchase of firearms.
Under current federal law, there's no age limit for the purchase of a gun, while there's a minimum legal age for buying firearms. Under the Gun Control Act of 1968, the federal government sets the minimum age requirement at 18 for the purchase of rifles, shotguns, and ammunition and at 21 for the licensed purchase of a handgun. There are exceptions when buying from an unlicensed dealer.
Regulations vary from state to state on the minimum age necessary to purchase a firearm. States like California, Connecticut, Hawaii, Illinois, Iowa, Maryland, Massachusetts, New Jersey, New York, Washington, and the District of Columbia have much stricter minimum age restrictions than Alabama, Arizona, Arkansas, Georgia, Idaho, Mississippi, Missouri, New Hampshire, South Carolina, and Texas.
In Texas and many other states, 18-year-olds like Ramos can legally buy long guns (firearms with long barrels) including assault rifles—though they are not allowed to purchase a handgun.
Responding to the waves of outrage and grief overwhelming the country in the aftermath of the Uvalde school shooting and to calls from Democrats for more gun control legislation, President Joe Biden urged lawmakers to ban assault rifles or, if not possible, to raise the legal age to buy an assault weapon from 18 to 21.
The landmark bipartisan bill on gun control approved last summer—the Bipartisan Safer Communities Act—didn't include any change in the minimum age requirement for purchasing assault rifles, though it was a historic achievement for those calling for stricter gun legislation.