'Shred the Love': Street Artist Banksy Shares Video Showing How 'Girl With Balloon' Painting Was Shredded After $1.4m Bid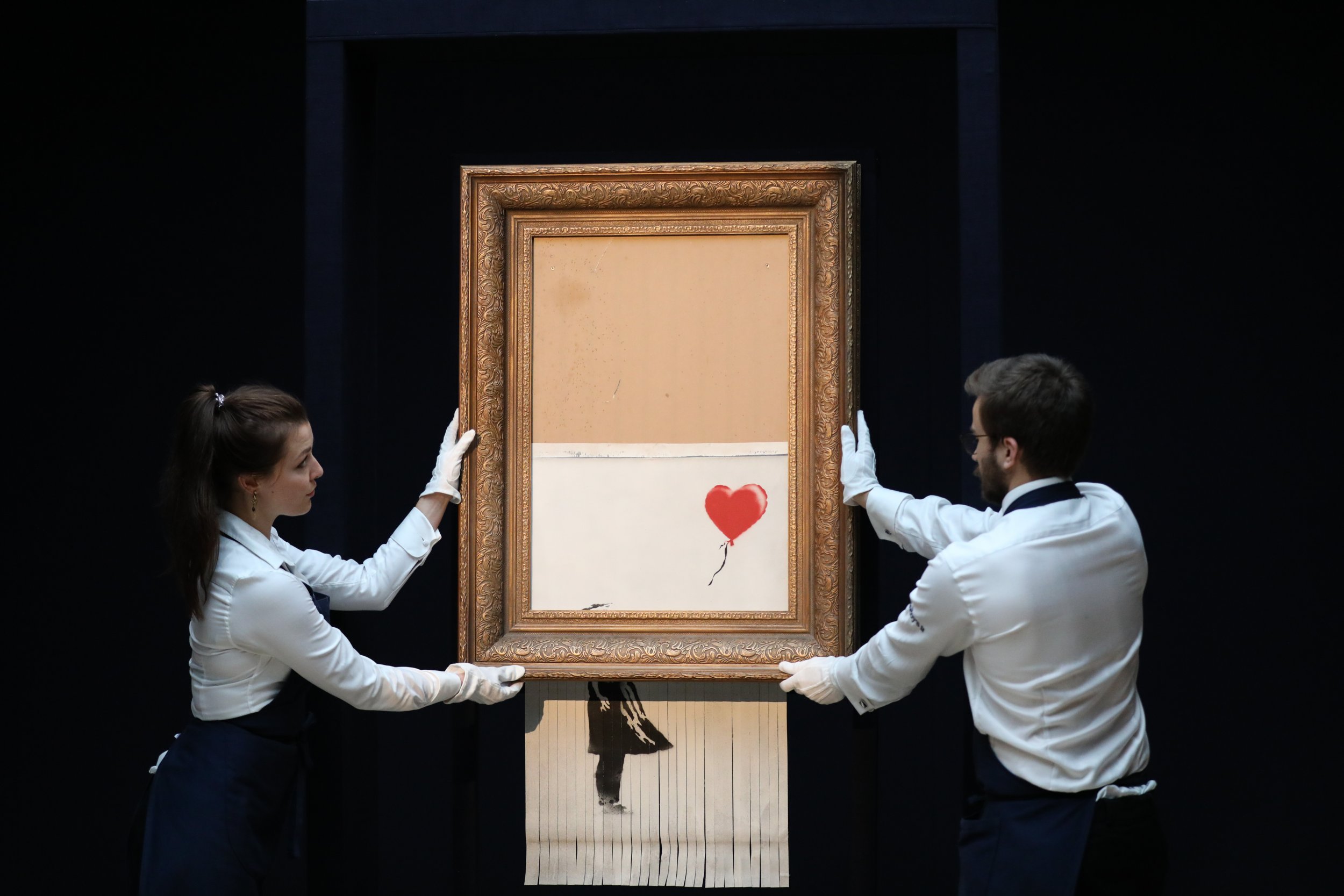 Famous street artist Banksy has followed up his latest stunt of shredding a sold painting with a video explaining just how he pulled it off.
Earlier this month, Bansky's "Girl With Balloon" painting sold for $1.4 million. But, moments after the bidder had won, the painting went through a shredder attached to the bottom of the frame. Alex Branczik, the senior director of Sotheby's, responded by conceding "it appears we just got Banksy-ed."
The artist, whose identity kept secret, wants you to know just how it all played out. On Tuesday, Banksy uploaded a video titled "Shred the Love, Director's Cut." The footage shows the frame of the painting being altered to fit the shredder and the scenes leading up to the sale of the work—including people sipping champagne and nibbling hors d'oeuvres at the gallery.
Once the bidding war begins, you can see dozens of people throwing numbers out. Eventually, after settling on the final bid, the auctioneer bangs the gavel and the event seems over. The camera flashes to someone pressing a button (maybe Banksy, but we'll never really know) and the sound of beeping. The auctioneer then looks in horror as the frame shreds about 75 percent of the painting.
Banksy had planned for the painting to be completely shredded and said, "In rehearsals it worked every time." Footage is then shown of a practice painting being destroyed.
Despite "Girl With Balloon" being destroyed, the anonymous female bidder chose to still purchase the painting for their bid price. "When the hammer came down last week and the work was shredded, I was at first shocked, but gradually I began to realize that I would end up with my own piece of art history," she said.
There has been heavy speculation that the work is now worth even more because of the stunt. Art dealer Steve Lazarides, who has sold Banksy's works in the past, said he thinks Sotheby's had nothing to do with the shredding, but that its destruction has made it even more valuable.
"It may well be one of the first works to be worth more destroyed than it is whole," he said, according to Artsy.net. "If I was the collector that paid the money, on the night I would have been very shocked, but looking back in hindsight right now, I think I'd keep that piece of work. Its value very well might have increased."