'The Shrink Next Door': How To Watch, Who Stars and What It's About
Will Ferrell and Paul Rudd team up for the new Apple TV+ comedy drama The Shrink Next Door.
Unbelievably based on a true story, the series is based on a popular podcast series of the same name. The Shrink Next Door has plenty of comedic talent in front of and behind the camera, but it features a much darker tone than we've previously seen from them before.
The limited series will drop weekly and and the first three episodes are available to watch now. Here's everything you need to know about The Shrink Next Door to get you ready for the series.
How to Watch The Shrink Next Door
The Shrink Next Door launches exclusively on Apple TV+ on Friday, November 12.
The first three episodes drop on that date, with the following episodes dropping weekly thereafter.
There are eight episodes in total with the finale, Episode 8, airing on Friday, December 17.
What is The Shrink Next Door about?
The Shrink Next Door is a dramatization of a popular podcast series called The Shrink Next Door by journalist Joe Nocera. His series told the story of Isaac "Ike" Herschkopf, who abused his position as a psychiatrist and exploited his patients for personal gain.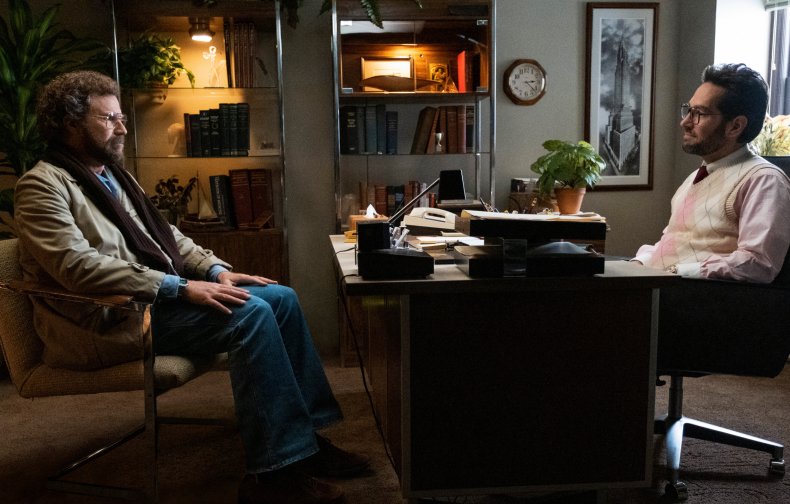 The Apple TV+ series tells a similar story, with a focus on the relationship between Ike and one of his patients Marty Markowitz. The story is played out over decades, and shows how Ike implanted himself into the life of Marty.
The story takes place within a Jewish community in New York City across the '80s, '90s and '00s.
Elements of the story from the podcast had to be changed for the screen, as showrunner Georgia Pritchett told Newsweek, "If anything we dialed it down," she said. "There was so much ground to cover. I think that was another reason why I wanted to have this mixture of drama and comedy because I think if we didn't believe in those men and feel for them and feel rooted in that relationship, I think it would have been so easy to end up laughing at them or turning against them."
Who stars in The Shrink Next Door?
Will Ferrell plays Marty Markowitz, the non-confrontational owner of a textiles factory who seeks a psychiatrist to help him with his personal life.
Paul Rudd is the psychiatrist he chooses, Dr. Isaac "Ike" Herschkopf. Ike is a charming, disarming but ultimately untrustworthy person who appears to have a hidden agenda.
Kathryn Hahn (Wandavision) plays Marty's sister Phyllis. She has her brother's best interests at heart and quickly becomes suspicious of his new psychiatrist's methods. SNL alumni Casey Wilson plays Ike's doting wife Bonnie. Sarayu Blue, Kesia Brooke, Allan Wasserman and Cornell Womack also feature in the cast.
Pritchett (Succession, Veep) is the showrunner, writer and one of the executive producers of the show. Michael Showalter (Wet Hot American Summer) directs and is also credited as an executive producer, alongside Rudd and Ferrell.