Sibling Banning His Brother, His Wife and Toddler From Restaurant Cheered
The internet has backed a restaurant owner who refused to let his brother and sister-in-law take their toddler to his child-free restaurant. His relatives had brought the kid with them, hoping the poster would make an exception for "family."
In a now-deleted post shared on Reddit earlier in February under the username u/heIIoki, the restaurant owner explained that there is a new policy at the place, banning all kids under the age of 12. The poster wrote that this has improved the atmosphere.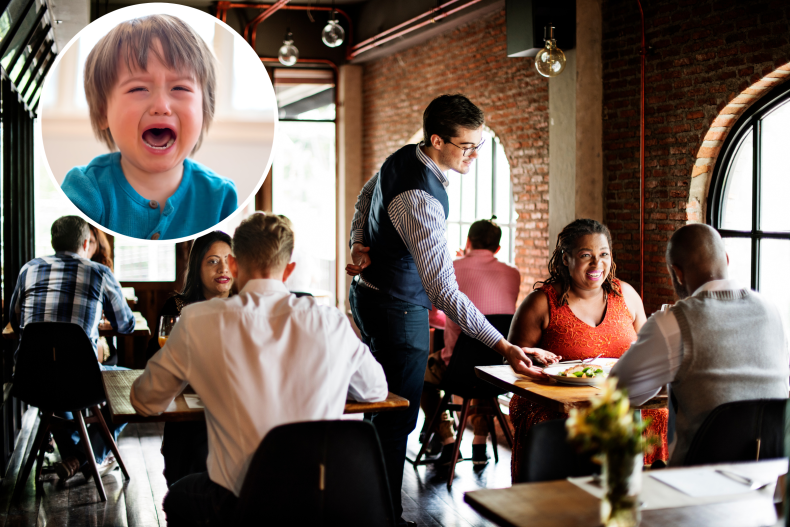 According to the U.S. Department of Agriculture, the Consumer Price Index (CPI) for all food increased 0.7 percent from December 2022 to January 2023, and food prices were 10.1 percent higher than in January 2022.
Recently, the poster's brother and sister-in-law came to visit from out of town. They showed up at the restaurant with their 4-year-old son, demanding to eat there, despite knowing about the age restriction. However, the poster turned them down because it would have been unfair to other parents.
"I explained to them that I would not make an exception, because it's against my rules and it would be unfair to the other parents. They got mad, but eventually left after trying to argue. My brother told our parents and other siblings what happened and now everyone is sending me angry messages about it," the poster wrote.
Life coach Marni Goldman told Newsweek that this was such an unnecessary waste of energy that could've been spent having a wonderful night.
Goldman said: "Talk about entitlement?!? The only thing you did wrong was thinking you could have a lovely night out with your brother and sister-in-law. This probably isn't the first time they've shown selfish, inconsiderate behavior. Rules are rules. A movie theater, for example, wouldn't make an exception for a 10-year-old to see an R-rated movie. It's absolutely ludicrous they would blame you.
"Sadly, you were the recipient of emotional cruel manipulation," Goldman added. "They are just projecting the inner anger they have within, onto you, using this scenario as a reason to be upset and blame you for a ridiculous request. I would limit as much interaction as possible. If they can blame you for this, can you imagine if you really did something wrong?"
The post has gone viral, receiving more than 8,600 upvotes and 1,500 comments.
One user, Natural_Garbage7674, commented: "If I went to a restaurant that I knew didn't serve children and I walked in and there was a child, I would be mad. If I found out that an exception was made for the family of the owner, I would be furious. If that child ruined the enjoyment of my child-free meal, I would be incandescent with rage.
"You have a business. You've made a business decision. Your family attended your business and expected you to make a personal decision in your business space. I'm just imagining all the crazies who are normally all "my beloved Timmy wouldn't misbehave" while Timmy is doing his best Godzilla impression, what they would do if they found out you had let any child in, especially if they misbehaved. Not worth it."
User babcock27 wrote: "I mean, his business IMPROVED after denying children. It's his unique selling point and, obviously, people like it and go there because of it. You would have a room full of p*****-off customers who chose to go there due to the lack of kids only to be confronted by a misbehaving 4-year-old. This could cost him those customers plus any they told. It's a much bigger issue than just letting your family have their way."
Medium-Fan440 added: "Exactly. Even the quietest, best-behaved child has what we used to call a "RING OF DINN" that surrounds them permanently, even while they sleep. (DINN = loud noise) No young child is quiet. They all have a talent for wreaking havoc out of thin air."
Usrname52 added: "I don't think it's 'not fair to the other parents.' I think it's particularly not fair to the people who choose to go there because there are no kids there."
Newsweek was not able to verify the details of the case.
If you have a similar family dilemma, let us know via life@newsweek.com. We can ask experts for advice, and your story could be featured on Newsweek.