Sibling Slammed for Going on Vacation With Sister's Ex-Husband: 'Betrayal'
A woman has been backed online after she shared her frustration that her family was planning on going on vacation with her abusive ex-husband.
"I separated from my ex-husband over two years ago. It was nasty. He was nasty. He had abused me for years, mentally, emotionally, physically," user ForeverTheOptomist said in a recent post on the London-based discussion site Mumsnet's AIBU? [Am I Being Unreasonable?] subforum. "There were occasions when our children ran away and hid when he started shouting."
A few weeks ago, she said that one of her siblings contacted her to ask if she would mind if they traveled to the ex-husband's vacation home with their family and another sibling's family.
"I stupidly gave the go ahead, mainly because I'm nice(!), but I wasn't happy," the poster wrote. "Now it appears that he has booked a flight to go out with them."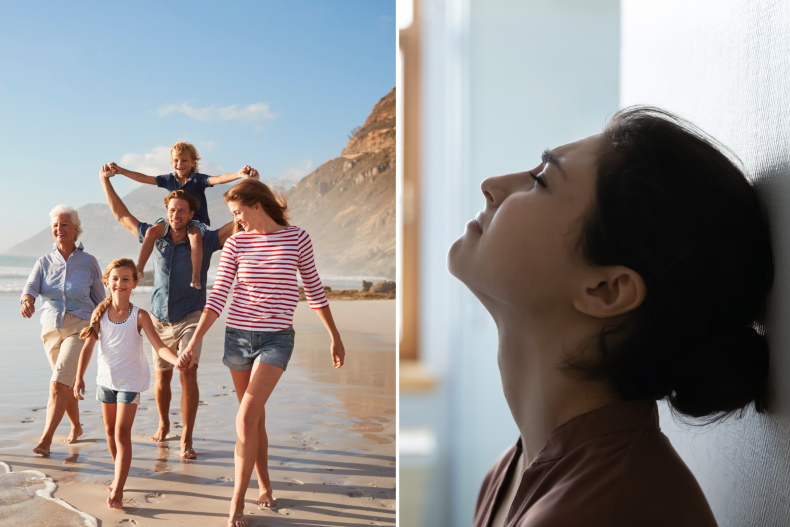 Learning that her ex-husband had bought a plane ticket and would be on the trip with them, the woman was furious and asked if she was justified in being upset about the situation.
"Am I being unreasonable to think it [is] a betrayal for them to even consider going in the first place, and feel incredibly p***** that they're going to be holidaying all together?" she asked.
Couples counselor Cate Mackenzie told Newsweek that "it is incredibly common and a really tricky area to navigate for the 'hurt' partner. Sometimes, the family prefers or really loves the ex, and it can exacerbate the incredible trauma and loss of the original relationship and bring up doubt about whether your family has any loyalty or love for you."
When family members or friends maintain a relationship with an ex, it can have a real impact on the other person.
"This can be extremely destructive if the family does not side with their blood or family member and do not understand the hurt they are causing," said Mackenzie. "This can lead to real hurt and or depression or deep anger for the hurt family member and a feeling of being gaslit."
In the comments, Mumsnet users shared their thoughts and overwhelmingly sided with the upset woman.
One commenter said: "They should never have asked. Utter a*******," while another wrote: "In my experience that is some families for you. Absolutely disgusting behavior from them."
"Using the holiday home, not a problem. Him going on holiday at the same time—wtf!" said another comment.
For the woman upset by her family's actions, Mackenzie suggested a few potential steps: "Ideally she needs to get support to herself calm and regulated and backed up—maybe a friend or relative—so she can speak clearly and make a genuine clear request of her family members," she said.
"If her family does not understand then this may be a process of helping them to understand what she needs. Some people do not realize the damage done by not standing by their family member but if you help them to get this then it can all shift but it needs to be handled with care."
Newsweek was not able to verify the details of this case.
If you have a family dilemma, let us know via life@newsweek.com. We can ask experts for advice, and your story could be featured on Newsweek.