Signing Colin Kaepernick is Easier Said Than Done For NFL Teams, Despite Overwhelming Support
Former NFL quarterback Colin Kaepernick has not taken a meaningful snap of football since the 2016 season, the same year he began kneeling to protest injustice to black Americans.
Kaepernick went on to play in 12 regular-season games in 2016, starting in 11 of them. But since then, he has not been on an NFL roster, and the only time his name seems to surface is when there are national anthem protests.
Fast forward to 2020, and in the aftermath of George Floyd's death on May 25 after a Minneapolis police officer knelt on Floyd's neck, there has been an overwhelming resurgence of protests against police brutality of black Americans. Now with more and more professional and college teams on board, and planning to stage peaceful protests at their games, Kaepernick's name has come full circle.
There are current and former athletes who advocate for NFL teams to sign Kaepernick, and even a U.S. Representative said his local NFL team should sign Kaepernick.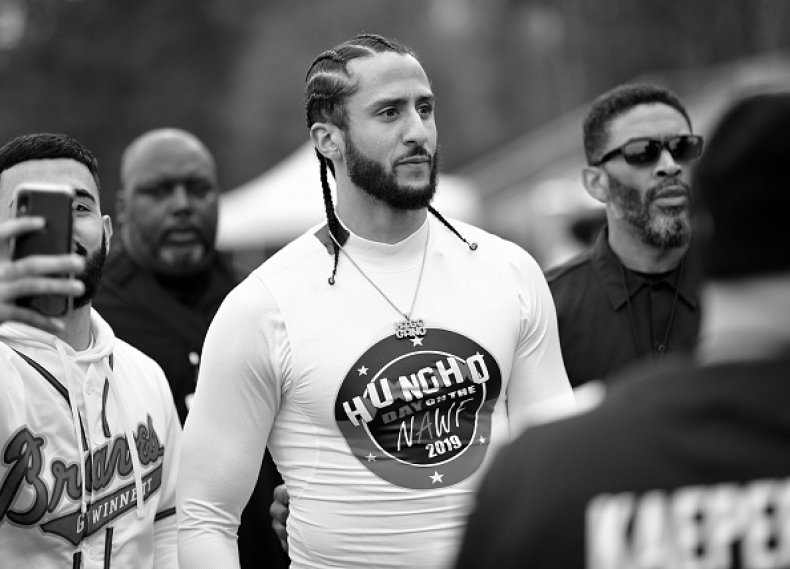 Kaepernick, 32, might not be as rusty as other players who have been out of the league for three full seasons. He has worked out for scouts and general managers, and he's held interviews with teams over the last three years to try and land a spot on an NFL roster.
Does he still have NFL-caliber talent? It's highly likely. So why hasn't he been on an NFL roster since the 2016 season? It actually takes going back to the 2015 season, and then moving forward from there. But before backstepping to 2015, how about a journey back to 2012.
After spending his rookie season on the bench as Alex Smith's backup in 2011, Kaepernick waited his turn in 2012 before Smith got hurt. Kaepernick got his first start in a Monday Night Football game against the Chicago Bears, and he led the 49ers to victory. Kaepernick went on to start the next six games, piling up a 5-2 record as a starter and leading the team to the playoffs and eventually the Super Bowl, where they lost to the Baltimore Ravens.
In 2013, Kaepernick went 12-4 as a starter while passing for 21 touchdowns and rushing for another four scores. He led the 49ers back to the NFC title game, where they lost to eventual Super Bowl champs, the Seattle Seahawks.
He guided San Francisco to an 8-8 record in 2014, and the team missed the playoffs for the first time since the 2010 season. The 2015 season started even worse, as Kaepernick quarterbacked the team to a 2-6 record before new coach Jim Tomsula named Blaine Gabbert the starting quarterback the remainder of the season.
After 2015, Kaepernick had three surgeries that depleted some muscle mass and dropped his weight. He lost the 2016 starting job in fall camp to Gabbert under new coach Chip Kelly's direction, and Kaepernick began protesting during the third preseason game when he was spotted sitting down during the national anthem. His response was straight to the point.
"I am not going to stand up to show pride in a flag for a country that oppresses black people and people of color," Kaepernick said in a post-game press conference. "To me, this is bigger than football and it would be selfish on my part to look the other way. There are bodies in the street and people getting paid leave and getting away with murder."
In the fourth preseason game, Kaepernick began taking a knee during the national anthem because he felt it was less disrespectful to military members.
Other players around the league began their own protests, following Kaepernick's lead, to also protest police brutality against the black community.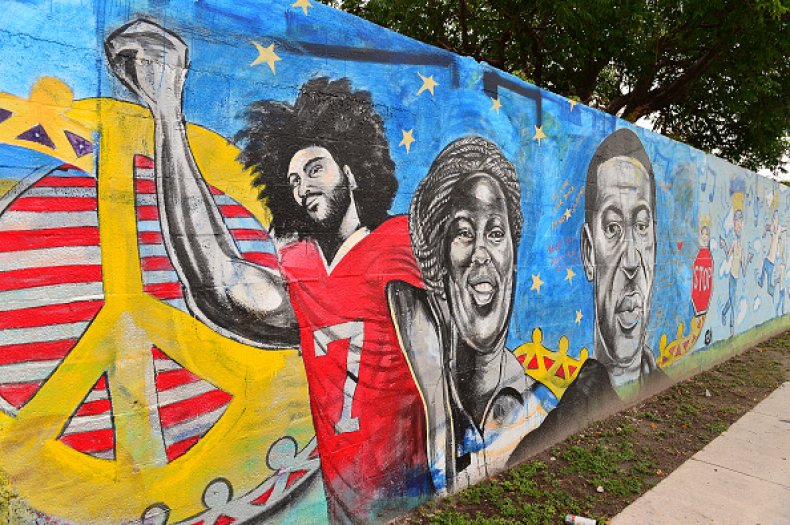 Kaepernick went on to start 11 games for the 49ers in 2016 after Gabbert got hurt. Kaepernick won just one game and lost 10. His stat line that season in Kelly's offense was 2,214 passing yards and 16 touchdowns with just four interceptions. Good rookies do better than that now.
The 49ers released Kaepernick after the 2016 season, and Seahawks coach Pete Carroll wanted to offer him a contract, but the team balked. Carroll said, "He's a starter in this league. And we have a starter [Russell WIlson]. But [Kaepernick] is a starter in this league, and I can't imagine that someone won't give him a chance to play."
Also in 2017, the Baltimore Ravens considered signing Kaepernick to play a backup role behind starter Joe Flacco, but upper brass in the organization felt there might be backlash at the ticket gate, so a deal never happened.
Then in 2018, the Seahawks looked at potentially offering Kaepernick another contract, on the basis Kaepernick would agree to not kneel during the national anthem. No deal was done.
In the fall of 2017, Kaepernick filed a grievance against the NFL, claiming the league and it teams colluded to keep him out of the league. Kaepernick reached a settlement with the NFL in February 2019. In November 2019, the NFL scheduled a private workout for Kaepernick in Atlanta with invitations to all 32 teams. On the day of the workout, Kaepernick walked away from the NFL's planned workout and held his own workout at an Atlanta high school.
Kaepernick has garnered more headlines off the field than on it during the last three years, and 2020 would be a fifth season for a quarterback who has gained more notoriety as a social justice warrior than the last seven as a quarterback. His plight to raise awareness has hit an all-time high in 2020, and now many people say he should be back on an NFL roster.
Former NFL wide receiver Terrell Owens spent time at a protest Thursday in Los Angeles to remember George Floyd, and he said and NFL team should sign Kaepernick now, and that the NFL owes him an apology.
"We wouldn't be here right now if Colin didn't do what he did," Owens said in the Los Angeles Times. "It's all come full circle. I'm standing in the gap right now for my brother, and they owe this man an apology."
Then there's Pete Carroll, who said he's heard there are teams interested in looking at him.
"Someone is interested," Carroll told NBC Thursday.
Massachusetts Democratic Rep. Joe Kennedy said the New England Patriots should sign Kaepernick. The Patriots already have Jarrett Stidham waiting in the wings after the departure of Tom Brady to Tampa Bay.
When Kaepernick led the NFL kneeling protest, the league lost money at the ticket office. Teams did not want to sign Kaepernick because of potential drops in business. Now, the league and its teams have somewhat done an about face.
The NFL front office, including commissioner Roger Goodell, acknowledged the league should have done a better job at listening to the player protests over the last four years instead of trying to silence them. But now, the protests are loud and unavoidable.
Then there's a money issue. How much money are NFL teams willing to pay Kaepernick for what would most likely be a backup role? When the XFL launched, it wanted to bring top talent to the circuit. Kaepernick wanted a $20 million guarantee, whereas other XFL quarterbacks got paid around $250,000 a year. The top players in the XFL made around $500,000. Kaepernick never played in the XFL.
The XFL has since dissolved because of COVID-19 (coronavirus), and the NFL is the only top-tier football league remaining in America. Most teams in the league already have starting quarterbacks, and others will have quarterback battles in camp for the starting spot.
Five teams possibly in contention to possibly sign Kaepernick (mostly in a backup role) are: Atlanta Falcons, Baltimore Ravens, Jacksonville Jaguars, Tennessee Titans and Pittsburgh Steelers. Any of those teams are just one injury away from needing a backup, just as all teams are in the league.
Then there's the current situation. Would Kaepernick be comfortable taking the pay of a backup quarterback role in the NFL—likely less than $1 million a year?
Kaepernick's legacy is already going to be his work off the field in bringing awareness to social justice and protesting police brutality against black Americans, not his 28-30 career record, or 11-24 record over his last three seasons as a starter, or that dismal 1-10 record in 2016.
The best move for Kaepernick, and the NFL, might be offering the former quarterback a spot in the league's front office to help keep his mission on the forefront of the minds of players, coaches, owners and fans.
Is there any better applicant the NFL could hire, one who could oversee the league's allocation of $250 million over the next 10 years to combat systemic racism and battle injustices against black Americans?
It could be a hire that makes all parties satisfied. Otherwise, a backup role with little to no time on the field could make Kaepernick fade into obscurity with a clipboard.