Which Teams Could Sign Colin Kaepernick? Five Possible Landing Spots for Former 49ers QB
Colin Kaepernick could be edging closer to a sensational return to the NFL after spending four years out of the game, according to Seattle Seahawks head coach Peter Carroll.
Speaking to reporters on a conference call on Thursday, Carroll revealed he had received a phone call from a team enquiring about the former San Francisco 49ers quarterback, who last played professional football in the 2016 season.
Carroll, who admitted regretting passing up on the opportunity to sign Kaepernick in 2017, said it was the first time he had fielded questions about the former Nevada alumni and that he felt at least one NFL team was interested in signing the 32-year-old.
Kaepernick has been persona non grata in the NFL since he began a peaceful protest against police brutality and racial discrimination by kneeling during the national anthem four years ago.
The gesture split the public opinion and Kaepernick found himself without a team after becoming a free agent at the end of the 2016 season. In February last year, he reached a settlement with the NFL over his lawsuit against the league's 32 team owners, whom he had accused of colluding to keep him out of the sport.
Up until last month, Kaepernick's chances of returning to football appeared close to non-existent, but the scenario could change after last week commissioner Roger Goodell condemned racism and acknowledged the league had not done enough to heed black players' calls for justice.
While Goodell did not address the former 49er directly, the statement felt like a landmark moment for the NFL and one which could open the door to the quarterback returning to football at some point.
Assuming Kaepernick does come back into the NFL, here's five teams that could do worse than offering him a contract.
Baltimore Ravens
It may seem counterintuitive to suggest a team boasting the reigning MVP who also happens to be one of the most exciting quarterbacks in the league should look at Kaepernick, given Lamar Jackson represents Baltimore's present and future.
Only a serious injury could take the role of starting quarterback away from first-round pick of the 2018 Draft, which is why the Ravens may look to upgrade their back-up options that currently comprise Robert Griffin III, Trace McSorley and rookie Tyler Huntley.
RG3 has been a competent enough backup but the ACL injury he suffered in 2013 has significantly reduced his dynamism and his rushing average last season was a modest 3.5 yards. The Ravens offense is predicated on running and is unlikely Kaepernick would be a downgrade on Griffin. More importantly, Kaepernick would not have to learn a new offense, as the Ravens offensive coordinator, Greg Roman, was Kaepernick's offensive coordinator in San Francisco and ran the same pistol offense he's adopted in Baltimore.
Additionally, the Ravens are coached by John Harbaugh, whose brother Jim coached Kaepernick in San Francisco, when the 49ers lost to the Ravens in Super Bowl XLVII.
Pittsburgh Steelers
The Steelers had a taste of life without Ben Roethlisberger last year, when the veteran quarterback's was prematurely curtailed in Week 2. Pittsburgh went 8-8 without Big Ben and just missed out on the playoffs, despite having to rely on Roethlisberger's backup Mason Rudolph and third-string quarterback Devlin Hodges.
While the latter fared back than Rudolph, the Steelers had the third-worst offense in the league and nobody in Pittsburgh will be rushing to repeat the experience. Roethlisberger will be back for the upcoming season but he's 38-year-old and has played just one full 16-game season since 2014.
Kaepernick is almost six years younger than the two-time Super Bowl champion and would be an excellent backup option.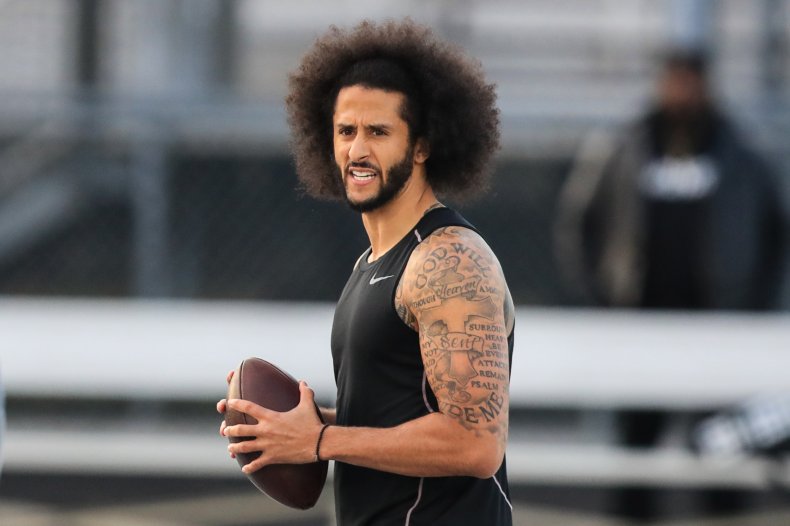 Jacksonville Jaguars
The quarterback role has long been an ordeal for the Jaguars. Last season began with Jacksonville handing out a four-year, $88 million contract to Philadelphia Eagles backup Nick Foles, only for him to fracture his left clavicle in Week 1.
With the MVP of Super Bowl LI sidelined, Jacksonville was swept up in Minshew-mania as rookie quarterback Gardner Minshew seized his chance and finished the season with 21 touchdowns and six interceptions in 14 games.
Minshew did enough to convince Jaguars head coach Doug Marrone the rookie deserves to be the starter this season and that Foles could be shipped to Chicago after just one season in Florida. Trading Foles to the Bears, however, means Mike Glennon is now the Jaguars' backup quarterback.
Glennon has featured in just 10 games over the last four seasons and it's hard to imagine Kaepernick would not be a major upgrade, notwithstanding the fact he hasn't played in four years.
Atlanta Falcons
"As far as Colin being back in the league, I think he should have every opportunity to," Falcons quarterback Matt Ryan told ESPN earlier this week.
"He created awareness for a situation that, it's taken some time, but people are becoming more active in terms of their response to it."
The Falcons could be the team to make the 2016 MVP's wish come true. Matt Schaub has been a competent backup for Ryan—he threw for 460 yards in his only start last season—but he turned 38 last month and Kaepernick is younger and more athletic than the former Virginia alumni.
Ryan was sacked a league-high 48 times last season and while he has only missed three games in his 12 seasons in the NFL—last year was the first time he did not play all 16-game schedule since 2009—the Falcons may want to upgrade their backup options.
Tennessee Titans
After beginning the season behind Marcus Mariota, Ryan Tannehill made the starting quarterback role his own and led the Titans to a 7-3 record in the 10 games he started, finishing the season with a NFL-high 117.5 passer rating and earning the Comeback Player of the Year award.
Tennessee rewarded Tannehill with a four-year, $118 million deal in the offseason, but the quarterback cupboard is bare behind him. While the former first-round pick is more protected than some of his counterparts as the Titans' offense is predicated on running, any injuries to Tannehill would land the Titans in big troubles.