As soon as The Silence of the Lambs was released on February 14, 1991, it was clear this wasn't your ordinary horror film.
"The Silence of the Lambs is an electrifying exercise in suspense," David Ansen wrote in his review for Newsweek. "One need only have a healthy appetite for fear to acknowledge that thrillers don't get much more thrilling."
Based on the 1988 Thomas Harris novel, the film follows Clarice Starling (Jodie Foster), a young FBI agent hunting down 'Buffalo Bill' (Ted Levine), a serial killer. To find Bill, Starling must work with Dr. Hannibal Lecter (Anthony Hopkins), an imprisoned psychiatrist and cannibal serial killer with a notorious passion for fava beans and chianti.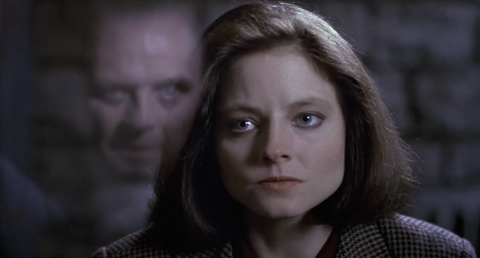 Thirty years later, the film continues to thrill audiences and is widely considered one of the best horror films of all-time. Part of that legacy is due to the film's Oscar record: it was the first horror film to win Best Picture and only the third film to win the top five awards: Best Picture, Best Actor (Hopkins), Best Actress (Foster), Best Director (Jonathan Demme) and Best Adapted Screenplay (Ted Tally). (The two other films with that distinction are 1934's It Happened One Night and 1975's One Flew Over the Cuckoo's Nest.)
"I'm kind of in awe of that movie. For me, it's the best movie I've ever made by far," Jodie Foster tells Newsweek. "Jonathan Demme—who [passed away in 2017] was just this fun, silly, joyful, very childlike person—the fact that he managed to make such a serious and moving film and didn't kind of turn it into camp, he just struck the perfect tone. But I have to also give credit to the Thomas Harris book because it was that text. Literally, Ted Tally's first draft was virtually the script that was shot."
The film was a critical and box office success, becoming the fifth-highest-grossing film of 1991. A success like that typically warrants a quick turnaround for a sequel, but not so with Lambs.
"We were all really interested in the sequel because Thomas Harris was writing a new book and he kept saying that it was coming out and he wouldn't let anybody see it," says Forster. "We waited 10 years."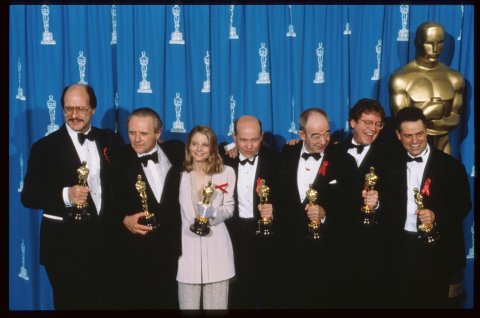 Eventually, a sequel was made, 2001's Hannibal, but only Anthony Hopkins reprised his role. Foster has declined to talk publicly about her choice not to appear in the film (Starling was played instead by Julianne Moore).
"It was a big deal to not do the sequel. I'll never talk about it particularly, but it's always that question that people ask," she says.
While Hannibal wasn't as much of a success as Lambs, the franchise has found success on television. A series based on the film and book Hannibal ran for three seasons on NBC and Clarice recently debuted on CBS.
"The movie was just not long enough to really delve into who this character is," Rebecca Breeds, who plays the title role in the new CBS series, told Newsweek. "She's one of the most well-written characters in history, not just female characters, one of the best-written characters in history."
But while the original film is largely considered a win for women—with Foster's Clarice at the center of the story, a rarity not only for the horror/thriller genre but also just film in general —it has been criticized for its representation of LGBTQ+ characters.
"The Buffalo Bill character was simply the latest in a very long line of cross-dressing, psychopathic serial killers, going back to 1960's Psycho, if not before," says Nick Adams, Director of Transgender Representation at GLAAD. "The average filmgoer in 1991, and even today, confuses and conflates women who are transgender with cross-dressing psychopaths, men who disguise themselves as women for other nefarious purposes, and cisgender men who perform in drag. Therefore, regardless of the filmmakers' intentions, the impact of the Buffalo Bill character was deeply harmful. Anyone watching the film today should be aware of, as the Netflix documentary Disclosure makes clear, Hollywood's history of portraying trans and gender non-conforming people as evil, as victims, or as freaks to be laughed at and ridiculed. Decades of those false, stereotypical characters have created a culture that harms trans people. It's important to acknowledge that Silence of the Lambs, whether intentional or not, is a part of that history."
"It's not that having a queer villain is a problem. It's only having queer villains, that's the problem," says Sam Wineman, a filmmaker behind the horror-streaming service Shudder's upcoming documentary on queer horror films. "We only have characters who are the killer, or we have characters who died before the end of the film. So we don't have queer heroes."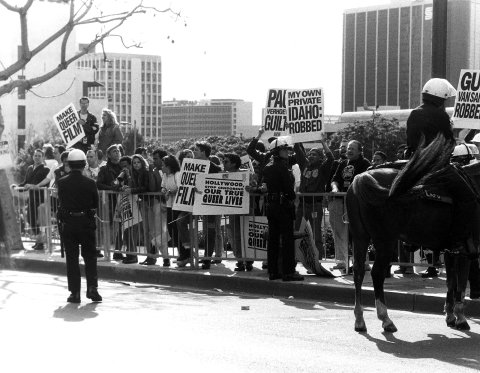 Wineman notes that the criticism by queer audiences of Lambs isn't new, "When Jodie Foster was getting the Best Actress Oscar, there were protesters. It was not that Silence of the Lambs was a bad movie, it's that we as queer people had to stand up and say, 'We need more, this isn't enough.'"
"If we were to eliminate all of our quote, 'bad examples of queer representation,' we wouldn't have queer representation. The reason why it's important to be able to contextualize something like Silence of the Lambs is that we can't just throw it away. We have to look at it and say, 'How can we do better?'"
Criticism aside, there's no doubt that The Silence of the Lambs was a groundbreaking piece of cinema, which has had a big impact being obvious on many of the critically acclaimed horror films that followed in its path, liked like Get Out, The Others, and Hereditary.
"It really did feel like there was something magical about it. It was just magical," says Foster. "I don't know that any of us will ever reach that again."