Brazil Official Who Proposed Bill Against Mandatory COVID Vaccination Dies of Coronavirus
A Brazilian official who pushed for legislation to prevent the mandatory vaccination of people in his state against COVID-19 has died of the disease.
Silvio Antonio Favero, 54, a regional deputy for the Social Liberal Party in Mato Grosso do Sul, died of the disease on Saturday afternoon. In February Favero proposed a bill before the state legislature to prevent the mandatory vaccination against COVID-19.
His relatives said he was admitted to hospital in the state capital Cuiabá on March 11. Doctors said Favero died as a result of complications and infections caused by the virus, but his condition had worsened on Saturday morning.
Favero, like Brazilian President Jair Bolsonaro, doubted the safety and efficacy of COVID-19 vaccines.
On December 18, Brazil's Supreme Court authorized regional and municipal governments to impose sanctions on those who refused to be immunized, such as making it difficult for them to access public services. The law does not make having a vaccine mandatory, but it hobbles those who choose to reject it. In the same ruling, the court decided that parents or guardians must vaccinate their children to protect them against COVID-19.
Favero opposed this ruling and in February, he presented the bill to the Mato Grosso do Sul legislature to "guarantee the right of citizens to decide whether or not they want to be vaccinated." Bolsonaro supported the legislation. The bill, is currently being scrutinised in the Legislative Assembly.
Favero said of the bill: "It aims to prevent vaccination from being compulsory since there is currently uncertainty about the efficacy and possible side effects of the vaccines, where they present a risk that is undoubtedly irreparable, since the short, medium and long-term effects of the vaccine are unknown."
Favero has previously downplayed the impact of the disease. In previous social media posts, he is seen sharing some of Bolsonaro's comments on COVID-19, such as "hunger kills more than the virus."
Mauro Mendes, Governor of Mato Grosso do Sul, announced a three-day official mourning following the news of Favero's death.
"Favero left his mark on the history of Mato Grosso, fighting for what he believed to be right," he said. "A companion of the State in the search for the best conditions for the people of Mato Grosso. My wife and I wish you strength in this moment of mourning for the whole family and that God bless you and welcome you with open arms."
Brazil, which has the second highest death toll from COVID-19 in the world, saw its most deadly week during the pandemic last week. Its vaccine roll-out has been slow. Only 8.6 million Brazilians, or four per cent of the population, have received a first dose, and only 3 million of them have received a second dose.
The infographic below, provided by Statista, shows the countries with the highest vaccination rates in the world. Brazil does not make the list.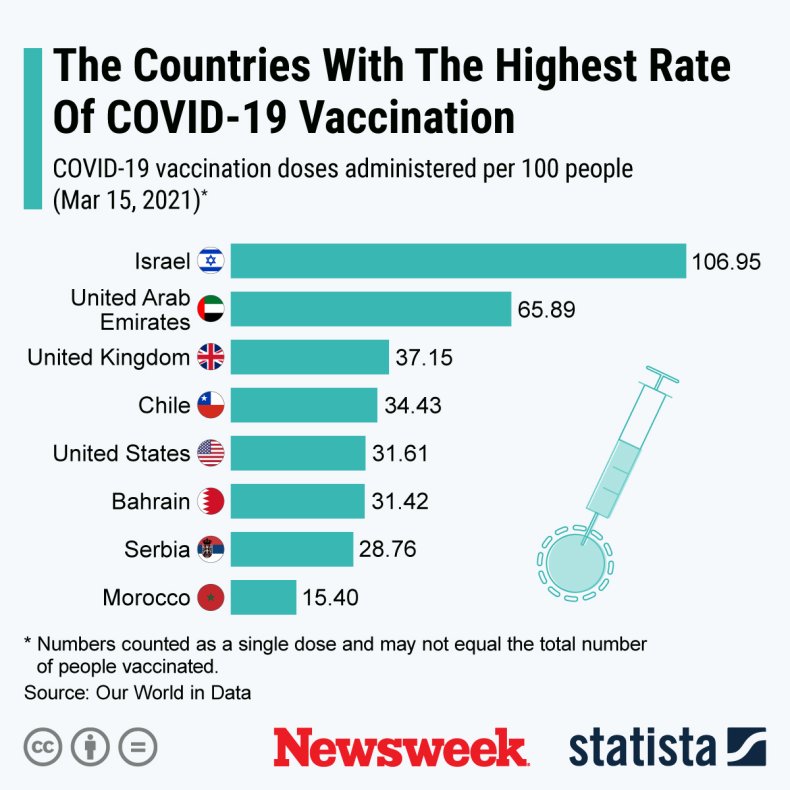 As of March 14, Brazil's seven day-rolling average for number of new coronavirus cases stood at 66,289 a day, while for the last week it has been recording 1,831 deaths on average a day, according to Johns Hopkins University data.
President Bolsonaro has been criticized for being too nonchalant about the pandemic, saying he wouldn't take the vaccine and last week telling Brazilians to "stop whining" and learn to live with the virus. He has previously dismissed the virus as "a little flu". Bolsonaro himself caught the coronavirus in July last year.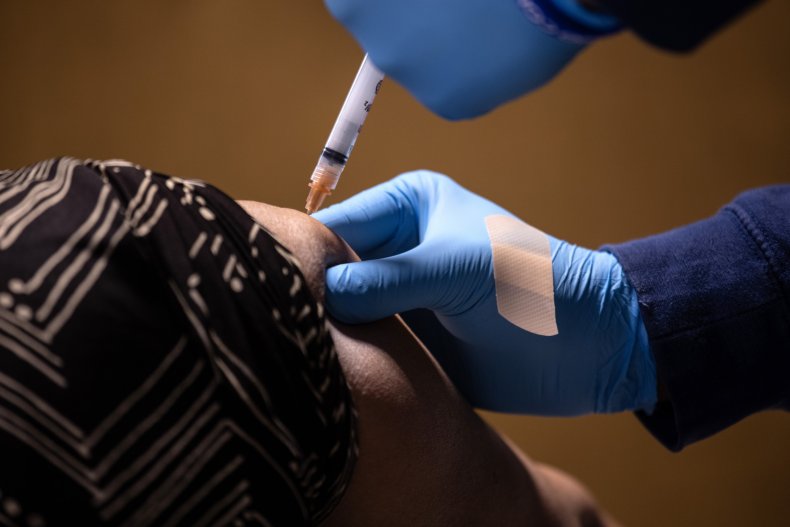 Newsweek, in partnership with NewsGuard, is dedicated to providing accurate and verifiable vaccine and health information. With NewsGuard's HealthGuard browser extension, users can verify if a website is a trustworthy source of health information. Visit the Newsweek VaxFacts website to learn more and to download the HealthGuard browser extension.
Update 3/15/21, 10:10 a.m. ET: This article was updated to include an infographic.