Simone Biles has fired back after a Twitter user "misconstrued" her stance on abortion—and fans on social media have praised her for speaking out on the issue.
The saga began Monday, when the renowned Olympic gymnast posted an Instagram Live, asking fans to reveal their most "unpopular opinions." Among the mostly mundane responses, one stood out in particular: "abortion is wrong," wrote one anonymous fan.
Biles quickly addressed the response in an Instagram story, which has since been shared on Twitter. "I already know this is going to start the biggest argument [and] may even lose followers, BUT," wrote the athlete. "I'm very much pro-choice."
"Your body. Your choice," she added.
Biles also noted that while putting babies up for adoption, as an alternative to abortions, is an option for some, the practice has problems of its own. "It's not that easy [and] coming from someone who was in the foster care system TRUST me," she wrote. "Foster care system is broken [and] it's TOUGH. Especially on the kids [and] young adults who age out."
Lastly, she added that "adoption is expensive."
Several pro-life advocates took issue with her stance, including one Twitter user, @youngbluewoollyjumper, whose tweet has since been deleted.
According to The Independent, the deleted tweet read: "Thoughts with all the kids in the foster care system today being told by @Simone_Biles that their lives are worth nothing and are better off dead."
Biles, however, didn't hesitate to call out the Twitter user.
"DO NOT misconstrue my words," she replied. "That is not at all what I implied. I did NOT say I support to abort rather than to put them through the foster care system. What I did imply is that you should not control someone [else's] body/decision. Let's be real what you care about is control... "
"I have forever [and] will continue to support foster kids. AS I WAS ONE. I've been an advocate for foster kids and the system but you wouldn't know that because you don't follow me, you just like to open your mouth," she added.
"Also if you have a fake account don't even talk to me. Y'all piss me off to no end," read her final tweet on the matter. "I'm done because you'll twist my words however it feels fitting to spew hate. Also if anyone is seeing this just know I support you doing whatever feels fitting for YOU."
While not everyone was pleased with Biles' overtly political stance, many expressed their support, and even gratitude, for her willingness to speak on the issue.
"Notable for many reasons but she lives in Texas so this no small thing," tweeted TV host and political analyst Zerlina Maxwell, highlighting the state's anti-abortion stance. Earlier this year, Texas Governor Greg Abbott signed into law one of the country's strictest measures against abortion, prohibiting procedures as early as six weeks into pregnancy.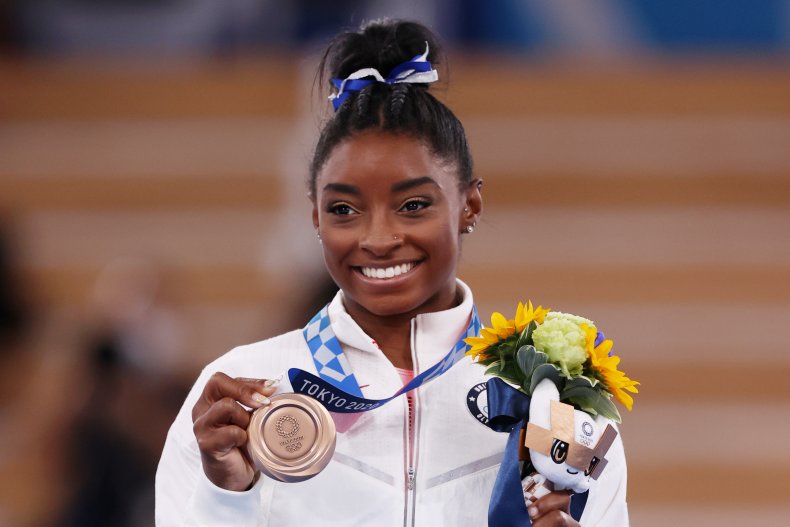 Political strategist Atima Omara also weighed in, tweeting: "Between Allyson Felix starting a childcare fund for Olympic mom athletes at the Tokyo Games and Simone Biles setting boundaries for her safety and now unabashedly supporting abortion access, I'm here for Black women athletes using their platforms to lead the way."
After withdrawing from several events in the Tokyo 2020 Olympics due to mental health issues, Bile returned, winning bronze for her balance team routine. Hailed as an "inspiration," the performance tied her with Shannon Miller as the most-decorated U.S. Olympic gymnast of all time.