Simone Biles' Defiant Response to Larry Nassar Abuse and Quitting Gymnastics
Simone Biles has again spoken out about the sexual abuse she and other gymnasts suffered at the hands of former team doctor Larry Nassar, and how it influenced her decision to withdraw from the team competition at the Tokyo 2020 Olympics.
Biles, 24, said in an interview with New York Magazine: "If you looked at everything I've gone through for the past seven years, I should have never made another Olympic team."
"I should have quit way before Tokyo, when Larry Nassar was in the media for two years.
"But I was not going to let him take something I've worked for since I was 6 years old. I wasn't going to let him take that joy away from me. So I pushed past that for as long as my mind and my body would let me."
Nassar, a former team doctor for the U.S. women's national gymnastics team, is currently serving a 40 to 175-year prison sentence for seven counts of first-degree criminal sexual conduct after being accused by more than 300 women.
Biles was one of the women to come forward, posting a statement on Twitter about the abuse.
In 2018, two years after news of Nassar's abuse first broke, she wrote: "I've felt a bit broken and the more I try to shut off the voice in my head, the louder it screams.
"I am not afraid to tell my story anymore. I too am one of the many survivors that was sexually abused by Larry Nassar."
She ended her statement by refusing to let this chapter define her, adding: "I have promised myself that my story will be much greater than this and I promise all of you that I will never give up.
"I will compete with all of my heart and soul every time I step into the gym. I love this sport too much and have never been a quitter.
"I won't let one man and the others that enabled him, to steal my love and joy. [sic]"
Since then, Biles has become the greatest gymnast of all-time, with a combined total of 32 Olympic and World Championship medals, and four gymnastic elements named after her. She also landed the Yurchenko double pike - which no other female athlete has ever attempted in a competition.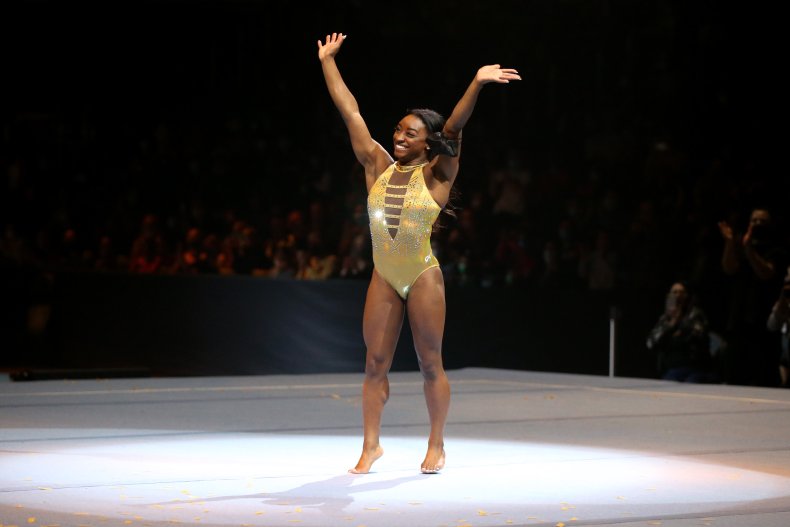 The gymnast, who is appearing in the Gold Over America Tour but not currently training for competition, revealed she'd been going to therapy ahead of the 2020 Olympics and remembered telling her therapist: "I'm good enough to go. And they were like, 'Yes, you're good enough to go and do your stuff, but you have to come back.' And I was like, 'Nah, I'm good.'"
Arriving in Japan, things were different and with no crowds or parents to offer support and encouragement, Biles found she had the "twisties" - where an athlete loses connection with their muscle memory and cannot figure out how to land safely.
She withdrew from the team competition and was replaced by MyKayla Skinner, who went on to help Team U.S.A. secure silver medals.
Biles returned for the individual balance beam competition and won a bronze medal, which she called her most meaningful one.
She told NBC at the time: "It means more than all of the golds because I pushed through so much the last five years and the last week while I've even been here."
After the Olympics, Biles returned to therapy. "I just want a doctor to tell me when I'll be over this," she said.
"You get surgery, it's fixed. Why can't someone just tell me in six months it'll be over?
"This will probably be something I work through for 20 years. No matter how much I try to forget. It's a work in progress."
Earlier this month, Biles testified alongside fellow gymnasts McKayla Maroney, Maggie Nichols and Aly Raisman at the U.S. Senate Judiciary Committee about the FBI's alleged failed investigation into Nassar's abuse.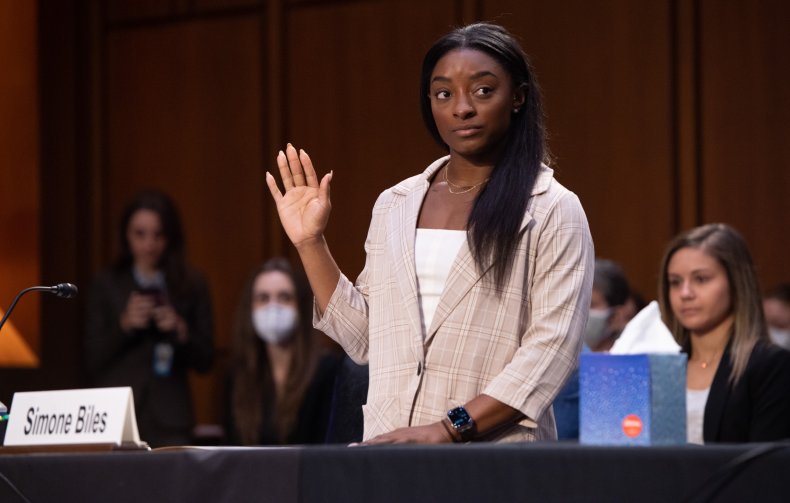 In her testimony, she explained how the abuse proved to be "an exceptionally difficult burden" when the Olympics were delayed by a year due to COVID.
"The scars of this horrific abuse continue to live with all of us," Biles said.
"As the lone competitor in the recent Tokyo Games who was a survivor of this horror, I can assure you that the impacts of this man's abuse are not over or forgotten.
"The announcement in the spring of 2020 that the Tokyo Games were to be postponed for a year meant that I would be going to the gym, to training, to therapy, living daily among the reminders of this story for another 365 days...
"I worked incredibly hard to make sure that my presence could help maintain a connection between the failures and the competition at Tokyo 2020. That has proven to be an exceptionally difficult burden for me to carry, particularly when required to travel to Tokyo without the support of any of my family."
One thing that has helped Biles move on has been the book The Subtle Art of Not Giving a F*ck by Mark Manson.
The unconventional self-help book argues that instead of trying to find the positive in difficult situations, we should only extend ourselves to care about the things that really matter to us and start confronting painful truths.
"The girls were laughing at me whenever I was reading that, like, 'You are just so nonchalant about everything now,'" she said.
"Like, 'This is so nice. How do you do that?' I said, 'Just read the book. You'll learn.'"