'Simone Biles We Are Proud of You': Michelle Obama, Athletes Send Good Wishes
Michelle Obama has shown her support for Simone Biles, delivering a message of compassion after the gymnast announced her withdrawal from the Tokyo Olympics.
The former first lady took to Twitter to back the 24-year-old with an inspiring message.
"Am I good enough? Yes, I am. The mantra I practice daily. @Simone_Biles, we are proud of you and we are rooting for you. Congratulations on the silver medal, Team @USA!" Obama tweeted.
Biles retired from the team's event final mid-competition on Tuesday due to mental health concerns.
As of Wednesday morning, Team USA has announced that the gold medallist has also pulled out of the individual all-around competition on Thursday.
"After further medical evaluation, Simone Biles has withdrawn from the final individual all-around competition," the federation said in a statement.
"We wholeheartedly support Simone's decision and applaud her bravery in prioritizing her well-being. Her courage shows, yet again, why she is a role model for so many."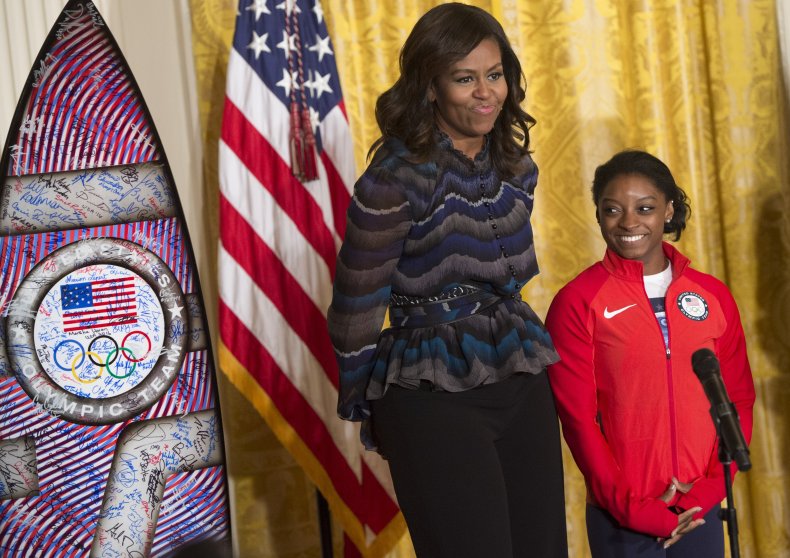 Biles scored her lowest Olympic vault score before withdrawing from the team final on Tuesday.
Speaking afterward, she said: "After the performance I did, I just didn't want to go on. I have to focus on my mental health. I just think mental health is more prevalent in sports right now.
"We have to protect our minds and our bodies and not just go out and do what the world wants us to do.
"I don't trust myself as much anymore. Maybe it's getting older. There were a couple of days when everybody tweets you and you feel the weight of the world.
"We're not just athletes. We're people at the end of the day and sometimes you just have to step back."
Michael Phelps showed support for Biles by reflecting on his own Olympics experience.
"We carry a lot of weight on our shoulders, and it's challenging especially when we have the lights on us and all of these expectations being thrown on top of us," the swimming icon told NBC's Mike Tirico on Tuesday.
"It broke my heart. But also, if you look at it, mental health over the last 18 months is something that people are talking about," the 23-time gold medalist added.
Meanwhile, Jamaican gymnast Danusia Francis tweeted: "Don't know about you but I think@Simone_Biles just empowered everyone to put their mental well-being above everything else. WHAT A QUEEN. GOAT in more ways than one."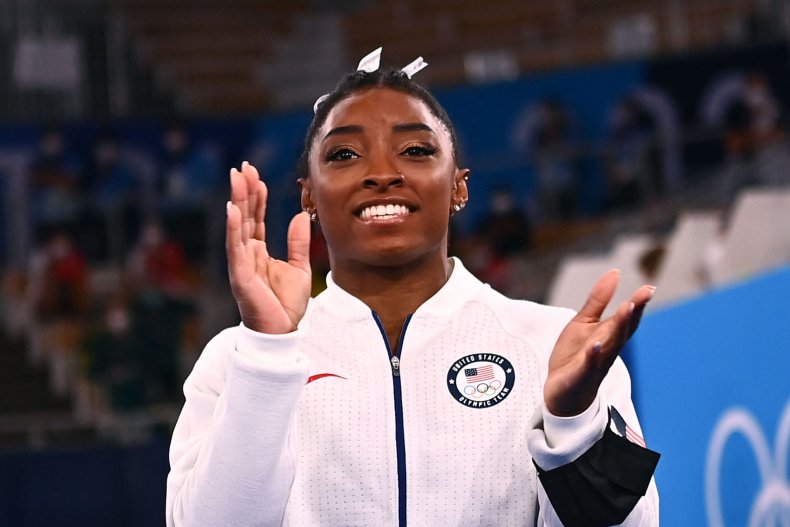 Mai Murakami, Japanese Olympic gymnast said: "This is very unusual for her, but if you're under a lot of pressure it can affect your body..."
Jen Psaki, White House press secretary tweeted: "Gratitude and support are what @Simone_Biles deserves. Still the GOAT and we are all just lucky to be able to see her in action."
"Just a friendly reminder: Olympic athletes are human & they're doing the best they can. It's REALLY hard to peak at the right moment & do the routine of your life under such pressure. Really hard," tweeted Aly Raisman, retired U.S. gymnast And Olympic gold medalist.
Today Show host Hoda Kotb tweeted: "Someone said it best. @Simone_Biles already won. She is a class act. Withdrew from team competion after vault... stayed and cheered on her teammates... got them chalk for their hands.. encouraged.. hugged them. She already won. Congrats on the silver medal! @TeamUSA @USAGym."
While TV host Joy-Ann Reid added: "God bless the great Simone Biles. And that is all."
"I stand with Simone Biles.I still stand with Naomi Osaka. Your health and peace matters. You're reminding Black women that we can take the space we need for ourselves," tweeted Missouri Rep. Cori Bush.
Comedian Chelsea Handler added: "@Simone_Biles drew a boundary for herself and her health on the world stage. This is real superhuman strength, setting an example for all of us."