Simone Biles Withdraws From Individual Event at Tokyo Olympics
Simone Biles has pulled out of the individual all-around competition at the Tokyo 2020 Olympics a day after withdrawing from the team's event.
U.S. gymnastics announced the 24-year-old would not be defending the gold medal she won in Rio five years ago.
"After further medical evaluation, Simone Biles has withdrawn from the final individual all-around competition," the federation said in a statement.
"We wholeheartedly support Simone's decision and applaud her bravery in prioritizing her well-being. Her courage shows, yet again, why she is a role model for so many."
Biles, the most decorated gymnast in history, retired from the team's event final mid-competition on Tuesday citing mental health concerns.
"We're going to see about Thursday, we'll take it a day at a time," the four-time Olympic champion told reporters shortly after.
"I know tomorrow [Wednesday] we have a bit of a break from training so that'll be really nice, to have a mental rest day."
In the opening rotation, Biles scored 13.766 on the vault—the lowest score of her Olympic career—before leaving the floor with a trainer. She subsequently returned to the floor with her right foot wrapped but took no further part in the competition and was seen cheering on her teammates.
Following Biles' withdrawal, Team USA finished second in the team event, 3.432 points behind the Russian Olympic Committee, which became the first team to defeat the U.S. in an international competition since 2010.
Speaking to reporters after the event, Biles said she had opted to "take a back seat" as she believed her teammates were good enough to win gold without her and acknowledged she had been struggling mentally recently.
"After that vault, I was like: 'I'm not in the right headspace, I'm not going to lose a medal for this country and for these girls' because they worked way too hard for me to go out there and have them lose a medal," she said.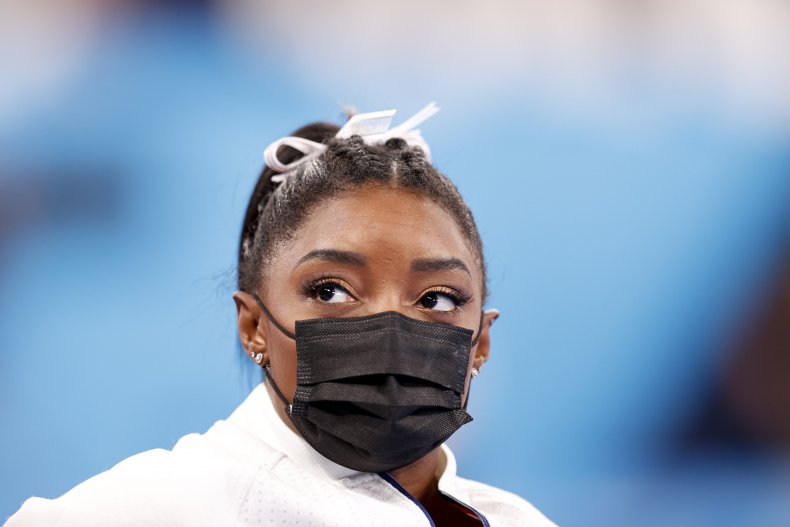 The 19-time world champion added she felt reasonably well during the warmup, but her mental health deteriorated in the almost six-hour wait before the event began.
"I was just shaking and I could barely nap," she continued.
"I've just never felt like this going into a competition before and I tried to go out here and have fun. Warmup at the back went a little bit better but once I came out here I was like: 'No, mental is not there so I just need to let the girls do it and focus on myself.'"
Biles arrived in Tokyo looking to become the first woman to win back-to-back gold medals in the individual all-around event since Věra Čáslavská of Czechoslovakia achieved the feat at the 1964 Games in Tokyo and the 1968 Olympics in Mexico City.
Had Biles won the gold medal in all the five events she was supposed to enter—four individual events plus the team competition—she would have brought her Olympic gold medal tally to nine, one more than the all-time record for a U.S. female athlete, currently held by former swimmer Jenny Thompson.
With nine Olympic golds, Biles would also equal the all-time record for gold medals by a female Olympian, which is currently held by former Soviet Union great Larisa Latynina.
While Michael Phelps won eight gold medals in the same Olympics, no female U.S. Olympian has ever claimed that number of gold medals at a single games.
As it stands, breaking either record is now out of reach. Biles, however, received plenty of support for her stance, including from Phelps himself.
"We're human beings, nobody is perfect. It's ok to not be ok. It's ok to go through ups and downs and emotional roller coasters," Phelps, who is covering the games in Tokyo as swimming analyst for NBC, told Mike Tirico on Wednesday.
"I felt like I was carrying, as Simone [Biles] said, the weight of the world on my shoulders. It's a tough situation."
Phelps, the most decorated Olympian of all times with 28 medals at the games, said he hoped Biles' courageous decision could pave the way for a deeper conversation into the importance of mental health.
"I hope this is an eye-opening experience, I really do," he continued.
"I hope this is an opportunity for us to jump on board and to even blow this mental health thing even more wide open. It is so much bigger than we could even ever imagine. This is something that's gonna take a lot of time, a lot of hard work and people who are willing to help."
Meanwhile, Jordan Chiles, who along with Sunisa Lee and Grace McCallum won silver after Biles' withdrawal, said Team USA owned its medal to her illustrious teammate.
"This medal is definitely for [Biles]," Chiles told the Associated Press. "If it wasn't for her, we wouldn't be here where we are right now. We wouldn't be a silver medalist because of who she is as a person."