What Happened to Simone Biles? Why Did The Gymnast Pull Out of The Olympics?
Four-time Olympic gold medalist Simone Biles has pulled out of the women's gymnastics team final, leaving fans across the world stunned.
The 24-year-old gave a noticeably shaky performance on the vault, but remained poised and composed as she walked off the floor to embrace her teammates on the sidelines. Moments later USA Gymnastics announced the gymnast's withdrawal.
Biles' exit leaves her quest for six possible gold medals now out of reach.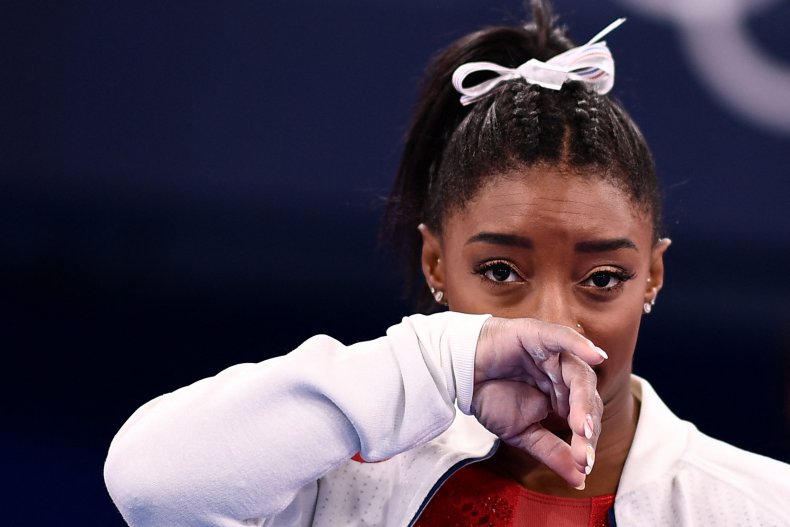 What Happened During Simone Biles' Performance?
The Team USA gymnast was performing at the Ariake Gymnastics Centre in Tokyo on July 27, Day 4, of the Olympic Games when she appeared to make a mistake during a performance on the vault.
Biles had planned to execute a Yurchenko vault with two-and-a-half twists, but in an uncharacteristic misstep only performed one-and-a-half twists.
During her landing, Biles' knees buckled and propelled her forward, but she managed not to fall and maintained composure on the mat.
The performance landed Biles with a score of 13.766 and in last place on her first rotation of the vault—her lowest score in her Olympics career and in event that was traditionally one of her best.
The gymnast exited the competition floor with the team doctor before returning minutes later with her right leg wrapped.
She then hugged her teammates Grace McCallum, Sunisa Lee and Jordan Chiles. In footage taken following the performance, Biles appears to tell the trio: "I'm sorry. I love you guys."
After leaving the stadium, it was later confirmed that Biles had pulled out of the entire team finals.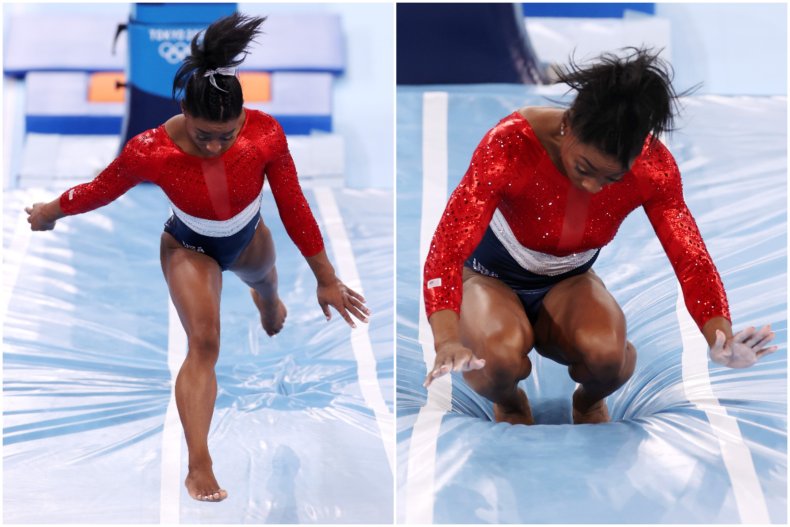 Laurie Hernandez, American artistic gymnast and former teammate of Simone Biles on the 2016 U.S. women's gymnastics team, believes Biles became "lost in the air" during the performance.
"From what it looks like Simone is supposed to do an Amanar which is a Yurchenko two-and-a-half," Hernandez explained on the Peacock Olympic morning show. "She does a one-and-a-half."
"She's twisting to the right but it looked like she wanted to keep twisting but had opened up and gotten lost in the air," Hernandez continued. "The fact that she landed while getting lost in the air is incredible."
Why Did Simone Biles Pull Out Of The Olympics?
USA Gymnastics released an official statement shortly after Biles' performance, citing a "medical issue."
"Simone Biles has withdrawn from the team final competition due to a medical issue," the statement read. "She will be assessed daily to determine medical clearance for future competitions."
A Team USA coach also confirmed that Biles' exit from the gymnastics team event "is not injury related" but due to a "mental issue she is having" during an NBC broadcast.
At a press conference with all four members of the U.S. team later on Tuesday, Biles spoke about her decision to withdraw from the event and confirmed it was not due to any physical injury.
"No injury, thankfully," she said. "And that's why I took a step back, because I didn't want to do something silly out there and get injured. So I thought it was best if these girls took over and did the rest of the job, which they absolutely did."
"It's been really stressful, this Olympic games, I think just as a whole, not having an audience, there are a lot of different variables going into it. It's been a long week. It's been a long Olympic process. It's been a long year. So just a lot of different variables and I think we're just a little bit too stressed out. We should be out here having fun and sometimes that's not the case."
"I took a step back, because I didn't want to do something silly out there and get injured."
Biles also said that she was concerned she could have compromised her team's chances at a medal and recounted the discussion she had with the USA Gymnastics training staff after leaving the floor following her first vault.
"I was like, 'I think the girls need to do the rest of the competition without me,'" she said. "And they were like, 'I promise you, you're fine. We watched you warm up.' And I said, 'No, I know I'm going to be fine, but I can't risk a medal for the team, so I need to call it.' And you usually don't hear me say things like that because I'll usually persevere and push through things, but not to cost the team a medal. So they were like, 'OK, well, if Simone says this and we need to take it pretty serious.' And so, I had the correct people around me to do that."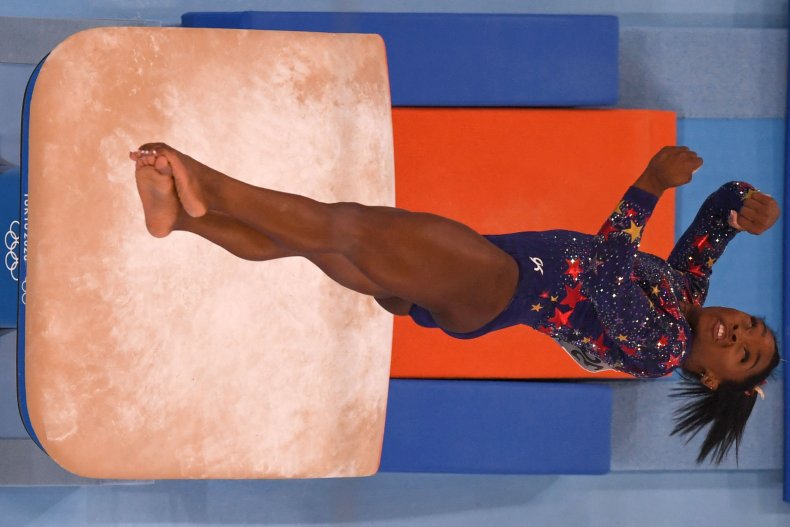 She continued: "Today has been really stressful. We had a workout this morning. It went OK. And then just that five-and-a-half-hour wait, I was just like, shaking. I could barely nap. I've just never felt like this going into a competition before. And I tried to go out here and have fun and warm up in the back when a little bit better. But then once I came out here, I was like, no, [the] mental is not there. So I just need to let the girls do it and focus on myself."
In an interview with TODAY, Biles confirmed that physically, "I feel good, I'm in shape" but "emotionally, that kind of varies on the time and moment."
"Coming here to the Olympics and being the head star isn't an easy feat, so we're just trying to take it one day at a time and we'll see," she added.
'Focus on Mental Health'
The star athlete also emphasized the importance of taking care of her mental health in an interview with BBC Sport.
"After the performance I did, I just didn't want to go on," she said. "I have to focus on my mental health. I just think mental health is more prevalent in sports right now.
"We have to protect our minds and our bodies and not just go out and do what the world wants us to do. I don't trust myself as much anymore. Maybe it's getting older. There were a couple of days when everybody tweets you and you feel the weight of the world.
"We have to protect our minds and our bodies and not just go out and do what the world wants us to do."
"We're not just athletes. We're people at the end of the day and sometimes you just have to step back. I didn't want to go out and do something stupid and get hurt. ​I feel like a lot of athletes speaking up has really helped.
"It's so big, it's the Olympic Games. At the end of the day we don't want to be carried out of there on a stretcher."
Earlier this week the gymnast hinted at the mounting pressure she felt to perform.
"It wasn't an easy day or my best but I got through it," she wrote in an Instagram post from Tokyo on Monday morning. "I truly do feel like I have the weight of the world on my shoulders at times. I know I brush it off and make it seem like pressure doesn't affect me but damn sometimes it's hard hahaha! The Olympics is no joke! BUT I'm happy my family was able to be with me virtually, they mean the world to me!"
According to the New York Times, Biles said she pulled out because she wasn't in the right place mentally to perform and felt increasing pressure to be successful.
The gymnast told the publication she had been struggling with the stress of being regarded as the greatest gymnast in history, and the expectations that came along with the role. She said she began "fighting all of those demons," before Tuesday's event and simply couldn't hold them back.
"At the end of the day, I have to do what was right for me," she said. "It just sucks that it happened at the Olympic Games."
Is Simone Biles Still Competing?
It is unclear whether Biles will compete in the individual women's gymnastics event on Thursday where she is the defending champion.
However, she did tentatively tell BBC Sport that she would be back on Thursday to defend her individual all-around title.
Team USA's Jordan Chiles replaced Biles in Tuesday's competition and the team continued to compete without her, clinching a silver medal.
The women's gymnastics competition continues Thursday in Tokyo. The women's all-around final airs at 6:50 a.m. EDT Thursday.
Biles is the most successful U.S. gymnast of all time having won four gold medals and a bronze at Rio in 2016.
Aged just 19, Biles wowed the crowd with her signature floor move, now officially known as "The Biles," that had never been seen at the Olympics or the world championships.
Since then, she has added "The Biles II," a triple-twisting double-tucked backward somersault.
If Biles had continued to clinch more medals at these games in Tokyo, she would have more medals than any other female Olympic gymnast.