Simone Biles has won the bronze medal in the balance beam final at the Tokyo Olympics Tuesday.
The American gymnast scored 14.000 on the balance beam to finish third.
The four-time Olympic champion hadn't competed in the Games since withdrawing from the women's team final last Wednesday due to mental health concerns and a debilitating phenomenon called the twisties.
On Monday, USA Gymnastics announced that the 24-year-old would be competing in the apparatus event after she had already withdrawn out of the individual finals for vault, floor and uneven bars.
Having won bronze on the beam in Rio in 2016, Biles came back with a stunning routine that saw her take third place once again.
Biles successfully maneuvered flips, split leaps, backhand springs and a double backflip in the pike position for her dismount to see her rewarded with third place.
Guan Chenchen and Tang Xijing of China took first and second place respectively.
Biles' teammate, Olympic all-around champion Sunisa Lee of the United States finished fifth.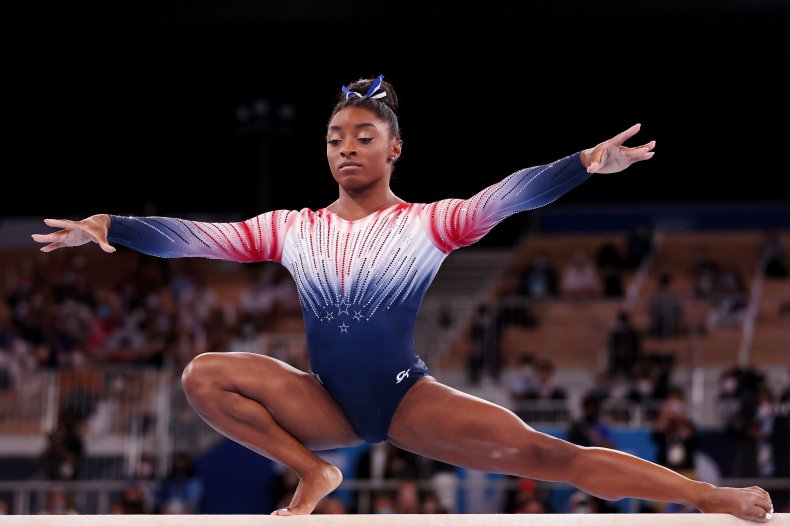 This accolade is Biles' seventh Olympic medal which puts her in a tie with Shannon Miller as the most decorated U.S. Olympic gymnast ever.
Following Tuesday's successful beam performance, Biles finishes her time in Tokyo with two medals—one silver in the team final and her bronze in the beam final.
Winning the bronze ends Biles' Tokyo Olympics on a positive note after the gymnast overcame the twisties to deliver a medal-worthy routine.
Described by Biles as "honestly petrifying," the twisties are when gymnasts lose their spatial awareness and can't tell up from down, which can result in disastrous injuries.
"Trying to do a skill but not having your mind and body in sync. 10/10 do not recommend," Biles said on Instagram last Friday.
"Literally cannot tell up from down," she wrote. "It's the craziest feeling ever. Not having an inch of control over your own body.
"What's even scarier, is since I have no idea where I am in the air, I also have NO idea how I'm going to land. Or what I'm going to land on. Head/hands/feet/back..."
Celebrating Biles' bronze, Team USA tweeted to say she was "making history."
They also added that the "G.O.A.T. got it done." G.O.A.T. of course stands for Greatest Of All Time.
This week, Biles has taken to social media to thank her coaches for their support during her time in Tokyo.
"forever thankful to have such an amazing support system by my side," she said.