Simone Manuel, Team USA Olympic Swimmer, Career, Medals, Personal Life
Simone Manuel, a four-time Olympic medalist, joins Katie Ledecky and Caeleb Dressel at the Tokyo Olympics on the Team USA swimming team.
At the U.S. Olympic swimming trials in June, the 24-year-old qualified in the 50-meter freestyle category. The Team USA website said she won the race by one-hundredth of a second, securing her second trip to the Olympics after competing at the 2016 Summer Games in Rio de Janeiro.
At the time of her 50-meter win, The Associated Press reported Manuel saying: "When I touched the wall, I was literally like, 'Please, God, please!'
"More than anything, I'm relieved," she said. "Today may have been the longest day of my life and the longest 50 of my life."
Simone Manuel At a Glance
Age: 24
Date of birth: August 2, 1996
Height: 5'10"
Birthplace: Houston, Texas
Family: She is the daughter of Marc and Sharron Manuel. She has two older brothers (Christopher and Ryan).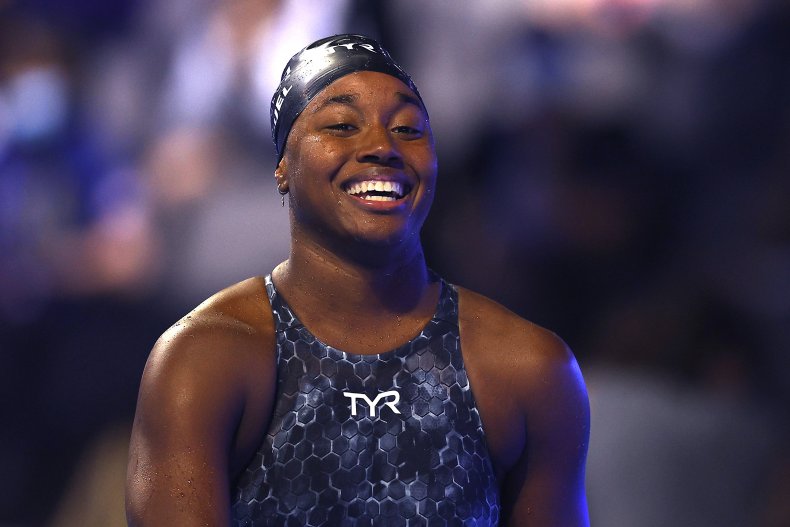 Medals and Olympics History
The "breakout star" won her first gold medal at the Olympics by tying for first place in the 100-meter freestyle race at the 2016 Games in Rio de Janeiro, the Team USA website says.
She is the defending world champion in both the 50m and 100m freestyle categories.
"She anchored the U.S. team to gold in the mixed relay at the 2019 world championships. The mixed relay makes its Olympic debut in Tokyo," according to an early June article on the Team USA website.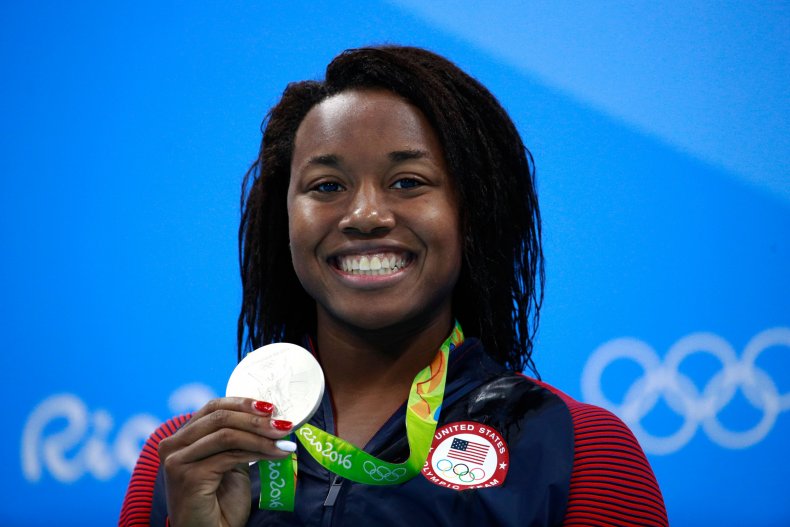 The article said Manuel was slated to "likely anchor the women in both the 4x100 freestyle and medley relays, and the mixed relay."
At the U.S. Olympic trials in June, Manuel failed to secure a win in the 100m freestyle category, finishing in fourth place at 54.17 seconds in the first 100m free semi-final.
Simone Manuel's Olympic Medals
Manuel bagged a total of four Olympic medals at the 2016 Olympic Games. In addition to her gold medal in the 100m freestyle race, Manuel also claimed a silver medal in the 50m freestyle category, a gold in the 4x100 medley race and a silver in the 4x100 freestyle race.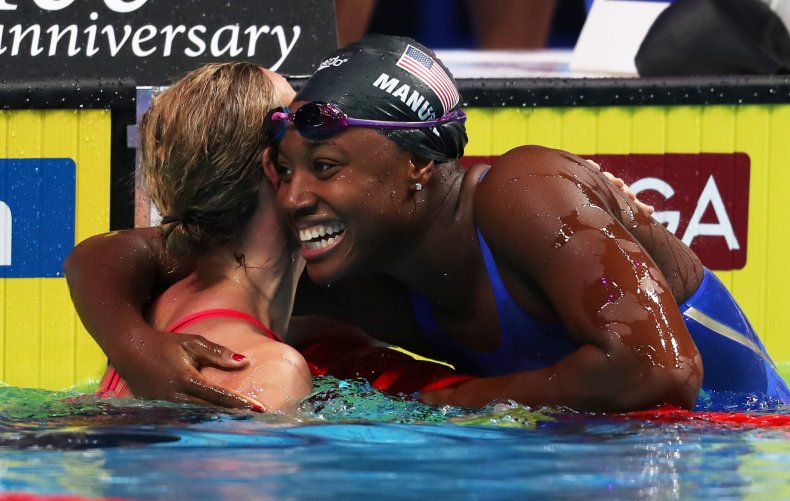 Simone Manuel's World Aquatic Championship Medals
Manuel has scored a total of 16 medals at the World Aquatic Championship games, including 11 gold, three silver, two bronze medals, as outlined at the Team USA website.
Gold
2019
50-meter FR (freestyle)
100-meter FR
Mixed 4x100-meter FR-R (freestyle relay)
4x100-meter Med-R (medley relay)
2017
100-meter FR
4x100-meter FR-R
4x100-meter Med-R
Mixed 4x100-meter FR-R
Mixed 4x100-meter Med-R
2015: Mixed 4x100m FR-R
2013: 4x100m FR-R
Silver
2019
4x100-meter FR-R
4x200-meter FR-R
Mixed 4x100-meter Med-R
Bronze
2017: 50-meter FR
2015: 4x100-meter FR-R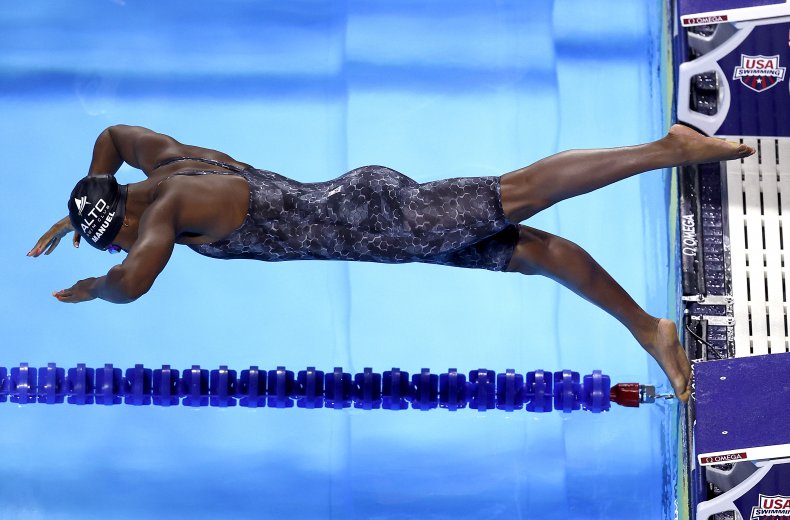 U.S. Olympic Trial Loss, Burnout Diagnosis
Manuel's emotional 50m freestyle win at the Olympic trials came just days after she revealed she was diagnosed with overtraining syndrome—also known as burnout—back in March. The swimmer took three weeks off training following her diagnosis before returning to the pool on April 17, the Team USA website says.
AP reported her diagnosis was the reason behind her failure to win the 100m title at the Olympic trials in June.
According to a study published by Sports Health, a peer-reviewed journal, posted on the website of the U.S. National Institutes of Health, "OTS [overtraining syndrome] appears to be a maladapted response to excessive exercise without adequate rest, resulting in perturbations of multiple body systems (neurologic, endocrinologic, immunologic) coupled with mood changes."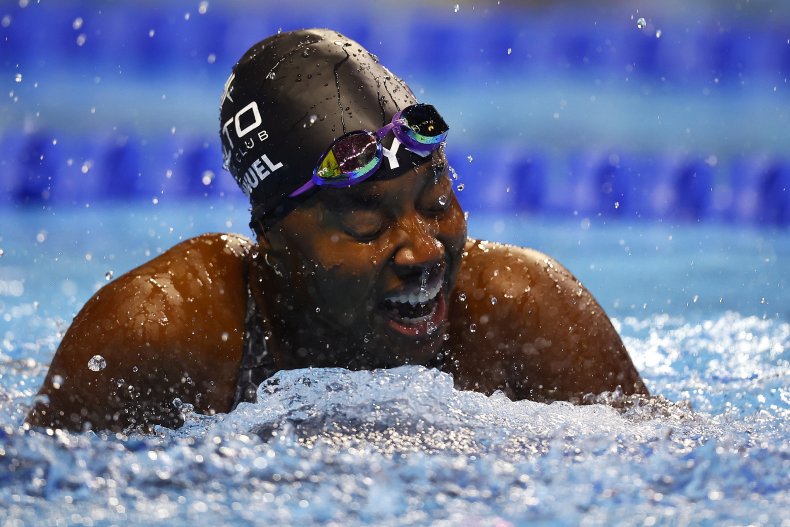 AP reported Manuel, who said she'd never heard of OTS before, first noticed she seemed off in January before her body "completely crashed" months later.
Manuel experienced an elevated heart rate both while resting and in training. Insomnia, depression, anxiety and muscle soreness were among her other symptoms, AP reported at the time.
The Olympic swimmer said in June: "I wasn't seeing any progress with my performance in the pool. It actually was declining."
Regarding her bid for the 100m freestyle title at the recent trials, Manuel said: "I am proud of myself.
"I did everything I possibly could have done to set myself up to be my very best at this meet. That 54 was as best as I could be. That's a tough pill to swallow," she said at the time.
Family and Personal Life
According to Manuel's personal website, the Olympic swimmer comes from a family of athletes, including her two brothers as well as her father, who was a college basketball player and her mother, who played different sports throughout high school.
At the age of 4, Manuel managed to swim across the pool on her second day of swimming lessons. "Her curiosities and athleticism led her to flourish in soccer, volleyball, basketball and dance," according to the website.
During her time at Stanford University, she set several NCAA (National Collegiate Athletic Association) and American records, her website says.
According to the Team USA website, Manuel enjoys tuning into upbeat music when she's working out, while "gospel music always motivates her."
The biography of her Instagram profile simply states "Phil 4:13~," referring to a verse from the book of Philippians in the Bible.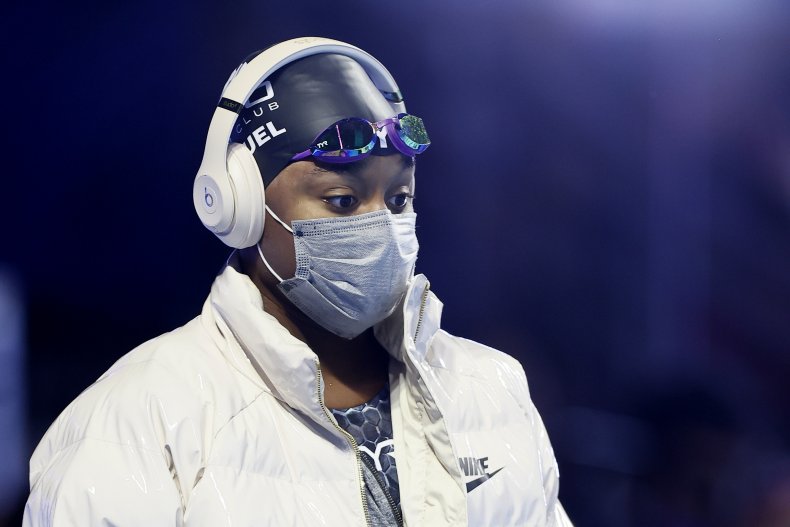 At the Olympic trials in June, AP reported Manuel said she has been relying on her religious faith during the uncertain times around the pandemic and social unrest following the murder of George Floyd.
"That's what's giving me peace," Manuel said. "I know I did everything I possibly could to even be here [at the trials] and that makes me proud.
"I continue to stay strong during this process even when there were times when I wanted to give up," she said.
According to the Team USA website, Manuel would have become a singer or dancer had she not been a competitive swimmer.
Baking and cooking are among her hobbies "because it relaxes her." She also enjoys traveling, collecting sunglasses and pictures, the Team USA website says.