'The Sims Mobile' Money Guide: Cheats for Getting More of It Quicker
Started playing The Sims Mobile but can't seem to earn cash quick enough? Check out our Sims Mobile Money Guide with cheats and tips for getting more money without having to spend yours.
You don't have to play The Sims Mobile game long to realize that, much like the real world, money is something you'll always wish you had more of. But how can you make money more quickly? If you're new to the game, the task may feel impossible, and you might even be tempted to search out a hack or cheat to get you some free dough. Rest assured; there are ways to earn money fairly easily in The Sims Mobile, without having to resort to cheats or hacks. Below we've put together a guide of the best ways to earn Money and Simoleons in the game and build that simulated dream life you've always imagined. For more Sims Mobile tips and tricks, be sure to check out our additional guides listed below:
The Sims Mobile Money Guide: Tips And Tricks For Getting And Using The Premium Currency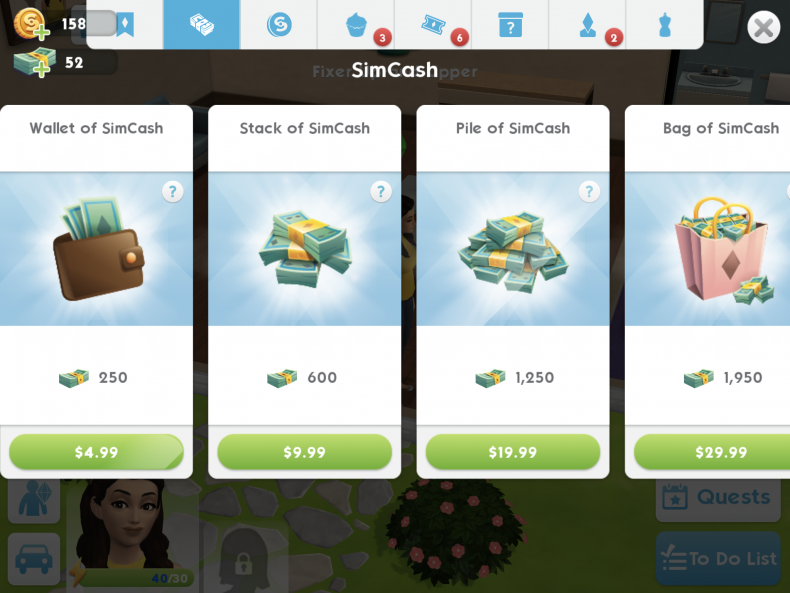 For a free-to-play game, Sims Mobile is surprisingly well balanced. Though it is reminiscent of some of Glu Games' celebrity adventures, players don't find themselves impatiently waiting to build up energy points in order to complete actions. In fact, the thing that requires the most patience is waiting for enough money to accumulate so you can buy some of those nicer home items you're coveting. But, isn't this basically how things work in the real world? Here are our best tips for getting money more quickly.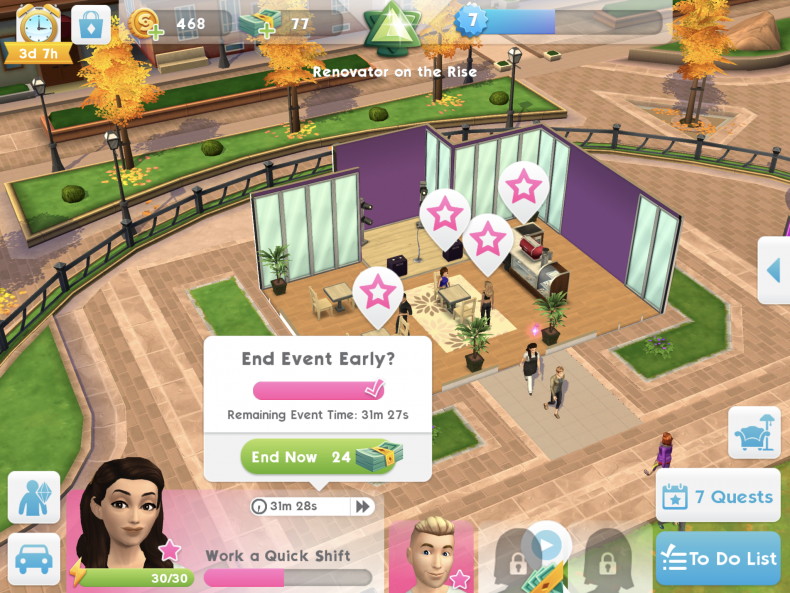 Don't Waste Money On Skips
One of the things people find most satisfying in any Sims game is building a beautiful life complete with a beautiful home tricked out with the best creature comforts. These finer things in life, however, require you to save up some serious SimsCash. While some of your basic items will only cost you simoleons, once you start talking high chairs, quality bedrooms sets and so forth, it's all about the Money. For that reason avoid impulsive actions like using the little free money you start with on things like speeding up a job shift or other mundane action. You can always leave the game and come back later to find the action completed.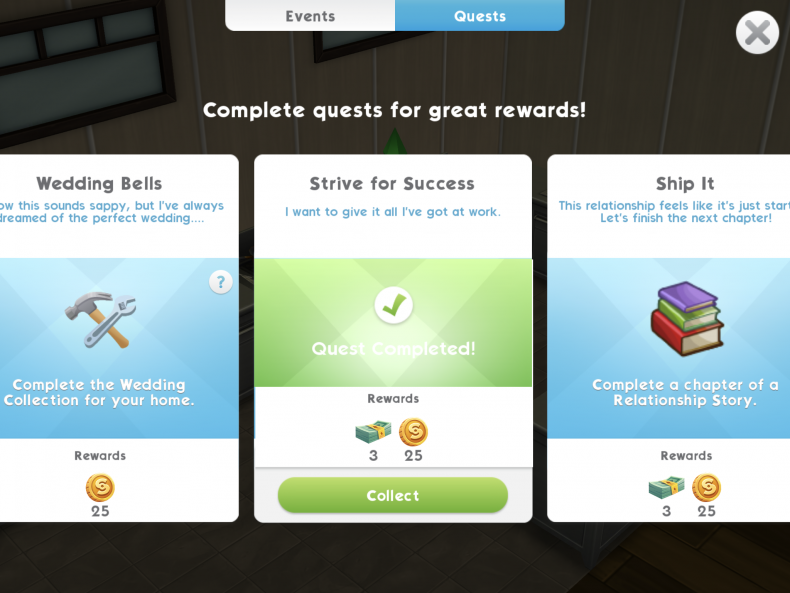 Complete Quests & To-Do List
While complete relationship, hobby and career events will earn you simoleons, experience and other premium currencies like Sim and Home Tickets, completing Quests and To-Do List Items is a great way to boost your money earning power. While new To-Do List items appear daily and offer smaller rewards, taking a quick look at your quest list is a great way to find actions that will earn you the most money. If you focus on completing the quests that earn you the most money, you'll frequently complete a daily task or even get your sim closer to leveling up in the process. New quests get added pretty frequently as you complete various story chapters or gain experience, so anytime you aren't sure what to do, take a look at your quest list.
Level Up Your Sims
Every time your Sims levels up, you'll earn Money and unlock new home items. Leveling up involves gathering EXP points, which are gained primarily through completing Relationship, Work and Hobby events.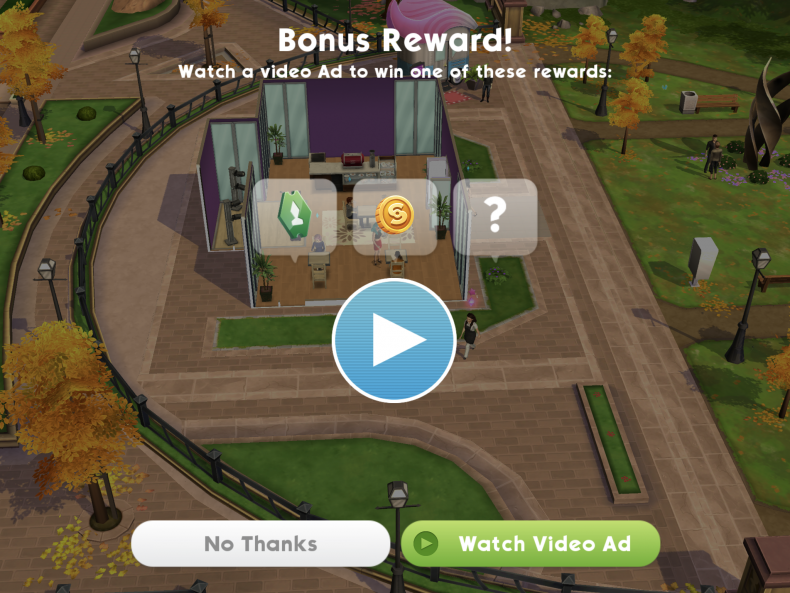 Watch Ads
The Sims Mobile offers numerous opportunities to watch ads, and you should take advantage of that any time you can to get more money without spending any real cash. Every time you complete a relationship, work or hobby event, you'll be shown the rewards you earned, along with an option to watch an ad to earn even more. You can also tap on the mailbox outside your home or other objects in the Sims Mobile world with a blue triangle over the top of them to watch ads and gains some different currency types that way.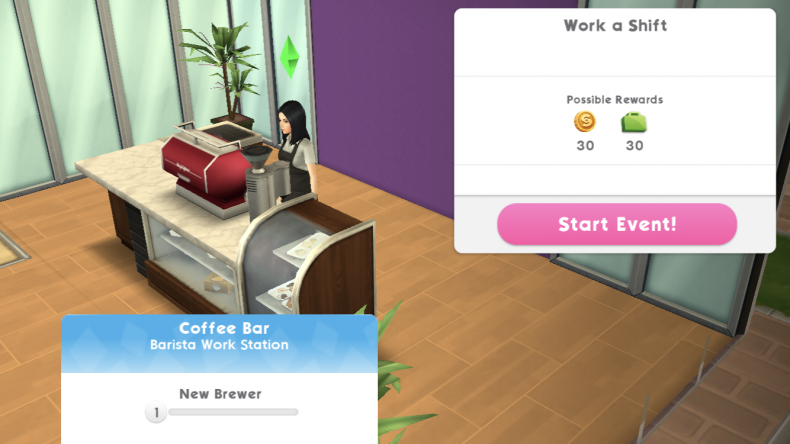 Put Sims In Long Events When You're Away
If you're going to be away from the game for an extended amount of time, it's a smart idea to start all of your Sims on a long-term event. Long terms events earn you more EXP and currency and will go a long way for helping you reach your goals. You'll also find your money adding up quicker if you never leave your Sims idle before exiting the game.
Consider In-Game Specials ​
While many mobile gamers don't want to spend real-world cash, if you can't get the funds you need quickly enough, keep an eye on the in-game specials that sometimes pop up. Some will be more worthwhile than others. For example, this week's special offers 300 SimCash and 100 Fashion Gems for $4.99, which is a decent deal. Here's a breakdown of the standard SimCash prices in the store, to help you determine the value of in-game specials:
$4.99 Wallet of Cash - 250 SimCash (2 cents per SimCash)
$9.99 Stack Of SimCash - 600 (1.6 cents per SimCash)
$19.99 Pile Of SimCash - 1,250 (1.6 cents per SimCash)
$29.99 Bag Of SimCash - 1950 (1.5 cents per SimCash)
$49.99 Sack Of SimCash - 3,500 (1.4 cents per SimCash)
$99.99 Vault Of SimCash - 7,500 (1.3 cents per SimCash)
Got other great tips you've found for earning money more quickly in The Sims Mobile? Share them with us in the comments below.​