'The Sims Mobile' Relationships: How to get Married, Have a Baby, Age Toddlers Up and More
Looking for Sims Mobile relationship tips? Find out how to get married, have a baby, grow your kids and more, here.
You've been playing Sims Mobile a little while now and maybe you're thinking, "It's time to settle down." But how exactly do you find that special Sim, convince them to marry you and then actually tie the knot? In this guide we'll be covering everything you need to know about relationships -- both romantic and platonic. You'll find out how to meet friends or choose a soulmate. We'll discuss steps needed for getting married, having a baby and aging that kid up so you aren't stuck perpetually changing diapers or cleaning flung food off the ceilings. We'll also discuss what to do if you Sims want to break up or move on and how it will affect your game. As we continue to play the game and gain more insights, we'll keep updating this post with new insights we've found. So hang on tight, folks, the love train is about to leave the station. For more Sims Mobile tips and tricks, be sure to check out our additional guides listed below:
Sims Mobile Relationship Guide: Tips On Friends, Getting Married, Having Kids And More
The Sims Mobile tutorial gives players the basics for developing relationships pretty early on. As most of us know any relationship begins with an introduction, but where it heads, depends on the choices you make. We'll begin first with the most basic of relationships: Friendship.
Sims Mobile Friendships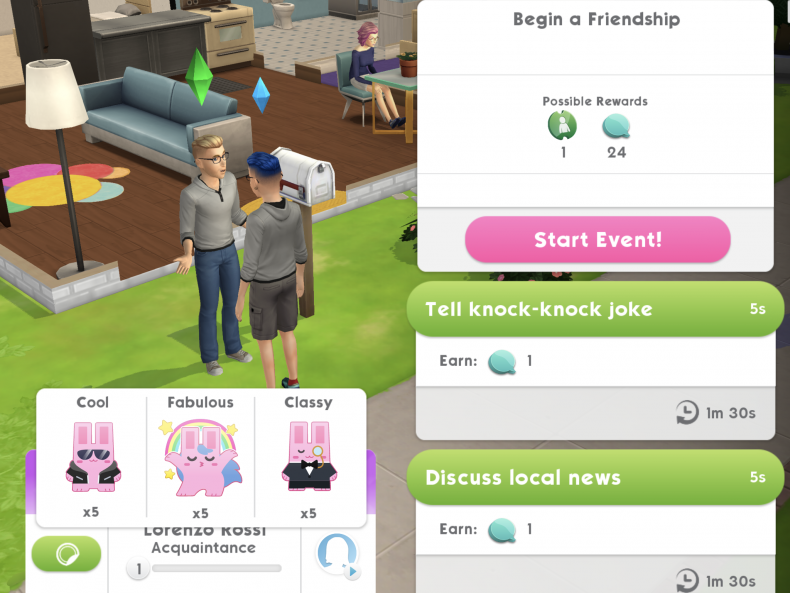 Friendship is a pretty easy thing to get started. Find a Sims walking down the street, hanging out at the coffee shop or where ever a tap on him or her. You'll see options appear for how to proceed. If you choose a friendly introduction, you'll gain a tiny bit of experience and unlock the option to begin a friendship event with him or her. If you're looking to start friendship relationships the friendly introduction is the way to go. To preserve the friendship, avoid any confrontational or amorous actions and things will remain platonic. Just like with Careers, you'll do an initial friendship event that gets the relationship going, but after that you can decide what kind of friendship you'd like to have by choosing one of the following stories:
Two Odd Peas In A Pod - two new friends disagree
Raincheck, Please - Busy buds balance friendship with life
Soundtrack of Soul - Soundtrack of Soul
BFFs Forever - a tale of two besties
Geek Speak - two geeks form an alliance.
Misery Loves Company - a pessimistic pal offers a unique take on life.
Sports Buddies - Two buddies bond over a love of sports.
Art Aficionados - artistic friends investigate a colorful mystery
Friendship Rewards - Depending on the kind of story you choose for your friendship, will determine the clothing and rewards you unlock when you complete all the chapters of the story. Each time you start a friendship event, you'll work toward finishing a chapter of your friendship story. At the end of each event, you'll be rewarded with Experience points, relationship points and Sim tickets. Sim tickets come in handy later for unlocking new playable Sims for your household.
What About Unfriendly Relationships? If you choose to go down the confrontational route when you introduce yourself to a Sim, you can unlock some interesting story types for them as well. These include: Arch-Nemeses, Old Rivals and Frenemies.
Sims Mobile Romantic Relationships: How To Propose, Move In Together, Get Married And More
Romantic relationships begin with that first flirty introduction, after which, you have the option to head to the Cafe for your first official date and then you're on to choosing your lover's story. For romantic relationships, the following options are available:
More Than Friends with Benefits
A Missed Connection
Secret Crush
Tainted Love
Soulmates
The Fixer-Upper
Do Romantic Stories Affect How Sims Act? As with friendship relationships, the type of story you choose will earn you different kinds of rewards when it is complete, but interestingly, it also plays a role in how your Sims will interact. For example, I chose a Fixer-Upper relationship for one Sim, while placing the other in a Soulmates situation. With the Fixer-Upper, my Sim had a much harder time pulling off risky actions than my Soulmate Sim did. There were moments, in fact, where it felt like nothing I could do was right with that chic. So, to a degree, the story you choose does seem to affect how Sims behave.
Can You Date Friends? Just as in real life, relationship types are somewhat fluid. If you start out as a friend but want things to head in the loving direction, scroll down to the bottom of the list of interaction options and select "More Options." There you'll see the option to change the relationship interaction to Flirty, Rival or Friendly ones, which will lead to new event options as well. This works for any relationship type, so if you ever want to switch things up, just go to the "More Options" section.
How Do You Get A Sim To Move In With You? - You have to reach a Relationship level 8 with a given Sim before you can unlock the option to ask your loved one to move in.
When Can I Propose? Oddly, you have the option to propose to a Sim earlier than asking him or her to move in. This option will become available as an event once your romantic relationship with a Sim reaches level 7
Getting Married: Every Step Leading To The Marriage Vows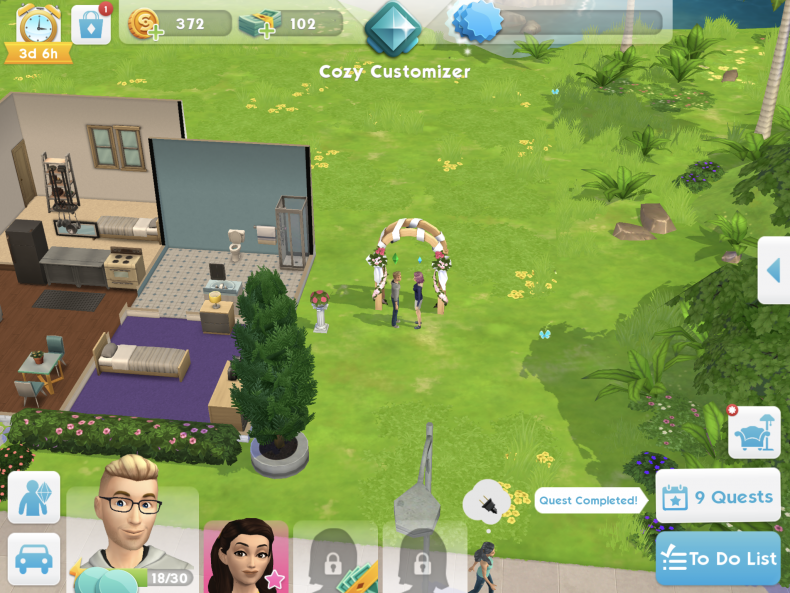 Marriage is something that takes a ton of time and energy, and little dough if you want to pull it off in the Sims Mobile. Here's everything you'll need to do to get married:
Reach Exp Level 7 - the option to marry won't unlock until your overall game experience level is at a 7.
Propose - In addition to a level 7 in game experience, you'll also need a relationship level 7 with a Sim to pop the question to him or her.
Complete the Wedding Collection - if you want to get married, you got to have all the right gear too. Once your proposal has been accepted, purchase the three Wedding Collection Items. You'll find them by following these steps:

Open the furniture menu on the right hand side of the game screen
Tap on the Build menu icon
Tap on Home Item Collection
Swipe over until you see the Wedding collection.
Purchase the three items and place them in your yard.

Start The Wedding - one of the items in the Wedding Collection is the Wedding Arch. Once you've placed that in the yard, you can tap on it and it gives you the option to get married. Simply choose you loved one from the list and the wedding is on! If you haven't reached relationship level 8 yet, you'll need to keep going on some dates or other romantic events before you'll be able to unlock you first true "marriage" event called "Becoming Wise Compromisers"
How Does Sim Life Change After Marriage? It doesn't really. Besides the fact there's an extra body in the house, for the most part, you go about your day the same as before.
Sims Mobile Family Relationships: How To Have Babies, Age Them Up And More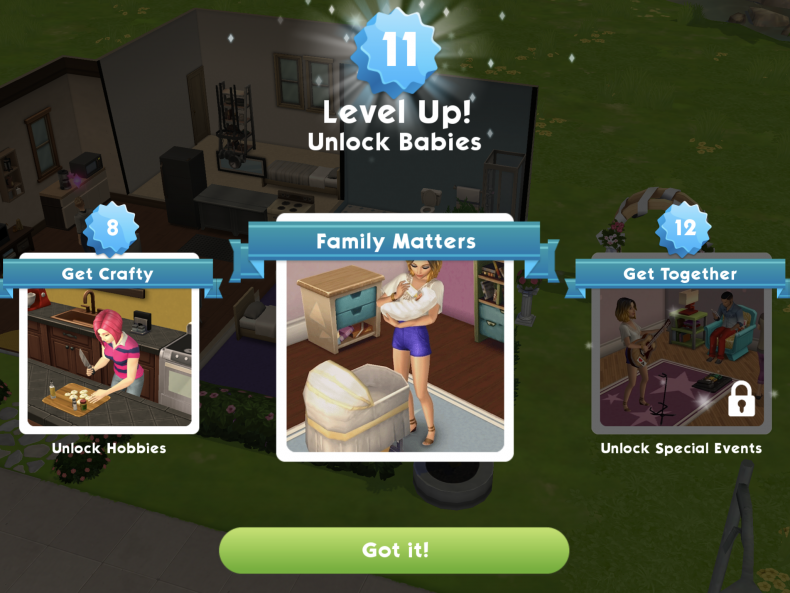 Once you've found you life partner, you may be interested in hearing the pitter patter of little feet. If you find you've been hit with baby fever, here are the steps to bringing one into the world.
How To Have A Baby
Reach EXP Level 11 - like with marriage, there is an experience requirement before you can have a child. In this case, it unlocks at player level 11.
Purchase Stork's Visit Bassinet - this is the only "required" item for getting the baby in the house, though going forward you'll be handing over plenty of cash to keep it thriving. You can find the bassinet in the furniture menu on the right hand side of the game screen. Tap on the chair icon, then babies and kids and scroll till you see the bassinet.
Choose To Birth or Adopt - Once you have the bassinet, all you need to do is tap on it and options for either having your own natural born child or adopting appear. If you want a biological child you will have to have a double bed in the house. Otherwise, adoption is your only option. Adoption takes 30 minutes to complete.
How To Age A Baby Up: Growing Your Child Well From Baby To Toddler To Adult
Once your baby has arrived, he or she comes with event, much like your other relationships. The more you "socialize" with your child, the more chances you have of making sure he or she gains the "Good Upbringing" trait -- which will make him or her more successful in adult life. In the meantime, here's what you'll need to do to "age up" your baby and move into childhood and beyond.
As you care for your baby, you'll notice some developmental changes start to occur. Soon your little Sim will start having emoji thoughts, just like grown up sims do. If you notice your baby thinking about birthday cake tap on that thought bubble before it disappears! This will automatically age the baby up to the next developmental stage.
What Happens When Sim Children Become Adults? - a satisfying aspect of having a Sim Child is that once they are grown, they can take the place of playable Sims as they move to retirement. If you choose to retire a Sim, he or she won't be playable any longer and so posterity must carry on their legacy.