Since Michael Brown's Fatal Shooting in Ferguson, Race Relations and Trust in Police Has Only Gotten Worse
Sunday marks the six-year anniversary of Michael Brown's shooting death in Ferguson, Missouri. Yet since that incident, a number of polls show that race relations and Americans' trust in police have further deteriorated.
On August 9, 2014, Brown and a friend were walking in the middle of a street in Ferguson, when a police officer drove by and told them to walk on the sidewalk. Shortly after,the situation escalated and the officer shot and killed the unarmed Brown. Following the incident, protests and riots broke out across Ferguson, calling for an end to police brutality against Black Americans.
Almost six years later, questions about racial inequality and police tactics took center stage once again when George Floyd, a Black man, died in Minneapolis on May 25, after a white officer knelt on Floyd's neck for several minutes. Caught on video, that incident ignited riots and protests across the nation and the world.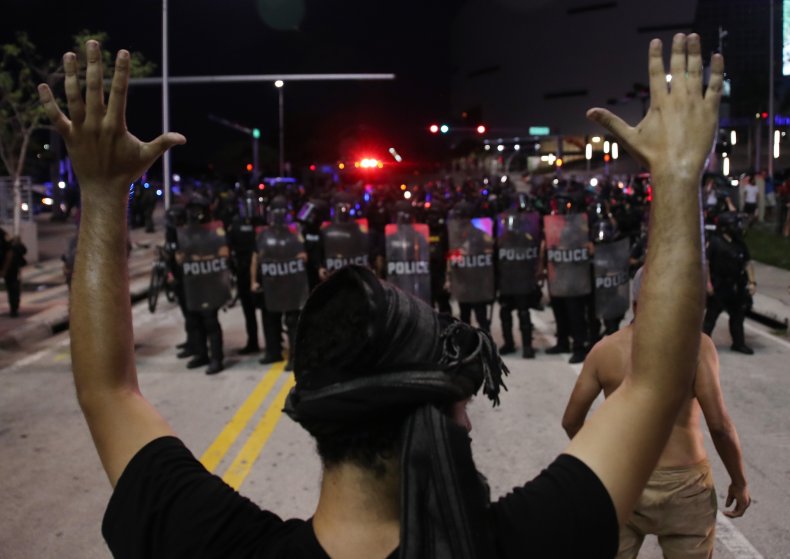 In the wake of those two events, several national surveys were conducted to examine race relations and Americans' trust in police, with many showing a decline in both over the past six years.
In a recent poll conducted this year also by NPR/PBS NewsHour/Marist from June 2 to June 3, about 35 percent of respondents said they had great confidence in the police when it comes to treating Blacks and whites equally—a drop of six percentage points from a 2014 survey that asked the same question. The latest study also found an increase in those who said they have very little confidence in policing, with 18 percent saying so in 2020 compared to 16 percent in 2014.
Said Dr. Michael Lindsey of New York University's McSilver Institute for Poverty Policy and Research: "Black communities are often over-policed and over-profiled, which can even lead to fatality, as recent cases have shown us. Will an interaction with the police result in an outcome characterized by physical harm or unequal treatment by the court system? That is a real concern" for African Americans.
Two separate polls conducted by Gallup in 2014 and 2020 found similar results with Black Americans' confidence about police decreasing over the past six years. In Gallup's 2014 poll, 37 percent of Black Americans said they had a great deal/quite a lot of confidence in police. But a poll from 2020 reported that only about 18 percent of Black Americans said they were "very confident" when it comes to being treated with courtesy and respect by police.
"When factoring in those who are at least somewhat confident that the police would treat them well, a majority of Black Americans (61%) are generally confident, but this is still below the 85% seen nationally, including 91% of White Americans," Gallup wrote about its recent poll.
Gallup has been surveying Americans on the topic of race relations and racial issues since 2001. According to Gallup's tracking, the number of Americans who said they are very satisfied with the state of race relations decreased from 10 percent in 2014, to 7 percent in 2020.
This poll also shows a large increase in the percent of those who say they are very dissatisfied with race relations in the U.S., from 11 percent in 2014, to 25 percent in 2020.
A CNN-conducted study from June of this year shows an increase in the share of Black voters that call race relations extremely important to their vote for president in the upcoming election. According to the analysis, 61 percent of Black voters said this was extremely important to them, an increase from 34 percent that said the same in 2015.
The survey also found 88 percent of Black Americans calling racism a big problem across the U.S. That figure marked a large increase from a 2015 poll that found 66 percent of Black Americans saying the same. The CNN poll surveyed 1,259 adults from June 2 to June 5 and has a margin of error of plus or minus 3.6 percentage points.