Sinema Slammed Over Deal to Pass Inflation Reduction Act, Keep Tax Loophole
Democratic Senator Kyrsten Sinema of Arizona is receiving backlash over her agreement to back the Inflation Reduction Act on the condition that a tax break for wealthy hedge fund managers is preserved.
Sinema, often viewed as an obstacle to President Joe Biden's agenda alongside fellow moderate Democratic Senator Joe Manchin of West Virginia, agreed on Thursday evening to back the bill on the condition that the carried interest tax loophole remain open. Sinema said in a statement that she would "move forward" on the bill, assuming that it passes a review by the Senate parliamentarian.
Manchin reached a surprising agreement with Senate Majority Leader Chuck Schumer last week to support the legislation. The partisan makeup of the Senate meant that Sinema's vote was also essential for Democrats to pass the bill. Members of both parties attempted to sway the Arizona senator in the days leading up to Thursday's announcement.
Closing the loophole, which allows hedge fund managers and private equity firm executives to be taxed at a 15 percent capital gains tax rate instead of the significantly higher income tax rates paid by most Americans, would have provided the government with an estimated $14 billion in revenue over a decade, according to The New York Times.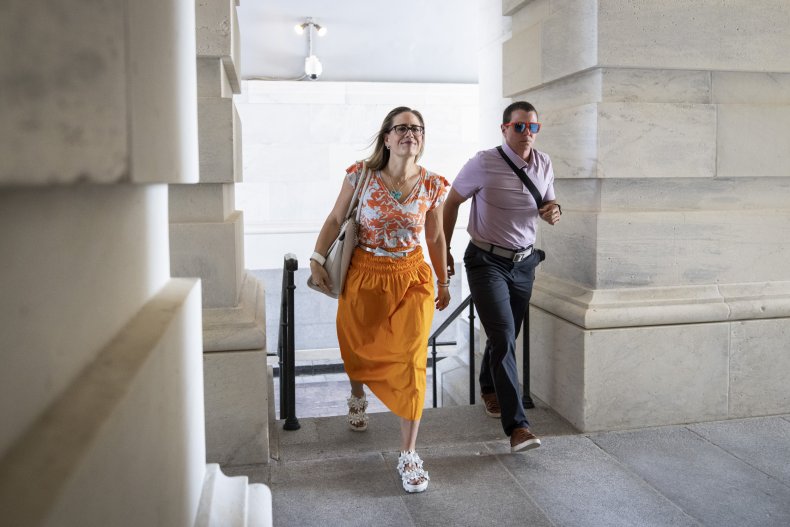 While some were pleased that Sinema had decided to back the larger bill—which until last week seemed all but dead—the Arizona senator also faced heavy criticism online for doing so only on the condition that the tax loophole be preserved.
"So Sinema gets a chance to wield power, and how does she use it?" tweeted author James Gleick. "To preserve an obscene $14 billion tax giveaway that specifically benefits the richest and most useless people on the planet: hedge-fund managers."
"I wish I loved anything as much as Kyrsten Sinema loves the carried interest loophole," tweeted talk radio host Emma Vigeland.
"Congrats to @SenatorSinema for preserving the tax loophole for hedge fund managers," Popular Information writer Judd Legum tweeted. "A true champion of the people."
"It's hard to blame Kyrsten Sinema, the people of Arizona have been adamant in their demands that ultra-wealthy investors be allowed to keep their tax loopholes," reporter and producer Jordan Zakarin tweeted, sarcastically.
"The fact that Sinema's one real sticking point on the inflation bill is tax breaks for corporations (which she wants to continue allowing) is just a bit too on the nose lol," tweeted writer Ben Dowsett.
While the bill will no longer end the tax loophole, Democrats are expected make up for the lost revenue by adding an excise tax on stock buybacks, according to CNN.
Biden did not mention Sinema's loophole demand while praising the deal as "another critical step toward reducing inflation and the cost of living for America's families" in a statement issued after the agreement was reached.
"The Inflation Reduction Act will help Americans save money on prescription drugs, health premiums, and much more," Biden said. "I look forward to the Senate taking up this legislation and passing it as soon as possible."
Newsweek reached out to Sinema's office for comment.