Democrats Just Beat Mitch McConnell at His Own Game
Speculation has risen that the Democrats may have "out-McConnelled" Senate Minority Leader Mitch McConnell after West Virginia Democratic Senator Joe Manchin announced he has agreed to support a major spending bill right after the Senate voted to pass the CHIPS Act on Wednesday.
Manchin's change of heart could be particularly embarrassing for McConnell, seeing as he previously threatened that the GOP would not help pass the CHIPS Act—a bill aimed at building up U.S, manufacturing and technological competitiveness against China—if Democrats went forward with its reconciliation package.
On Wednesday night, the Senate passed the CHIPS Act by a 64-33 vote. Shortly afterward, Manchin and Senate Majority Leader Chuck Schumer announced that an agreement has been reached on the major energy and health care bill.
Manchin's surprise turnaround to support the Inflation Reduction Act of 2022 shocked Washington D.C., given it has been just two weeks since he last objected to the reconciliation package following months of stalled negotiations.
The move from Manchin, and the $740 billion bill, which looks to fight inflation by reducing the federal deficit by approximately $300 billion, allocates $369 billion to programs aimed to reduce carbon emissions by roughly 40 percent by 2030, and $64 billion aimed at lowering health care costs, has since been criticized by GOP figures, including McConnell.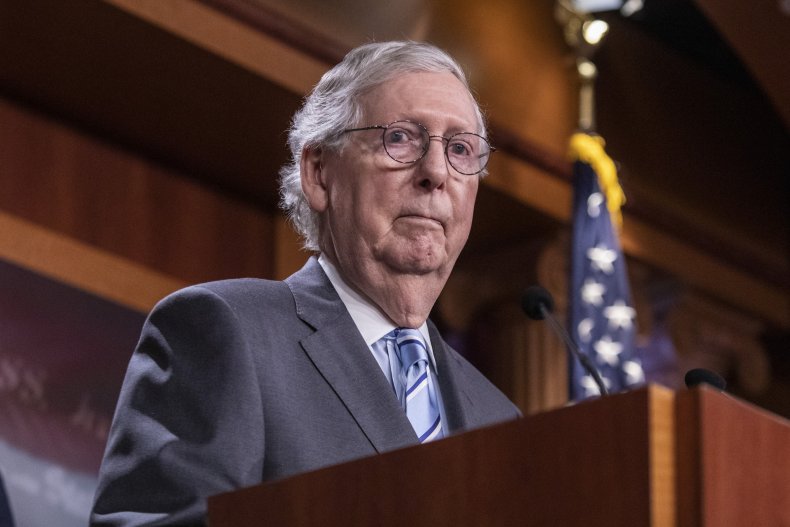 On June 30, McConnell tweeted: "Let me be perfectly clear: there will be no bipartisan USICA as long as Democrats are pursuing a partisan reconciliation bill."
The CHIPS Act is a slimmed-down version of the United States Innovation and Competition Act, (USICA) which failed to pass the Senate last year.
McConnell sent the tweet while still believing that Manchin would continue not to support what would later become the Inflation Reduction Act.
The timing of Manchin's announcement has prompted questions as to whether the Democrats used McConnell's tactic of holding the passing of bills in the Senate hostage against him in order to pass CHIPS as well as the Inflation Reduction Act.
Seung Min Kim, a White House reporter for The Associated Press, tweeted: "It is verrrrrrrry interesting that this deal was announced shortly after the Senate passed the chips bill, which McConnell threatened to hold up if Dems continued to pursue a partisan reconciliation bill. Very, very interesting!"
Political commentator Brian Tyler Cohen added: "McConnell said Republicans wouldn't let the CHIPS bill pass if Democrats try to pass a lower drug price/climate bill.
"[Republicans] ultimately let CHIPS pass—minutes later, Dems announced a deal with Manchin on lower drug prices/climate. Democrats may have just out-McConnelled McConnell."
Jason Easley, managing editor for PoliticusUSA, also speculated that Schumer and Manchin may have agreed to the deal weeks ago, but kept quiet until the CHIPS Act passed while hoping McConnell kept on believing negotiations had again hit a wall.
"It might be tough to keep such a vital agreement secret, but Mitch McConnell apparently got McConnelled," Easley wrote.
After the reconciliation bill was agreed upon, Republican lawmakers began suggesting that House GOP members should now block the CHIPS Act when it returns to the floor for final approval on Thursday.
"In light of this deal, whether Republican Members support CHIPS or not (I don't), we must ALL vote no. Passing CHIPS will pave the way for the radical Build Back Broke plan," tweeted Oklahoma congressman Kevin Hern. "The time to fight is now."
Newsweek has reached out to McConnell for comment.