Manchin Pulling Plug on Climate Change Runs Senate Democrats' Patience Thin
Senator Joe Manchin has often been the Democratic swing vote in an evenly divided Senate, but his colleagues may be finally growing tired of his pushback on the party's agenda.
On Thursday, a meeting between Manchin and Senate Majority Leader Chuck Schumer blew up months of negotiations after the West Virginia Democrat signaled it'd be unlikely Democrats could pass a climate change bill this summer. As frustrations mounted, his colleagues did not hold back as they lashed out in a series of statements.
"Rage keeps me from tears," Senator Ed Markey tweeted late Thursday. "Resolve keeps me from despair. We will not allow a future of climate disaster. I believe in the power of the Green New Deal. The power of young people. I am with you. We will not give up."
In a rare statement, Senator Tina Smith also criticized her colleague, calling it "infuriating" and "nothing short of tragic" that Manchin was walking away from talks yet again.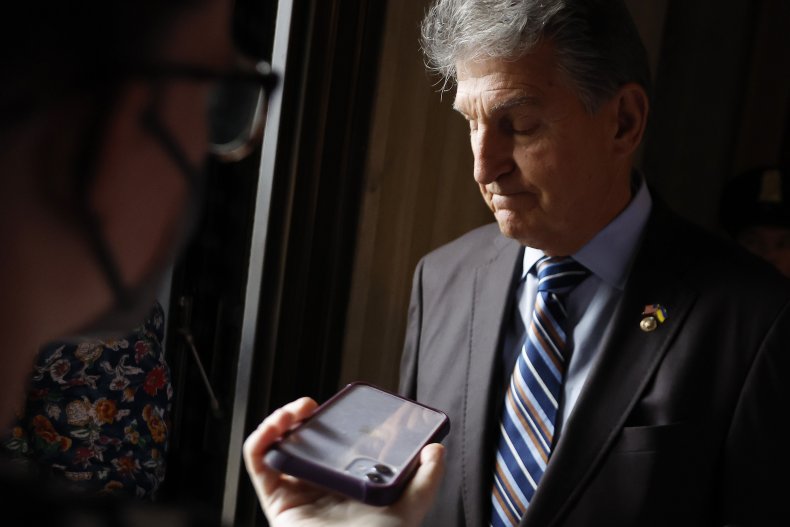 "The world is literally burning up while he joins every single Republican to stop strong action to cut emissions and speed the transition to clean energy for the survival of our planet, clean air and health, energy independence and lower energy prices," Smith said. "One senator should not have the power to stop the progress we desperately need on the climate crisis."
She added that she would work "like hell" to elect Democrats who can get climate legislation passed.
Senator Martin Heinrich even went so far as to question if Manchin should continue to chair the Senate's energy committee.
"We have an opportunity to address the climate crisis right now. Senator Manchin's refusal to act is infuriating," he tweeted. "It makes me question why he's Chair of ENR."
"This is THE moment to meet the challenges that we will be judged by – by our children, grandchildren and future generations. We can't wait any longer," Heinrich added in a second tweet.
And it wasn't just senators that Manchin upset on Capitol Hill.
The New York Times reported that "Privately, Senate Democratic staff members seethed and sobbed on Thursday night, after more than a year of working nights and weekends to scale back, water down, trim and tailor the climate legislation to Mr. Manchin's exact specifications, only to have it rejected inches from the finish line."
President Joe Biden also released a statement on Friday, saying he would "take strong executive action to meet this moment" if the Senate fails to pass legislation.
"Action on climate change and clean energy remains more urgent than ever," Biden said.
However, as his fellow Democrats raged over his refusal to support the climate legislation, Manchin pushed back that he was walking away from the table, saying that he told Schumer he just wants to "wait until the inflation figures come out in July" before making a decision.
"[Schumer] took that as a 'no,' I guess, and came out with this big thing last night," Manchin told West Virginia radio host Hoppy Kercheval on Friday. "And I don't know why they did that. I guess to try to put pressure on me, but they've been doing that for over a year now. It doesn't make any sense at all."
He added, "As far as I'm concerned, I want climate, I want an energy policy."
Update 07/15/22, 3:15 p.m. ET: This story was updated with Biden's statement.