Sister-in-Law Blasted for Jealousy Over 'Flawless' New Mom Days After Birth
A woman has been slammed after she shared her jealously over her sister-in-law looking "flawless" just days after giving birth.
Society has seemingly always been interested in postpartum bodies. When celebrities give birth, many are quick to analyze their post-baby body, while five minutes on social media will reveal the most popular postpartum workouts and diets for new moms.
The reality, of course, is that pregnancy and labor have a very real impact on women's bodies. The U.S. Department of Health & Human Services Office on Women's Health says that many new mothers will find that all they can do is eat, sleep and care for their new baby—and that is OK.
But on the popular discussion site Mumsnet, one frustrated parent shared her irritation after her sister-in-law seemed to bounce back almost instantly after birth.
In a post shared on Tuesday that has since had over 100 replies, the user veniceorna said: "My sister-in-law had a baby Sunday morning. We were all beaming and excited. Couldn't wait to meet the baby. But none of us wanted to push it for a visit too soon so were waiting for an invite."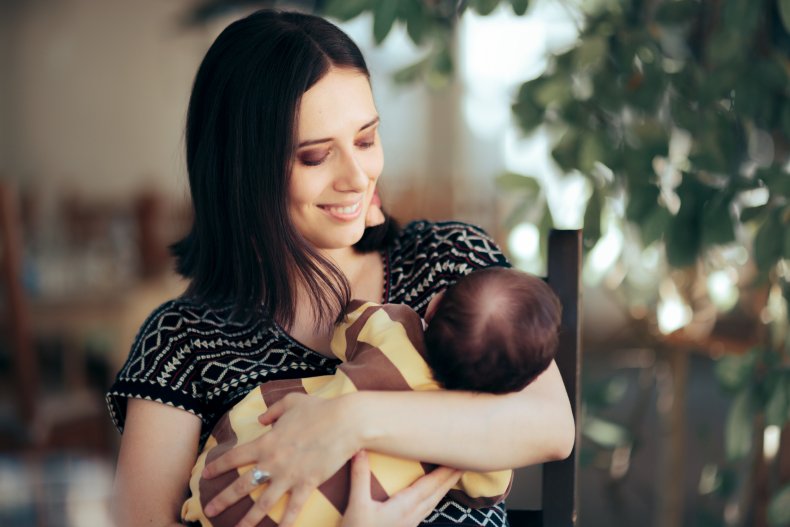 But before the family could think about it, the new mom called them and asked if they would like to meet at a local Turkish restaurant.
"We were shocked but jumped at the chance to see the baby, wondering how my sister-in-law could possibly face it," wrote the poster.
When they arrived to meet the new mom and baby, the Mumsnet user was even more shocked: "There she was, arriving out of hospital, face full of flawless makeup. Heels on. Dress on. She looked amazing. My niece with her and breastfeeding."
Further still, she expressed her shock that the mom also had her 5-year-old son at the restaurant.
"When I gave birth," she explained: "I went home and ate biscuits for a few days in bed."
But after sharing her jealousy toward her sister-in-law, the Mumsnet user was slammed for her reaction with many suggesting that she was being unfair.
"Some women just can't do the right thing, can they?" said one reply: "Can't you be happy for her?"
Meanwhile, another commenter said: "Would you have got a perverse pleasure out of seeing her in pain, struggling to breastfeed, crying?"
Another reply pointed out that: "Every woman is different," and said: "Not everyone is able to be like this, and likewise not everyone wants to slob about."
Others shared similar experiences after birth, too. One Mumsnet user said: "I was out for a meal twice in the week my son was born. Doubt I was flawless, but it was my decision and we all had fun."
"She's being clever," said another reply: "Everyone gets to see baby in one hit, and not around the house. She's just brought herself at least a week of peacetime from relatives for the sake of a few hours of good food and being served on."
Newsweek was not able to verify the details of the case.
If you have a similar family dilemma, let us know via life@newsweek.com. We can ask experts for advice, and your story could be featured on Newsweek.