Bride Refusing To Make Her Wedding Wheelchair Accessible for Niece Praised
A bride-to-be declining to make her wedding accessible for her niece, who requires wheelchair assistance, has gone viral on Reddit, where it received over 12,000 upvotes.
In post shared on Reddit's Am I The A****** (AITA) subforum, user throwaway_formia said Cassidy (the bride-to-be) informed her that the wedding will be held at "a beach near our city, and it will completely be held in the sand."
The user said her sister told her she "just wanted to let me know before she sent the official invite because of Mia [the user's 8-year-old daughter]."
The poster, who is a 34-year-old single mom, said: "Mia has been disabled since the day she was born and needs wheelchair assistance and constant care whenever she is awake...
"I truly have never been more shocked and disappointed in my sister. You would think she would at least check in with me before she reserved the beach space because Mia obviously can't come. And now she's only telling me because it's set in stone and there's nothing she can change."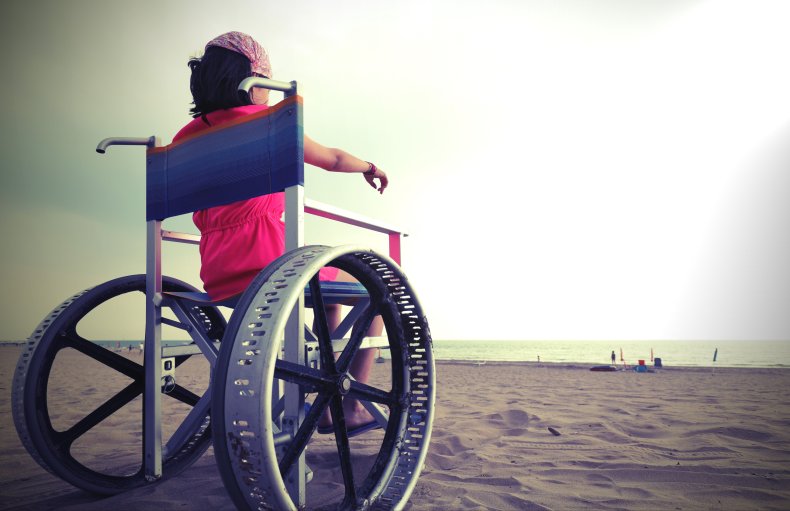 According to the user, her sister said "she will not change the location" of the wedding because she and her fiancé met on this beach and "it has been their dream ever since to get married here after they also got engaged here."
According to a survey of 11,646 couples who got married in 2022, conducted by The Knot, a wedding planning website, just over half of the couples surveyed (55 percent) chose a location that had special meaning to them.
The vast majority (91 percent) of destination weddings took place within the U.S. and nearly six in 10 couples (57 percent) selected a wedding location within 30 miles of where they currently live, according to the survey.
The user in the latest Reddit post said that when she tried to explain "how hurtful this is to Mia," Cassidy "immediately started deflecting."
According to the user, Cassidy claimed the couple checked "to make sure the beach had a sand friendly wheelchair for me to rent ($110/day)...the audacity to ask your guests to be paying just to make it to the event (especially when she knows I cannot afford this)."
When the poster suggested her sister pay for the rental, the bride-to-be allegedly kept saying how the couple "already had to cut so much out of their budget and plans because they also can't afford much."
The user noted: "You're already paying for a whole wedding, but can't afford a rental for your FAMILY to come? I was talking to some moms of children with disabilities and they all agree that it sounds like Cassidy doesn't even want Mia there and is using all of this as an excuse.
"I'm thinking about just telling her that we won't be attending her wedding and supporting a person who's inconsiderate to her own family."
The One Day When You Can Be a Little 'Selfish'
Wedding planner Poppy Sienna, a luxury wedding and event planner based in the U.K., told Newsweek: "The main thing I say to my clients is that it is their day and it's the one day of your life when you can be a little 'selfish' and have your own way."
In the case of the latest Reddit post, since the venue is "very sentimental to the couple," Sienna said: "I do think that they have good reason to continue with having their wedding there."
Based on what was said in the post, the wedding planner said it looks like the bride-to-be "did research accessibility for the poster's daughter, so it is clear that she was thinking about her [niece] from the beginning."
The poster "could have possibly expressed her thoughts in a different way," asking instead whether the bride-to-be can contribute to the cost of a wheelchair. The mom could have also asked family members to help if she couldn't afford the full cost.
"I don't think there is much else the bride could do to help the situation," Sienna concluded.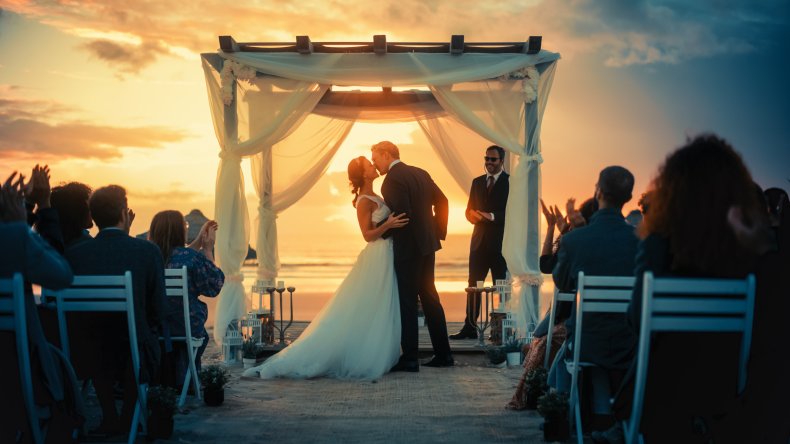 The Sister is Being a 'Bridezilla'
Etiquette expert Lisa Mirza Grotts told Newsweek "the fact that the bride knew that her niece had the handicap makes her a 'bridezilla.'"
The etiquette expert said: "If you plan in advance, all curveballs can easily be handled so the day is enjoyable for all. Anticipate potential problems ahead of time by reaching out to guests that you might think have extra needs."
Invited guests with disabilities "should top the list," but it's not just about the niece, Grotts said. "I doubt that this is the only person that they will have to make accommodations for."
She noted: "Why put yourself in an uncomfortable position on one of the happiest days of your life? The bride has every opportunity to make sure all of her guests are well provided for."
'No Couple Needs a Guest's Approval'
Several users on Reddit sided with the bride-to-be in the latest viral post.
In a comment that got over 63,000 upvotes, user stannenb said: "This dispute is really 'My sister won't pay $110 for a wheelchair for Mia to attend.' YTA [you're the a******]."
In a comment that got 6,800 upvotes, user Robert_Rufus_Feline said: "The fact that OP [original poster] thought that the bride and groom should run their choice of venue by her first is very telling...No couple needs a guest's approval before booking their wedding venue, especially when the location is one of deep personal significance to them..."
User Muted_Caterpillar13 said: "If mom really wanted to go to this wedding and bring her daughter Mia, she could save a whopping $18.34 a month in order to rent the wheelchair that is sand friendly. I forgot to add YTA," in a comment that received 946 upvotes.
Newsweek has contacted the original poster for comment.
Do you have a similar family dilemma? Let us know via life@newsweek.com. We can ask experts for advice, and your story could be featured on Newsweek.