Couple Marry in Hospital so Mom Can Attend Wedding: 'Beautiful'
Alongside caring for patients, hospital staff in a central Virginia hospital have managed to pull off a beautiful wedding ceremony for a heartwarming reason.
Kevin and fiancée Julia were in the middle of planning their special day. However, things changed when they learned that Kevin's mother would not live to see their wedding.
"It was very important for Kevin and Julia to have his mother be a part of their ceremony," wrote a spokesperson for Henrico, Parham & Retreat Doctors' Hospitals. "When we realized that time might be short, we asked if they wanted to have the wedding at the hospital."
Hospital staff stepped in and shared the beautiful moment online as the couple tied the knot in front of Kevin's mom in the hospital.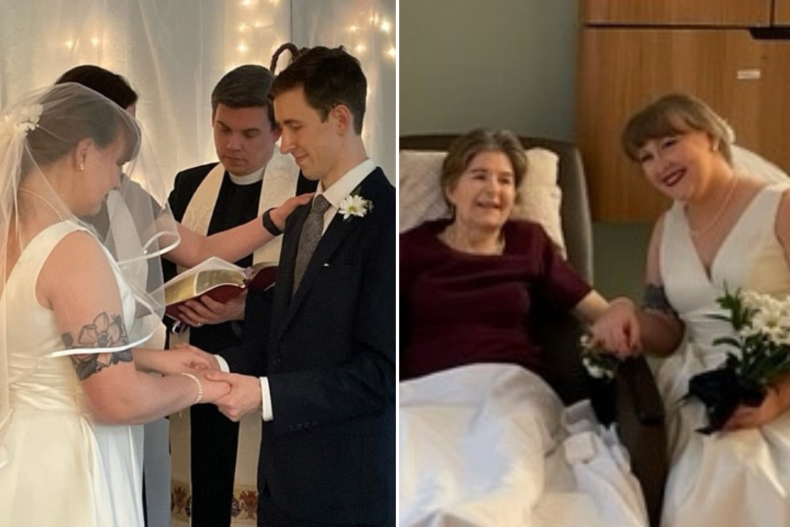 In a beautiful white dress and veil, the bride tied the knot with her new husband, as their closest family watched nearby.
"We were honored to host their wedding today and thrilled that Kevin's mom was able to be present along with other loved ones and some friends," said the hospital group in a statement. "The ceremony was simple and beautiful and we wish them the best on their special day. Congratulations and much love to the happy couple."
After the hospital shared the extra-special wedding on their Facebook page, hundreds of users shared their reactions and praised the hospital for going the extra mile.
"That was so sweet and so special," wrote one Facebook user, while another posted: "Henrico is a top notch facility that definitely thinks families should be together. Thank you for doing this!!! God be with them all."
"Absolutely beautiful," commented another. "So awesome that you did this."
Weddings in 2022
The recently released 2022 Weddings Study by planners The Knot reported a record year for U.S. weddings, with 2.6 million couples saying their vows.
During the COVID-19 pandemic, weddings were called off, postponed and downsized, but 2022 appeared to show a return to larger ceremonies and popular traditions.
In 2022, the average wedding guest list comprised 117 people, compared to just 66 in 2020, while 73 percent of couples went on honeymoon after their big day, compared to just 56 percent in 2020.
A hospital is an unusual venue for a wedding, but the most-popular location might not be what you would expect either. In 2022, 72 percent of weddings took place fully or partially outdoors.
Banquet halls and farm or ranch weddings were also popular, while many couples also opted for historical buildings, hotel resorts and country clubs.
Correction, 2/23/23, 3:03 a.m. ET: This article has been corrected to say that in 2020 the average wedding guest list comprised 66 people.