Six Takeaways From Kanye West's Tucker Carlson Interview
Kanye West is continuing to shock fans, and the rapper gave an explosive interview to right-wing pundit Tucker Carlson on Friday night, in which he discussed everything from his White Lives Matter stunt, to his divorce from Kim Kardashian.
The rapper and fashion designer—who has legally changed his name to Ye—has been making headlines over the past week for his Instagram statements, calling out celebrities, members of the Kardashian family and fashion writer Gabriella Karefa-Johnson, who critiqued Ye's work.
He also discussed his ex-wife Kardashian, commented on Lizzo's weight, and said Kris Jenner's partner, Corey Gamble, and Vogue editor Karefa-Johnson were "practically made in a laboratory."
Part two of the bombshell interview is set to air on Friday at 8 p.m. ET on Fox News.
Here are six takeaways from West's Thursday night interview
Carlson asked West about his recent use of the "White Lives Matter" T-shirt, which he debuted at his Yeezy Season 9 show during Paris Fashion Week on Monday.
West sent models down the runway in the bold shirt, while he was pictured wearing the top alongside right-wing pundit Candace Owens backstage, who was also sporting the T-shirt with the slogan.
Since his Paris show, West has received backlash from the media and some of the biggest names in fashion, including Vogue editor Karefa-Johnson and supermodel Gigi Hadid.
The rapper discussed the inspiration behind the "White Lives Matter" shirt and said his father, Ray West, an ex-Black Panther member, thought it was "funny."
He said: "I do certain things from a feeling. I just channel the energy. It just feels right. It's using a gut instinct, a connection with God, and just brilliance."
Ye recalled: "You know, my dad is an educated ex-Black Panther, and he put in a text to me today. He said, 'White Lives Matter. Ha ha ha ha ha.' And I said, 'I thought the shirt was a funny shirt. I thought the idea of me wearing it was funny.' And I said, 'Dad, why do you think it was funny?' He said, 'Just a Black man stating the obvious.'
"That [was] my favorite response," Ye said. "Cause ... people, they're looking for an explanation, and people say, 'Well, as an artist, you don't have to give an explanation,' but as a leader, you do.
"So the answer to why I wrote White Lives Matter on a shirt is because they do. It's the obvious thing."
West pointed to Lizzo's weight and abortion as examples of the "genocide of the Black race" during the interview.
"It represents life. I'm pro-life," West said when asked by Carlson why he's wearing a lanyard with a picture of an ultrasound on it. "I don't care about people's responses. I care about the fact that there's more Black babies being aborted than born in New York City at this point. That 50 percent of Black death in America is abortion."
It's unclear where Ye got his statistics from, but Newsweek couldn't find a study to back up his claim.
West went on to discuss the narrative surrounding his "good friend" Lizzo's weight, and how he believes there are systems in place to stop her from losing weight.
"Now let's talk about Gabby and my good friend Lizzo. Lizzo works with my trainer, a friend of mine, Harley Pasternak. When Lizzo loses 10 pounds and announces it, the bots [...] on Instagram, they attack her for losing weight, because the media wants to put out a perception that being overweight is the new goal, when it's actually unhealthy," West said.
"Let's get aside from the fact whether it's fashion and Vogue, which it's not, or if someone thinks it's attractive, to each his own. It's actually clinically unhealthy. For people to promote that, it's demonic."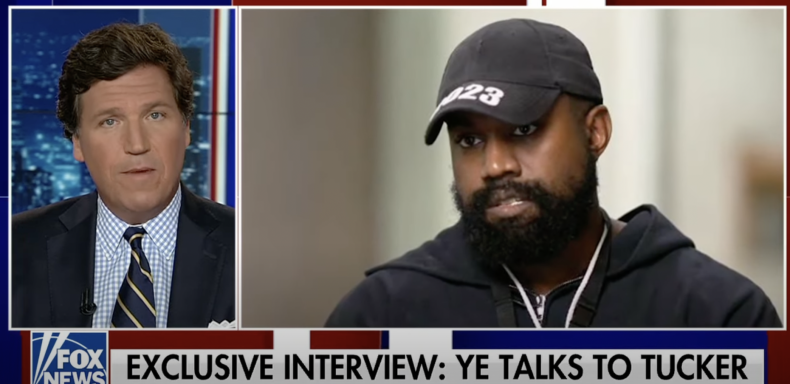 The Media
West condemned the media and its "Godless agenda" during the interview.
"We are in a battle with the media. Like, the majority of the media has a Godless agenda, and their jokes are not working," West said.
"This whole like 'Oh, Ye's crazy' and all these things, they don't work because the media has, you know, they've also watched travesties happen, just even specifically to me, and just watch it and act like it wasn't happening. And they stay quiet about it."
Kim Kardashian's Behind
West also took a shot at his ex-wife for a recent magazine cover she appeared on.
The rapper decried Kardashian for putting her "ass out" for a photo shoot, referring to the 41-year-old's Interview magazine spread last month.
"Kim is a Christian, but she has people who want her to go to Interview Magazine and put her ass out while she's a 40-something-year-old multi-billionaire with four black children," he told the program.
"And this is how fashion wants to present her."
West shares four children, including daughters North, nine, and Chicago, four, with Kardashian, who divorced him in March.
West told Carlson that he was warned his "life would be over" if he publicly expressed support for former president Donald Trump.
The rapper has previously faced backlash over his support for the former president. West said that he felt a need to express himself on "another level" when Trump became a candidate in the 2016 election.
"I really felt like I think I started to really feel this need to express myself on another level when Trump was running for office and I liked him," West told Carlson. "My so-called friends [and] handlers around me told me if I said that I like Trump that my career will be over. That my life would be over."
"They said stuff like 'people get killed for wearing a hat like that,'" he continued. "They threatened my life ... They basically said that I would be killed for wearing the hat."
Kim Kardashian and the Clintons
West also claimed he had no knowledge of a close relationship between Kardashian and the Clintons while he was associated with Trump.
"I don't have an opinion on that. I just want to state that that's a flat statement. But it was wild that I didn't know how close my own wife was to the Clintons. I didn't know. You know, I didn't realize it at the time," West said.
Carlson asked how close the Kardashian family are to Bill and Hillary Clinton, to which he responded, "like cell phone away."
Newsweek has contacted Kardashian's representative for comment.