Candace Owens Talks 'White Lives' Furor, Wants to 'Destroy' Black Culture
Candace Owens has addressed the criticism about wearing T-shirts emblazoned with the words "White Lives Matter" with Kanye West at his Yeezy Paris Fashion Week show.
The conservative commentator, 33, joined West, 45, on Monday at his fashion show, where they both sparked controversy with the messaging on their attire. The statement was also worn by the models who participated in the presentation.
This revision of the Black Lives Matter (BLM) message has angered many who have advocated for social justice. For years, BLM supporters have protested against systemic racism and police brutality, but some white supremacists have distorted the group's well-known slogan to espouse racist views.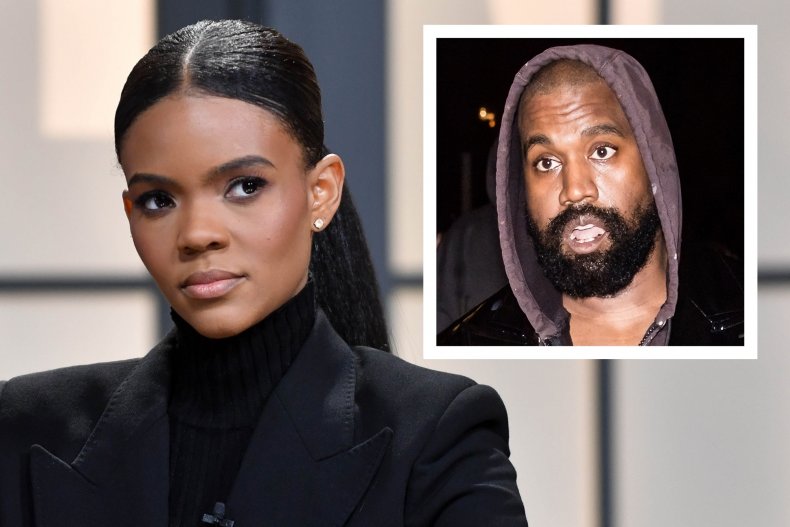 The Anti-Defamation League (ADL) has deemed "White Lives Matter" a hate slogan used by white supremacists, including the Ku Klux Klan.
In an episode of the Candace Owens Podcast, which was released on Tuesday, Owens spoke at length about the reaction to her and West's choice of messaging, as she also declared that she wishes to "destroy" Black U.S. culture as it currently stands.
"When you say something like, 'Oh, Candace Owens, we don't want you in our culture, you don't understand Black culture,' I have to keep reminding you that I don't want to be a part of this culture—I want to destroy it," she said. "I want to destroy it further than it's already destroyed itself. I want to go backward. Your idea of progressivism is clearly regressive. Our children cannot read. This is a new plantation. All of the same problems when slavery was in existence."
Elsewhere in the podcast episode, Owens said that Black Americans should be more concerned about abortion rates, education standards, "Black-on-Black" crime and obesity, which she used as an opportunity to take a swipe at singer Lizzo's weight.
"There is a deep irony and a sad irony when you consider that wearing a T-shirt has led such a tremor throughout the world," Owens said. "A T-shirt that says 'White Lives Matter,' which should be implied, right?
"White lives matter, Black lives matter, Asian lives matter—it should be implied, yet people are angry and they are being vicious online because they can't believe that we have the audacity to detract from the movement which is a lie: Black Lives Matter."
"Somehow the people that I have to hope are playing the biggest prank on Black America have trained us to say the N-word, have trained us to celebrate obesity, have trained us to celebrate our lack of education by giving us a bunch of false idols, have trained us to think that gangbanging is cool," she said later in the podcast. "It's in the music, it is now in the music that kids are putting in their ears when they put on a pair of headphones."
Turning her attention to West's fashion show, Owens said: "So they ignored the fact that last night Kanye had a bunch of children running around singing in Latin, singing Christian music, singing things that were good, that were productive for the future.
"They ignored all of that at his show last night and they instead focused on the 'White Lives Matter' messaging, because they said, 'You know what, God forbid Black Americans get an idea that they could be something other, God forbid Black Americans get an idea that these things that we are programming within their society are actually harmful. No, no, no, let's turn Kanye West into enemy number one. That's what's happening and it pains me to see that people still don't get it."
"It wasn't Kanye West that put the 'White Lives Matter' T-shirt on first—you did," she continued. "You did by intentionally ignoring what 'Black Lives Matter' would actually mean if it was applied.
"It would mean taking a look at all of these statistics that I've just [shared with] you. It would mean taking a look at the real problem that is happening, which is our culture—a celebration of perversity pitched to us as if it's diversity. It's not. It is not diversity that we are celebrating it is perversity. You think that it's something to be proud of? It's not."
Owens went on to compare elements of today's world with slavery of centuries past, saying: "There were a lot of things that needed to be maintained to make sure that the slaves never woke up, the first being the breakdown of the Black family. Slaves were constantly being sold.
"Booker T. Washington, in his book Up From Slavery, talks about the fact that when his mother was sold and his mother was taken away from him he didn't even cry. Because so often were slaves moved around that the understanding of family values, that core of the family, meant nothing to them. They felt nothing.
"They also made sure that slaves were not allowed to learn how to read. It was so necessary to maintain slavery to make sure that their minds were never educated, because when there's nothing going on you can insert information into the bots. You can insert information into the robot."
"Hello, Black America, it is happening again," Owens stated. "Why do you think they don't pay attention to the 80 percent of Black boys in the fourth grade that cannot meet reading standards in the states of California? Why don't they want to talk about that? Because it's perfect, it's empty air to insert information into.
"It is why they want those Black boys and those Black children to look up to Cardi B, so they can further insert information that will guarantee they are incarcerated. Celebrating the street lifestyle when you attempt to dignify the undignified. This is what happens. This is the result."
"But no, I guess the real issue, the only topic of today is, 'How dare Kanye West, how dare Candace Owens,'" said Owens as the 28-minute episode drew to a close. "And in response to that I think the only thing I can say is, how dare you?
"How dare you continue to insist on our stupidity? How dare you continue to reject all of the real problems and make a mockery of those of us who have the courage to stand up and continue to point them out? And how dare you think that I'm going to shut up now? That's all I have to say about that."
Newsweek has contacted BLM as well as Lizzo and Cardi B for comment.