What Cardi B Said About Candace Owens As Spat Escalates to Legal Threats
Cardi B and Candace Owens are feuding on Twitter again—but this time their spat has escalated to legal threats from both sides.
The rapper's 2021 Grammy performance has sparked another war of words between the "WAP" hitmaker and the conservative pundit.
In an appearance on Tucker Carlson Tonight Monday, Owens criticized Cardi's performance, saying it signifies the "weakening of American society."
Cardi then took to Twitter to thank Owens for giving her more views on Fox News.
This appeared to incense Owens who responded: "Just @ me next time, directly. You are a cancer cell to culture. Young black girls are having their minds poisoned by what you are trying to package and sell to them as 'empowerment.'"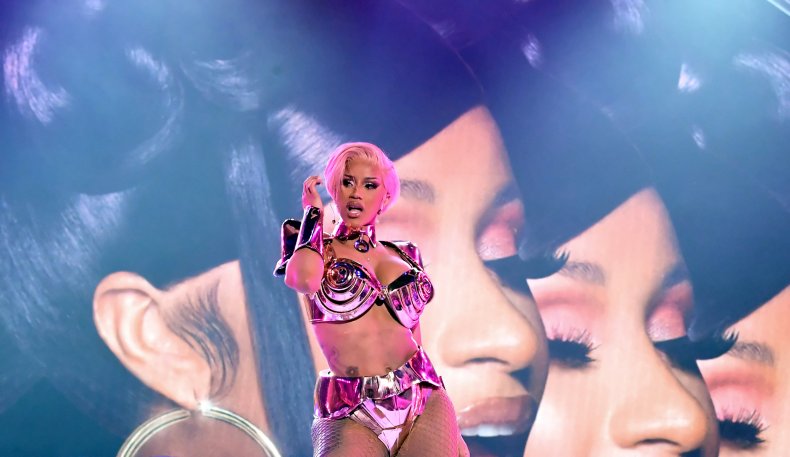 She continued: "I'm one of the few that has [the] courage to tell you the truth. You should thank me."
From here the argument got personal as the pair began to exchange increasingly sharp words, with their combined millions of followers watching.
"Millions of young girls follow you. At your best, you are self-deprecating and humorous," Owens tweeted. "At your worst, you are naked, shoving your vagina into another woman's vagina while thrusting atop her. You were at your worst on the Grammy stage. Do better @iamcardib."
In retaliation, Cardi shared a doctored tweet from Owens that was circulating on the platform last year, saying that Owen's husband cheated on her with her brother.
"Not you talking about two women thrusting their vaginas together while your husband and brother slap c**** and balls together. WELL, WOULD YOU LOOK AT THAT! Wow," Cardi tweeted along with the photoshopped screenshots.
Owens was quick to deny that she wrote the tweet and berated Cardi for sharing a photoshopped image, and viciously attack the rapper's own marital issues.
"I am literally laughing out loud. Cardi. My dear. That is clearly a photoshopped tweet. Only one of us has a husband that sleeps around," Owens said, referring to reports Cardi's husband, Offset, was caught cheating last year.
Another round of barbs were traded as the pair debated the legitimacy of the photoshopped tweets.
Then the legal threats began.
"Are you dead serious right now trying to substantiate a photoshopped tweet?" Owens asked the rapper. "Asking one more time before I get the lawyers to make you publicly admit you're lying and embarrass yourself."
To which Cardi replied: "This wasn't photoshopped you was trending the whole day when you tweeted this and it was published on a lot of blog outlets .Your right mine sleeps around yours sleeps at yours sleep at your home with your brother C*** BOXING while you tweet me."
Owens said that Cardi was "slandering" her brother by tweeting about him allegedly having an affair and asked her to admit she is lying "or get sued so I can expose you as a liar?"
"I win either way," Owens said.
After another round of Cardi doubling down saying the doctored tweets are real, and Owens accusing her of spreading lies, the pundit confirmed she is pursuing legal action.
"Just spoke with my family. I am 100% suing Cardi for that nonsense," she wrote. "You can't just start throwing out wild lies against private members of my family because you're upset someone called your out on your degenerate performance. I'll keep you all posted."
Cardi then argued that she merely shared a tweet that had been already widely reported, saying she would sue Owens for for accusing her of photoshopping tweets.
"I'm going to sue candy for claiming I photoshopped a tweet that dozens of articles reported about back in November 2016," she said. "First she claim me and my team photoshopped it now it was a fake tweet.Which one is it .Everyone is free to Google."
In another tweet, she said: "Didn't you just tweeted that Me and my team are photoshopping shit to take you down and now your saying that the blog was wrong even if you was trending in November all day cause of the tweet? Which one is it ?I should sue you for saying I'm photoshopping s***."
The two women were previously embroiled in a nasty feud last August which started when Owens took part in an interview with fellow conservative pundit, Ben Shapiro, where she slammed the then-presidential nominee Joe Biden for taking part in an interview with Cardi B.