Candace Owens Attends Kanye's Yeezy Show Days After Slamming Kim Kardashian
Candace Owens made an appearance at Kanye West's Yeezy Paris Fashion Week show on October 3, days after releasing a video criticizing his ex-wife, Kim Kardashian.
West, who has changed his name to Ye, and conservative commentator Owens caused a stir at the presentation in the French capital, when they stepped out wearing long-sleeved T-shirts emblazoned with the words "White Lives Matter."
The rapper and designer's subversion of Black Lives Matter's messaging angered many who have advocated for social justice. For years, Black Lives Matter supporters have protested against systemic racism and police brutality, but white supremacists have distorted the group's famed slogan to espouse their own racist ideology.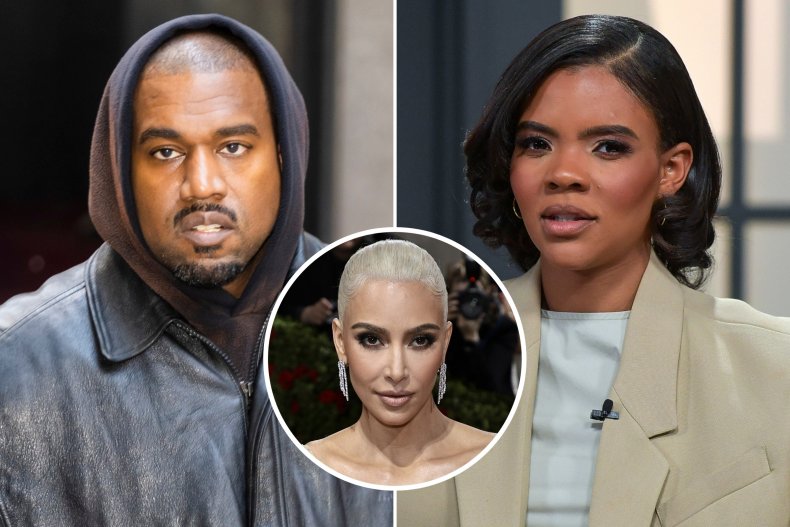 Owens' version of the top included an image of Pope John Paul I, while West's depicted Pope John Paul II, who passed away in 2005 and was canonized as a saint in 2014.
Shortly after attending the show, Owens took to Twitter and Instagram to share an image of herself and West wearing the tops in question.
Tennessee-based Owens' headline-making appearance at the show came days after she took aim at Kardashian in a segment on her Candace Owens Podcast.
In a clip titled "Kim Kardashian Should Be Kicked Off Instagram," which debuted on YouTube on September 28, Owens addressed Instagram's recent decision to permanently remove the account of pornographic website Pornhub.
While the image-sharing app cited repeated violations of parent company Meta's policies, Owens—who has publicly criticized a number of celebrities over the years—questioned why Kardashian should keep hers.
"I am actually for the first time going to be Team Pornhub on this," Owens said on her podcast. "Porn is actually everywhere. We're just deciding which standard of porn we're willing to accept.
"Yes, Kim Kardashian posts nude photos all the time, barely covering her nipples, barely covering her private parts, and somehow it's allowed to stand."
Owens also criticized the racy images Madonna has shared on the platform, adding: "All that's allowed on Instagram. As long as you don't show the nipple, you can put whatever pornography that you basically want on Instagram.
"So why come down on the sex workers, who don't make as much money as the billionaire Kardashians, who don't make as much money as Madonna? Why are we coming down [on them]? There either needs to be a real standard, or there should be no double standards.
"We just need to have a real standard to not allow pornography on the internet. So I'm interested to see where that is going to go. Obviously, we know where it's going to go. Kim Kardashian will be protected, Madonna will be protected, and the sex workers will have to face consequences."
Newsweek has reached out to representatives of Kardashian and Madonna for comment.
Also in September, Owens branded West's former mother-in-law, Kris Jenner, a "pimp" after Ray J alleged that Jenner watched three sex tapes he had filmed with Kardashian, before selecting the one to be released to the public.
Ray J and Kardashian dated from 2002 to 2006 and reportedly filmed the sex tape during her birthday celebrations in Cabo San Lucas, Mexico, in 2004. The footage was released under the name Kim Kardashian, Superstar in 2007.
Kardashian sued distributor Vivid Entertainment for invasion of privacy and for the profits from and ownership of the tape, but dropped the lawsuit amid reports of a multi-million-dollar settlement.
Over the years, there have been persistent rumors that Jenner orchestrated the release of the tape to boost her daughter's profile—a claim she denied this month during an appearance on The Late Late Show With James Corden.
"There are really no words that can adequately describe how positively disgusted I am by this story, and what this signifies in terms of the world that we are in today," Owens said, in a segment of her talk show, Candace. "What this really means that a mother sat down and decided to sell her daughter's body for fame and money—and she was successful."
"There are two things here that we need to remember," she went on. "Not only did she do it, not only should we be completely disgusted by the idea that a mother... would sit down and watch various tapes of her daughter having sex with a boyfriend out of wedlock and then say, 'Let's sell this tape. This is the best one. You look the best in this tape. This will make you the most famous.'
"Not only is that disgusting, but then that her plan worked. Kim Kardashian is a billionaire today, and she is, by the way, still selling sex."
Ramping up her attack, Owens described Kardashian as "a body without a soul" and said society had rewarded her for the tape.
"I now hold the opinion that Kim Kardashian is a prostitute, and I am not going to edit this opinion," Owens said. "Kim Kardashian is a prostitute. Her mother is a pimp. Worse than a prostitute, Kim Kardashian is a corpse—she's a body without a soul.
"She is so emblematic of the society that we live in today, that if you are willing to degrade yourself, if you are willing to denigrate yourself, then our society, our American society, will give you more. How much are you willing to show us of your body? How much are you willing to give us of your daughter's body?"
West first publicly showed his support for Owens in April 2018, when he tweeted: "I love the way Candace Owens thinks." The pair seemed to be aligned in their political ideals through their support of former President Donald Trump.
However, West took issue later in 2018 with issue with suggestions that he had designed T-shirts for Owens' Blexit Foundation, the organization she founded to encourage Black people to leave the Democratic Party.
Last November, Owens said on Twitter that she was "shocked and hurt" at the time over West's suggestion that he had been used and misled to "spread messages I don't believe in" as he publicly distanced himself from her.