Candace Owens Calls Chrissy Teigen 'Mentally Disturbed' Over Abortion Story
Candace Owens has called Chrissy Teigen "mentally disturbed," after the model said she recently realized that her miscarriage two years ago was a lifesaving abortion.
Teigen, 36, and her husband, John Legend, said that they had lost their son, Jack, at 20 weeks back in September 2020, and the couple shared Instagram photos of themselves with their baby at the hospital.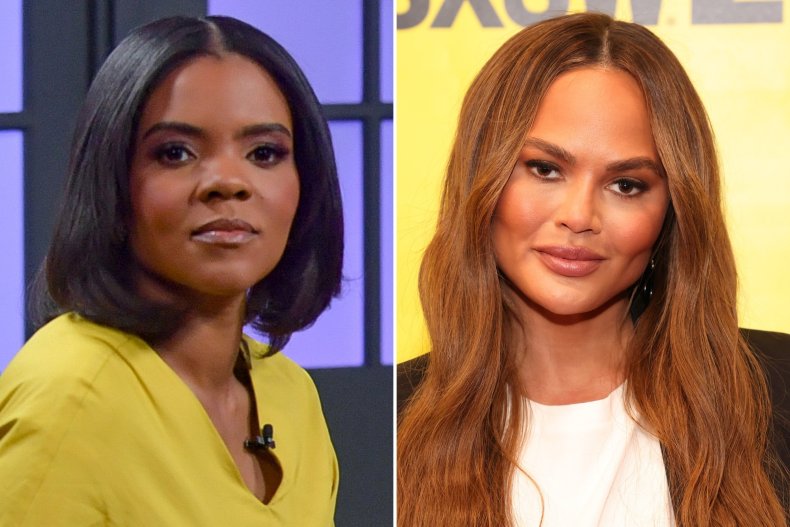 Teigen, who said in August that she is expecting another child, said during an appearance at Propper Daley's A Day of Unreasonable Conversation event earlier in September that she had come to the late realization that her son was aborted.
"Two years ago, when I was pregnant with Jack... I had to make a lot of difficult and heartbreaking decisions. It became very clear around halfway through that he would not survive, and that I wouldn't either without any medical intervention," she said to The Hollywood Reporter.
Teigen—who has daughter Luna Simone, 6, and son Miles Theodore, 4, with musician Legend, 43—said that the recent rollback of abortion rights with the repeal of Roe v. Wade made her rethink her own experience.
"Let's just call it what it was: It was an abortion," Teigen said. "An abortion to save my life for a baby that had absolutely no chance. And to be honest, I never, ever put that together until, actually, a few months ago.
"I fell silent, feeling weird that I hadn't made sense of it that way. I told the world we had a miscarriage, the world agreed we had a miscarriage, all the headlines said it was a miscarriage.
"And I became really frustrated that I didn't, in the first place, say what it was, and I felt silly that it had taken me over a year to actually understand that we had had an abortion," Teigen said.
Owens, 33, who has publicly criticized Teigen in the past, dedicated a segment of The Candace Owens Show podcast to question the model's motives behind sharing the information.
Before sharing a link to her podcast on social media, Owens wrote of Teigen in an Instagram Story post: "Now I feel like it's open season, and she's a mentally disturbed person and we need to talk about it. Because the mental disease that social media is creating for so many people, she is the number one example of it."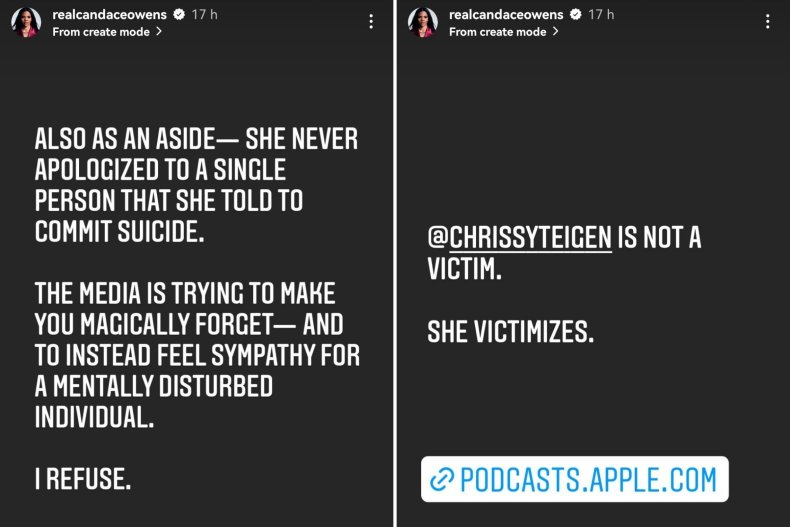 In separate posts, Owens wrote: "Also as an aside—she never apologized to a single person that she told to commit suicide. The media is trying to make you magically forget—and to instead feel sympathy for a mentally disturbed individual. I refuse."
"@chrissyteigen is not a victim," the conservative commentator added. "She victimizes."
On her podcast, Owens said that Teigen shared her abortion story to deflect attention from her cyberbullying scandal: "Her PR team must be great. They're trying to reintroduce us and make us forget that she's a total psychopath."
Turning her attention to the photos Teigen posted of herself with her late son, Owens said: "As a mother, you felt so bad... I saw these photos and I said, it's a little weird that these photos were taken, I'm going to be honest...
"She took these photos in the hospital right after having lost her son of her crying, of her praying, of her and John Legend sitting [in the hospital]."
"It begs the question: who took the photo?" Owens said. "Like, who actually, after they lose their child, who would be so invasive as to take their phone out or take a camera out and photograph a woman in this horrible position, this very sad position?"
Saying there was also a photo of Teigen and Legend together, Owens went on: "If John Legend didn't take that photo of her initially, who was the third person that was in this hospital during the time of COVID lockdowns, by the way, when people were not even allowed to have their husbands in there?"
"I personally think Chrissy Teigen is addicted to social media," said Owens. "She's addicted to getting attention and I thought that this was evidence of that. I also felt—and I'm gonna say it now because it feels like it's okay to say it now—that it was a PR strategy.
"If there was a firestorm about how disgusting and horrible of a person that she had been online to so many people and then suddenly she pops up she's pregnant and then she loses her child, and rather than announcing that they lost their child, they put these very graphic photos on the internet...
"Once again, the press then says, 'Oh, forget all the suicide stuff, she's so brave. Look at her, she's photographing herself going through a miscarriage. We love her again.' Right? Wrong," said Owens.
"Chrissy Teigen, I guess who just cannot get enough social media, decided that she wanted to unearth that scenario and get more attention from it, so she initially said it was a miscarriage. She now says that the loss of her son Jack was the result of a life-saving termination—it actually wasn't a miscarriage.
"She said he had no chance of survival so that they opted into getting an abortion. I'm sorry, what? Are you kidding?" Owens said. "You can just update that. So you had the entire world mourning with you when you released these photos to the public, and you said, 'I had a miscarriage...'"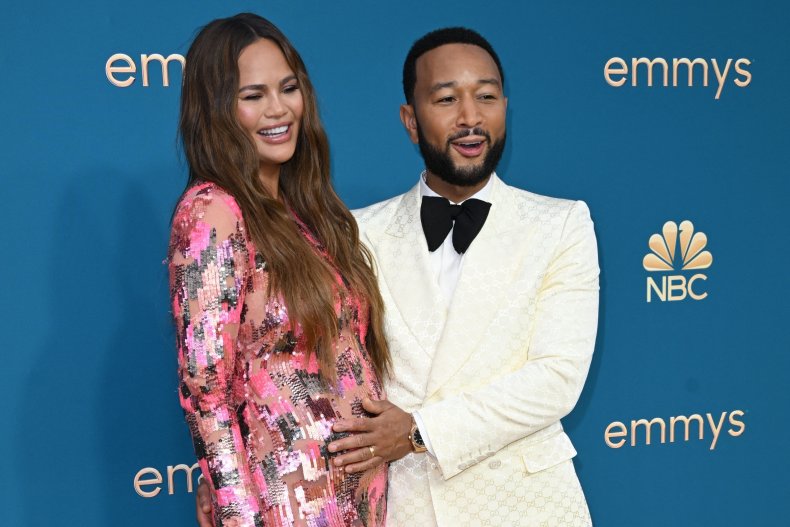 "But now you find it to be politically expedient to say that it was an abortion instead," Owens said. "So you just decided to reconsider a miscarriage and to categorize it as an abortion? You sat down and said, 'Oh how can we get more attention.'
"Because taking photos of ourselves going through this thing that should be incredibly personal between you and your husband... wasn't enough.
"Right now, everyone's arguing about abortion. You think you can insert yourself into this because you're a sick, mentally ill individual... If you want to talk about what social media causes, the issues that it causes, the mental illness that it causes, we should be examining Chrissy Teigen as a prime example."
Owens then accused Teigen of using her son's passing "for attention, not once but twice," before saying that she should have her social-media accounts taken away for "telling children to kill themselves."
In May 2021, when claims that Teigen had cyberbullied Courtney Stodden first surfaced, Owens branded the star a "deranged human being."
Teigen directed tweets at Stodden after their 2011 marriage to actor Doug Hutchison, who was 50. Stodden, who identifies as nonbinary and uses they/them pronouns, was 16 at the time of the marriage, with their mother permitting the wedding.
"She wouldn't just publicly tweet about wanting me to take 'a dirt nap' but would privately DM me and tell me to kill myself," Stodden told The Daily Beast of Teigen in May 2021. "Things like, 'I can't wait for you to die.'"
Addressing her past actions, Teigen wrote in her June 2021 Medium post: "There is simply no excuse for my past horrible tweets. My targets didn't deserve them. No one does.
"Many of them needed empathy, kindness, understanding and support, not my meanness masquerading as a kind of casual, edgy humor. I was a troll, full stop. And I am so sorry."
Saying that she was "insecure" and "immature" when she wrote the offending messages, Teigen went on: "The truth is, I'm no longer the person who wrote those horrible things.
"I grew up, got therapy, got married, had kids, got more therapy, experienced loss and pain, got more therapy and experienced more life. AND GOT MORE THERAPY."
Newsweek has reached out to representatives of Teigen and Legend for comment.