Candace Owens 'Offended' by Lizzo Playing James Madison's Crystal Flute
Candace Owens said that she's "offended" at the manner in which Lizzo played a 200-year-old crystal flute that once belonged to former President James Madison—comparing the musician's stage moment to vandalism.
During her concert on Tuesday in Washington, D.C., Lizzo briefly played the instrument that had been loaned to her by the Library of Congress. Madison received the flute as a gift in honor of his second inauguration in 1813.
In video footage shared on Twitter by Lizzo, the trained flutist was seen playing the instrument before returning it to a handler and declaring: "B***h, I just twerked and played James Madison's crystal flute from the 1800s. We just made history tonight."
As the moment became a talking point on social media, a message shared on the verified Twitter account of the Library of Congress assured that the flute, which was escorted to the concert by the Capitol Police, was in safe hands.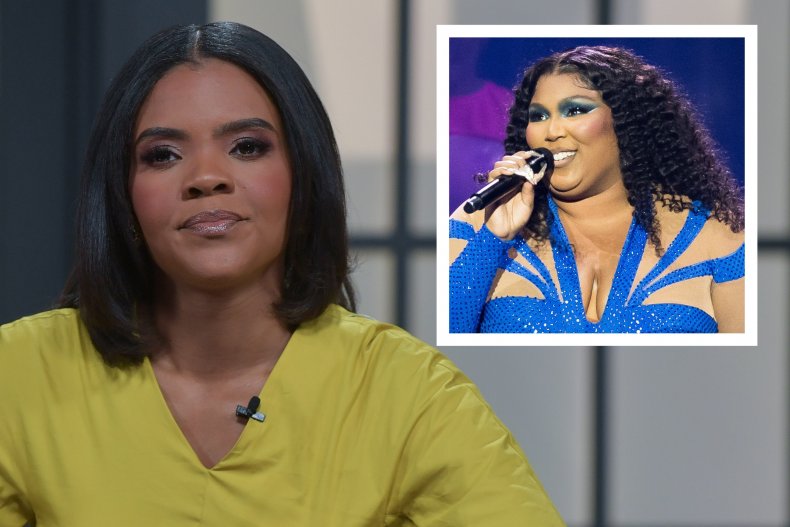 "For those concerned about the flute: Music Division curators made sure it could be played without damage," read the tweet, shared on Wednesday. "This sort of thing is not all that unusual, in fact. Some of the Library's priceless instruments were donated with the stipulation that they remain functional & be played."
Conservative commentator Owens counted herself among the detractors, suggesting in a recent episode of her show Candace that it was all part of a larger ploy to further the agenda of people with "nefarious goals."
Over the years, Owens has become known for speaking out against a number of celebrities who have made headlines, including Harry Styles, Chrissy Teigen, Cardi B, Kim Kardashian and Kris Jenner. Her takes have garnered controversy, even escalating into a feud with threats of legal action on both sides in the case of Lizzo's "Rumors" collaborator Cardi.
After questioning why Lizzo was given the opportunity to play the flute, Owens said: "They're giving her something that means a lot. The way and manner in which they gave it to her and the way and the manner in which she used it offends me, I'm not going to lie."
"No, she's not making history here, she's defiling history," Owens continued. "It's like spraying graffiti on a historical building and going, 'Oh, it's art.' No, it's not art. We're not gonna call it art. We're not gonna call it making history.
"But she doesn't see that. She thinks that when these organizations reached out to her with these opportunities it's because they love her. And in reality, the reason [is] because they hate and want to corrupt the people that follow her. That don't want more people to make it out like Lizzo did."
Owens then went on to stress that she liked Lizzo's music, though questioned the way she "contributes" to the industry.
"I think she's tremendously talented, Owens said. "I like that she can play the flute. I like that she plays other instruments and I love that she contributes to music. I just wish that she would contribute positively. I wish that she would understand that there are people with nefarious goals that recognize her as a talented individual.
"And they are using her to sell bad ideas to the rest of society because what they're actually after is to enslave the rest of you. They do not want everybody to be productive. They do not want everybody to wake up every day and go to work and to make a lot of money because that is not how it works."
Owens went on: "The haves want to ensure there is a constant pool of have-nots. That is not a conspiracy, that is a fact. It is not a conspiracy to think that there are people that want you to consume garbage.
"It is not a conspiracy to think that there are people that want to impact your psychological immune system negatively, that want you to constantly live in the state of fear, that want you to constantly live with your hand out."
"And the way that they get you to become that sort of an individual—that sort of individual that will need handouts, the sort of individual that [relies] on governments to give you solutions for the rest of your life—is through artistry. It is through Hollywood. It is through people like Cardi B and Lizzo who don't understand that they are pawns in a game of chess that they don't even know that they're playing."
Newsweek reached out to representatives of Lizzo and the Library of Congress for comment.