Skin Rashes May Be Symptom of Coronavirus, Scientists Say
Coronavirus symptoms may include skin problems, such as rashes and so-called "COVID toes," experts believe. One small study in Italy found 20 percent of COVID-19 patients had skin problems, while anecdotal evidence from other countries indicates a link between dermatological problems and the virus.
Over the weekend, the U.S. Centers for Disease Control and Prevention (CDC) updated its list of COVID-19 symptoms to watch for. The agency added chills, muscle pain, headache, a sore throat, and new loss of taste or smell to its existing list of fever, cough, and shortness of breath or difficulty breathing.
Skin complaints have not been added to the list, however dermatologists are exploring whether they should be. In March, a research letter published in the Journal of the European Academy of Dermatology and Venereology was the first to detail how COVID-19 may affect the skin.
The researchers studied 88 COVID-19 patients at Lecco Hospital, in Italy's Lombardy region, and found 18 (20.4 percent) had skin issues. Of the total, eight patients developed skin complaints when their COVID-19 symptoms started, and 10 after they were hospitalized. 14 patients had a red rash, three had hives, and one had chickenpox-like blisters. The torso was the most affected area, the team said, and the lesions usually healed in a few days. These issues did not seem to correspond to how sick the patients were, according to the letter.
However, they stressed: "Indisputably we need more papers to confirm and better understand skin involvement in COVID-19."
Responding to that letter, a separate team of dermatologists working at Spain's Ramon y Cajal Hospital in Madrid reported the case of a 32-year-old COVID-19 patient who developed a hive-like rash six days after she first developed coronavirus symptoms. That letter was also published in the Journal of the European Academy of Dermatology and Venereology.
Another team in Thailand wrote in the Journal of the American Academy of Dermatology of a patient who was thought to have a rash caused by dengue, who was later diagnosed with COVID-19. "There is a possibility that a patient with COVID-19 might initially present with a skin rash that can be misdiagnosed as another common disease," they said.
In the wake of such observations, both the American Academy of Dermatology (AAD) and Spain's General Council of Official Colleges of Podiatrists have opened registries for health professionals to log skin complaints which could be related to COVID-19. The latter said in a statement its members had reported COVID-19 patients, particularly children and young people, had small lesions on their feet.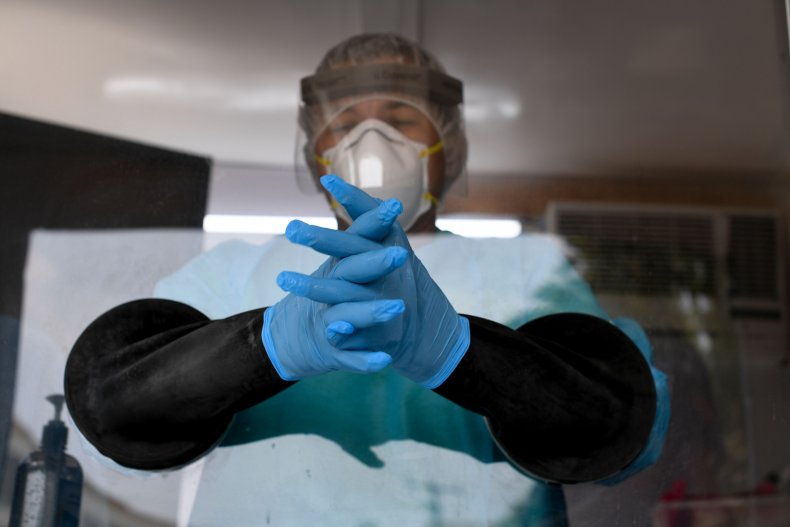 Ebbing Lautenbach, chief of infectious disease at the University of Pennsylvania's School of Medicine, told USA Today some patients are experiencing purple or blue lesions on their feet. This symptom has been dubbed "COVID toes," according to the outlet. "They're typically painful to touch and could have a hot burning sensation," Lautenbach told the newspaper.
Esther Freeman, a dermatologist and epidemiologist at Massachusetts General Hospital, who is managing the AAD registry, told Business Insider half of the submissions so far had noted lesions on the hands and feet resembling frostbite.
"My message to the public would be: If you develop these, talk to your healthcare provider," she told the website. "In the absence of another reason to have these 'COVID toes,' you may want to consider testing and think about potentially limiting the risk of spread to other people."
Dr. Adil Sheraz, consultant dermatologist and British Skin Foundation spokesperson, told Newsweek a variety of skin rashes have been seen in COVID-19 patients including a generalized widespread red rash, hives, and a chicken pox like rash with blisters.
"'COVID toes' has also been described, in which there are infarcts (death of tissue) resulting in black crusted lesions on the tips of fingers and toes," he said. "In some cases, the onset of the rashes has coincided with the onset of the infection and in others developed a few days into the infection."
However, Sheraz said: "Using skin manifestations and rashes as a diagnostic tool is not currently appropriate, and patients should continue to follow the guidelines of looking out for a cough, fever, shortness of breath and loss of taste and smell."
He explained: "It would be extremely difficult to make a diagnosis of COVID-19 purely from a rash without other symptoms. If you develop a new rash then there are multiple potential reasons for this, and COVID-19 would be low on the list of causes. If you are concerned about a new rash then dermatologists are offering teledermatology consultations and I would suggest you consult one."
According to Johns Hopkins University, more than 2.9 million people have been diagnosed with coronavirus worldwide, and a total of 206,569 people have died. Over 868,800 are known to have recovered. The U.S. is the country with the most cases as shown by the Statista map below.
This article has been updated with comment from Dr. Adil Sheraz.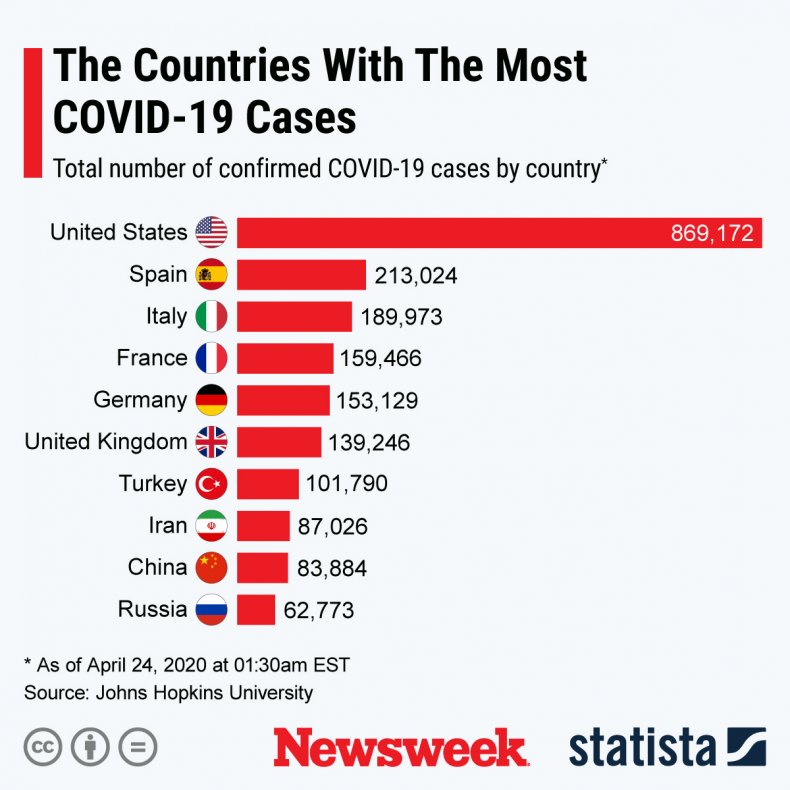 Centers for Disease Control and Prevention Advice on Using Face Coverings to Slow Spread of COVID-19
CDC recommends wearing a cloth face covering in public where social distancing measures are difficult to maintain.
A simple cloth face covering can help slow the spread of the virus by those infected and by those who do not exhibit symptoms.
Cloth face coverings can be fashioned from household items. Guides are offered by the CDC. (https://www.cdc.gov/coronavirus/2019-ncov/prevent-getting-sick/diy-cloth-face-coverings.html)
Cloth face coverings should be washed regularly. A washing machine will suffice.
Practice safe removal of face coverings by not touching eyes, nose, and mouth, and wash hands immediately after removing the covering.
World Health Organization advice for avoiding spread of coronavirus disease (COVID-19)
Hygiene advice
Clean hands frequently with soap and water, or alcohol-based hand rub.
Wash hands after coughing or sneezing; when caring for the sick; before, during and after food preparation; before eating; after using the toilet; when hands are visibly dirty; and after handling animals or waste.
Maintain at least 1 meter (3 feet) distance from anyone who is coughing or sneezing.
Avoid touching your hands, nose and mouth. Do not spit in public.
Cover your mouth and nose with a tissue or bent elbow when coughing or sneezing. Discard the tissue immediately and clean your hands.
Medical advice
Avoid close contact with others if you have any symptoms.
Stay at home if you feel unwell, even with mild symptoms such as headache and runny nose, to avoid potential spread of the disease to medical facilities and other people.
If you develop serious symptoms (fever, cough, difficulty breathing) seek medical care early and contact local health authorities in advance.
Note any recent contact with others and travel details to provide to authorities who can trace and prevent spread of the disease.
Stay up to date on COVID-19 developments issued by health authorities and follow their guidance.
Mask and glove usage
Healthy individuals only need to wear a mask if taking care of a sick person.
Wear a mask if you are coughing or sneezing.
Masks are effective when used in combination with frequent hand cleaning.
Do not touch the mask while wearing it. Clean hands if you touch the mask.
Learn how to properly put on, remove and dispose of masks. Clean hands after disposing of the mask.
Do not reuse single-use masks.
Regularly washing bare hands is more effective against catching COVID-19 than wearing rubber gloves.
The COVID-19 virus can still be picked up on rubber gloves and transmitted by touching your face.