Skip Bayless Slammed for Trolling LeBron James' Son Bronny
LeBron James' son, LeBron "Bronny" James Jr., has received widespread praise for his dunking skills after a clip of the high school basketball standout went viral. One person who was left unimpressed, though, is Skip Bayless.
The sports commentator took a shot at the 17-year-old's play while comparing him to his famous father. The clip Bayless commented on is of Bronny James playing in France with the California Basketball Club as part of the AXE Euro Tour, where he is joined by his brother, Bryce James. Bronny, who stands at 6-foot-6, delivers a one-handed dunk over a defender, and footage of the moment has gone viral.
"OH MY GOODNESS BRONNY!!!!!" proud father LeBron James tweeted. He followed up his message by sharing the video of Bronny's dunk.
Bayless sounded less than enthusiastic about the play, writing, "Hey, Bronny...impressive. But your dad would've dunked it left-handed. You sure got away with it, though."
The dismissive comment from Bayless rankled many people on social media.
"Skip Bayless is a pathetic weirdo who is taking his unprovoked hatred of a professional athlete to new lows by hating on LeBron's SON via social media. Bronny James isn't even an adult yet. This is not normal journalism or healthy human behavior," read one tweet.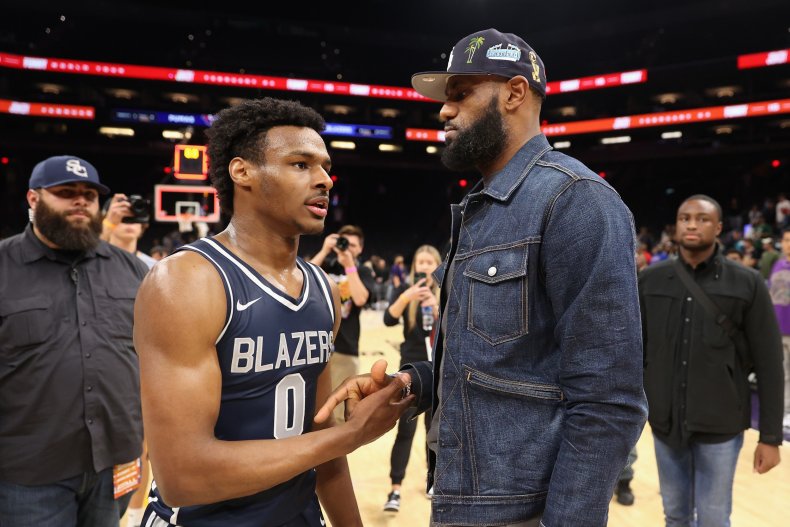 Bayless, who co-hosts the Fox Sports program Skip and Shannon: Undisputed with Pro Football Hall of Famer Shannon Sharpe, has frequently criticized LeBron in the past and even put much of the blame on the star player for his team, the Los Angeles Lakers, missing the NBA playoffs last season.
The past scorn Bayless has given the elder James was noted by many on Twitter when discussing his message about Bronny.
"Gosh Skip Bayless already giving Bronny the LeBron treatment," wrote one person.
"Nothing says Skip Bayless like going after LeBron James for years and now going after LeBron's son, Bronny," said someone else who shared the sentiment.
"Skip Bayless should apologize to LeBron & [Bronny's mother] Savannah James for disrespecting their son LeBron James Jr. aka 'Bronny.' Skip Bayless's tweet is very nonprofessional & wrong. Bronny is 17 years old. You leave our Black children out of your mess," said another angry Twitter user.
Several people noted the age disparity between Bayless and the high schooler.
"Skip Bayless is 70 picking on Bronny who's 17, so lame," wrote one person matter-of-factly.
Not everyone thought Bronny should give much credence to Bayless' opinion.
"Skip Bayless is more entertaining when you don't take what he says seriously," read a tweet posted Monday night. "I don't think Bronny is losing sleep over an 80-year-old saying his dad would've dunked it left-handed."
Newsweek reached out to LeBron James and Bayless for comment.