Skippy Peanut Butter Recall: Jars Potentially Contain Steel Fragments
Skippy Foods announced Wednesday that it was voluntarily recalling 9,353 cases, or 161,692 pounds, of peanut butter products.
In a statement, Hormel Foods, which owns Skippy, said the recall was being issued "due to the possibility that a limited number of jars may contain a small fragment of stainless steel from a piece of manufacturing equipment."
The recalled products include jars of Skippy's Reduced Fat Creamy Peanut Butter Spread, Reduced Fat Chunky Peanut Butter Spread, and Creamy Peanut Butter Blended With Plant Protein—with specific sell-by dates in early May of 2023.
Hormel Foods said that there haven't been any consumer complaints associated with the recall.
"Skippy Foods, LLC, out of an abundance of caution and with an emphasis on the quality of its products, is issuing the recall to ensure that consumers are made aware of the issue. The manufacturing facility's internal detection systems identified the concern," Hormel Foods stated Wednesday.
The recalled products were sent to California, Connecticut, Delaware, Florida, Hawaii, Illinois, Indiana, Kansas, Massachusetts, Minnesota, Missouri, North Carolina, New Hampshire, New Jersey, Oklahoma, and Wisconsin, according to Consumer Affairs.
The company noted that no other "sizes, varieties, or other packaging configurations of SKIPPY brand peanut butter or peanut butter spreads are included in this recall."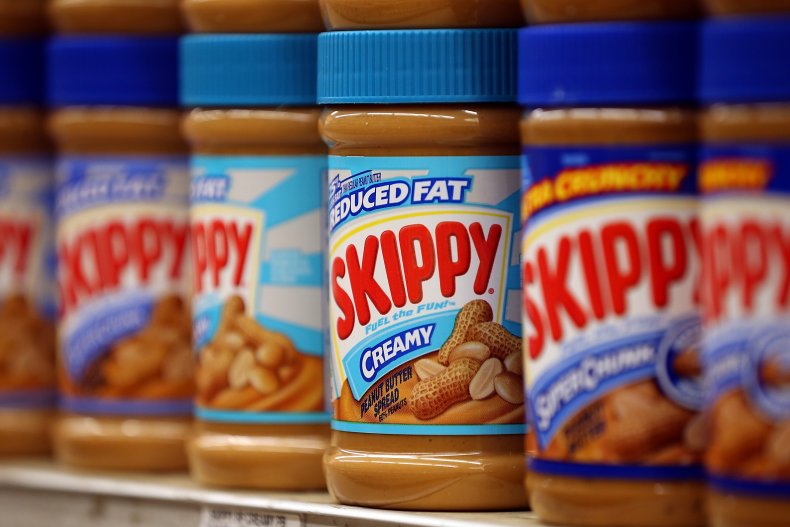 In an email to Newsweek on Thursday morning, a spokesperson for Hormel Foods said the company didn't have additional information to provide other than what was released in Wednesday's press release.
"No consumers have reached out with issues and for the small quantity that may be impacted, we are offering a full refund. Consumers can call us at 1-866-475-4779," the spokesperson said.
In a separate incident in February, food processing company Morgan Foods announced it had recalled more than 2,000 pounds of chili due to due to misbranding and undeclared allergens on its product.
Earlier this month, Continental Mills said that it had recalled several brands of pancake and waffle mix. "Fragments from a cable used to clear the processing line were discovered in a limited amount of product," the company said in a statement. The recalled mixes had been sold in Kroger and Walmart stores.
And in January, the U.S. Department of Agriculture (USDA) announced that nearly 30,000 pounds of ground beef had been recalled after some meat had tested positive for E.coli. The recall applied to ground beef sold by Kroger, WinCo, Walmart and Albertsons stores in seven states. At the time, the USDA wrote said it was concerned the affected product may be in consumers' refrigerators, advising them not to eat it.