Slayer Posts Trump Image to Instagram, Angering Some Fans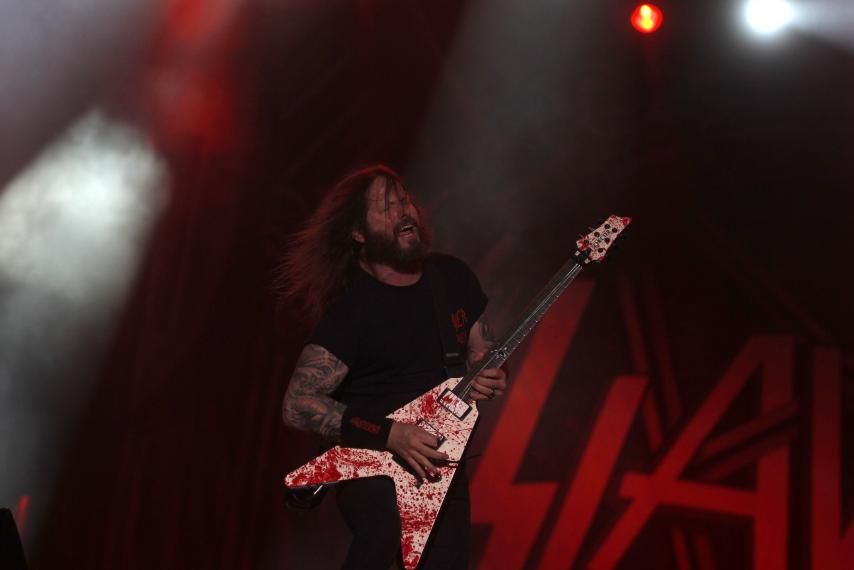 Last week, as Donald Trump was being sworn in as the 45th president of the United States, Slayer responded to the occasion by posting an image to Instagram featuring the band posing with Trump inserted with Photoshop in front of them, making the sign of the horns. The image was subsequently deleted, according to the band's bassist/singer Tom Araya, who reposted it on Tuesday with an explanation.
Related: 3 Doors Down fans on how they feel about the band playing Trump's inauguration
"I thought it was funny," Araya said in the post's caption. "But I never would have guessed that there where [sic] so many snowflakes commenting their distaste for the new president. Like him or not he is the president."
The photo angered a few Slayer fans, who took it as a pro-Trump message. "Go fuck yourself. Love, an ex-fan," wrote user @y2john420. "So Angel of Death was a how-to?" user @rschlock asked. "Good to know. I've listened to my last Slayer song. Good luck riding the White Supremacist circuit from here on." Not every fan was furious. "Keep kicking ass SLAYER! None of these fake metal fans ever listened anyway. They are a bunch of coffee shop hipsters," wrote @ncasazza.
Araya took to the comments to defend the image. "Mike pence turning fruits into vegtables [sic]" he wrote at user @zogar77, adding three crying-while-laughing emoji. That fan later replied, "I happen to be gay @slayerbandofficial so fuck you and your fruits to vegetables comment. Go crawl up Pence's arse."
Araya later elaborated on his intentions in the comments. "This is how fake news gets started, not once did I say that I supported trump.…" he wrote, "and assuming I speak for the band you are mistaking…the picture did exactly what I thought it would do... piss some of you off."
While their music might not be Trump's style, their language and worldview has some overlap. In his inaugural speech, Trump used the phrase "American carnage." As it happens, in 2010 Slayer played on the American Carnage Tour with Megadeth and Anthrax.