Slim Majority of Voters Agree With Republicans on Undocumented Immigration
As the national debate on immigration continues to heat up, a new poll shows that a slim majority of voters, 51 percent, agree with the Republican party when it comes to undocumented immigration.
The New York Times/Siena College poll that was released Friday found that a lesser 37 percent of respondents said that they agreed with Democrats when it comes to illegal immigration. Another 5 percent of respondents said that they didn't agree with either party, while 1 percent said that they agreed with both.
Republicans have repeatedly criticized the Biden administration on what they describe as its "open border" policies, though President Joe Biden said Thursday that his administration was committed to upholding a safe, orderly and humane immigration policy, Newsweek previously reported. Vice President Kamala Harris also said in an interview with NBC's Meet the Press Sunday that the border is "secure," though she added that the U.S. has a "broken immigration system" that needs fixing.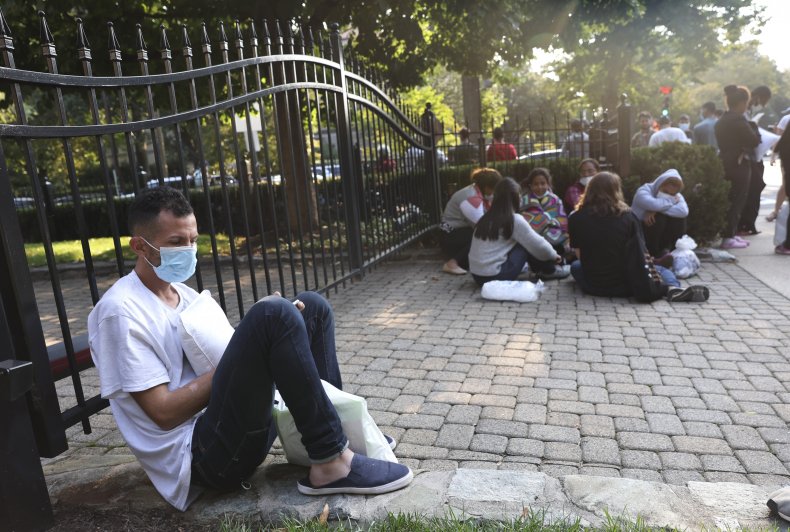 According to U.S. Customs and Border Protection (CBP) statistics, there have been more than 1.9 million encounters at the Southwest land border by U.S. Border Patrol and the CBP Office of Field Operations in the current fiscal year, which runs from October 1, 2021, through September 30, 2022. The current data only reflects encounters from October through July, so the actual number is likely to be higher.
The CBP wrote in its July update that it was continuing to enforce U.S. immigration law and "apply consequences to those without a legal basis to remain in the U.S."
"Current restrictions at the U.S. border have not changed; single adults and families encountered at the southwest border will continue to be expelled, where appropriate, under CDC's Title 42 Order. Those who are not expelled will be processed under the long-standing Title 8 authority and placed into removal proceedings," the update read.
Still, more than one million undocumented immigrants, many of whom are seeking asylum, have been allowed into the U.S. temporarily during Biden's time as president, The New York Times reported last week. This total is separate from any migrants who may have entered the U.S. undetected.
Another survey released this month, this time from the Pew Research Center, provided insight into where Democrat and Republican views differ when it comes to the U.S. immigration system.
The survey found that while Republicans place an importance on border security and deporting immigrants who entered the U.S. illegally, Democrats place an importance on providing those who entered the country illegally with a path to reach legal status.
Republican Governors Greg Abbott of Texas and Doug Ducey of Arizona have confirmed that they've been sending buses of migrants to cities D.C. Buses have also been sent to Chicago and New York City, according to Abbott, who announced Thursday that two buses of migrants had arrived at Harris' residence in D.C.
Nearly 50 migrants were also flown into Martha's Vineyard, Massachusetts, this week under a program sponsored by Florida Governor Ron DeSantis, a move that has drawn sharp criticism from Biden and other Democrats.
"Republicans are playing politics with human beings, using them as props," Biden said Thursday at a Washington, D.C., gala for the Congressional Hispanic Caucus Institute.
"We have a process in place to manage migrants at the border," he added. "Republican officials should not interfere with that process by waging these political stunts."